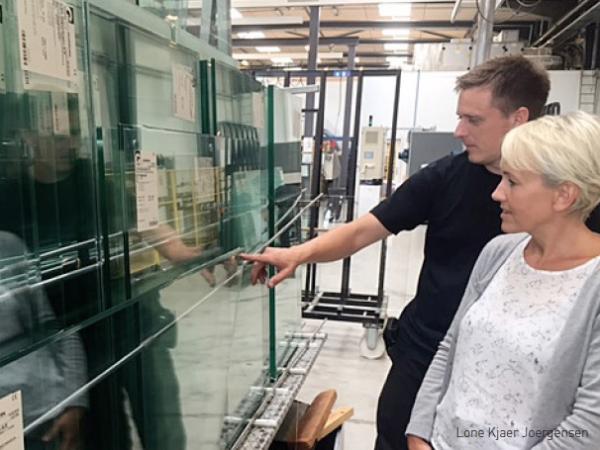 Photo source
www.glaston.net
"It's really something when you have a new section installed in between all the old, and everything works seamlessly both mechanically and electrically," says Lone Kjaer Joergensen, Production Manager of Glaseksperten A/S in Hjorring, Denmark.
"I was really excited and a bit nervous, but with our new Glaston ProL-zone upgrade, we got something far better. Although we initially aimed to correct our temperature imbalances, we got better lamination quality, higher capacity and reduced energy consumption. Plus, we have been able to reduce the thickness of the PVB foil from 1.14 mm to 0.76 mm, and are looking forward to pushing the limits even more."
Glaseksperten, which means "the glass expert", began in 1990 as a local glazier. Since 2000, the company has moved into major projects and special deliveries of laminated glass to customers and construction projects across the country and outside Denmark. Today, Glaseksperten creates glass solutions in all imaginable shapes and forms, making the company one of Europe's most reliable and dynamic glass suppliers and enabling it to take steps towards its global ambitions.
OVERCOMING UNEVEN TEMPERATURE
"The problem with our existing furnace was getting worse. Temperatures on the edges of the glass as well as on both ends were not the same as in the middle," describes Lone. "On a normal day, when there were no bigger issues, about 13% of the glass had bubbles after the autoclave. Some of it may have been caused by the glass being too hot when leaving the autoclave or when relieving pressure. But most of it came from uneven glass heating in the furnace."
Once the upgrade had been completed, Glaseksperten discovered that it could run the glass with the same temperature all the time for all glass types. "We only need to change speed, and the changeover time is nothing compared with what we had earlier," Lone states. "Of course, we have to set the right glass thickness, but it's become much easier than it was before. Before the upgrade, we actually never even considered it an issue that we needed to change the programs for every glass type and thickness."
SAVING ENERGY AND TIME
"What's more, the energy needed to run this furnace is much less than what the old machine required," she continues. "Overall, our lamination quality has improved considerably. We now just have about 5% of faults after autoclaving, and that saves a lot of time!"
"When preparing the glass for autoclaving, we needed to use clamps for glass from 8 mm up with 20 cm in between. We don't do that anymore. And the time needed to fix the glass with mistakes has now been almost completely eliminated," Lone adds.
INCREASING CAPACITY AND OPTIMIZING SHIFTS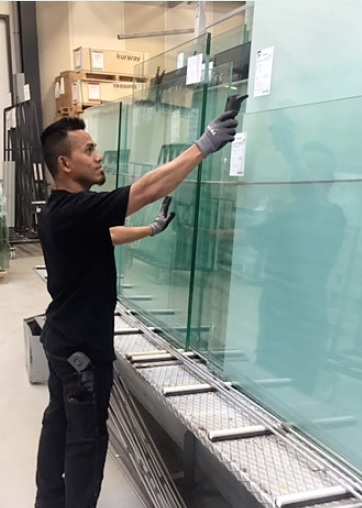 According to Lone, the company's capacity has increased significantly. "In the future, we want to explore ways to further improve our process to make it perfect. So we are continuing to test different setups and procedures that could potentially increase our output or improve the quality of the finished product," Lone explains.
"This all saves us a lot of money. With a higher output, we can almost avoid production on weekends, thereby saving the additional costs that are associated with weekend wages. So we have some interesting opportunities to explore here," she continues.
GOOD TEAMWORK AND SPIRIT
The installation proceeded smoothly. Glaseksperten shut down on a Thursday morning around lunchtime and was running again by Monday morning. "The Glaston guys were working all through the weekend – and some of the time with our mechanics. We had a good connection and teamwork throughout the project. On Monday morning, we turned on the furnace and the Glaston team defined the optimal speed and set the temperature we needed," Lone says.
"By Monday afternoon, we were operating normally, which was a big relief for me. Every day the line is shut down, we get behind schedule by about 400 glass pieces. But there's no problem to catch up now since we can run the line so much faster," she adds.
POSITIVE FEEDBACK FOR TEAM
Lone explains that it has been important for her to be in contact with Glaston's representatives just to make sure she has fully understood everything.
"It's really important to have someone you can reach out to," she says. "Glaston can send people such as Samuel Turpela or Pekka Simulainen out with confidence to customers like us. They have both done a really good job, and there has been a good dialog between us throughout the entire process."
"I know I can reach both of them at anytime if I have questions. It's nice that they want to know how it's going for us with the new machine," she continues. "And it's important for Glaston to hear that they've done a good job – the team deserves our positive feedback."
"We're really looking forward to our next experience of working with Glaston!" Lone praises.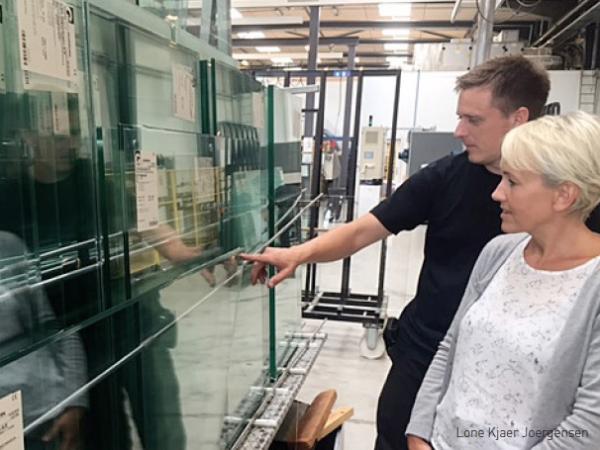 600
450
www.glaston.net
2016-09-05T08:00:00
Glaston ProL-zone upgrade for old lamination line chamber
glassonweb.com