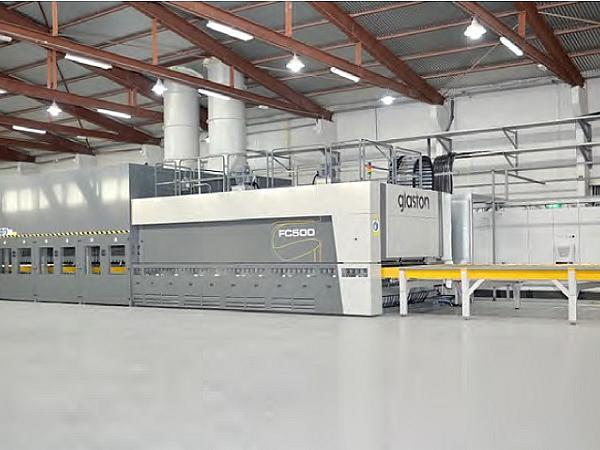 Photo source
www.glaston.net
Al-Hadi Glass Industries lifts its level of professionalism.
"Once we saw Glaston's FC500 at Glasstec in Dusseldorf a few years ago, we knew that this was the tempering furnace for us. High-performance glass is required in our region, since temperatures soar to +50°C. And high-performance glass needs high-performance machinery. This is what Glaston's FC500 tempering furnace is providing for us, so that we can serve our market using the most professional equipment," says Abdullah Al-Qabandi, General Manager of G.M Al-Hadi Glass Industries in Kuwait City, Subhan Industrial Area, Kuwait.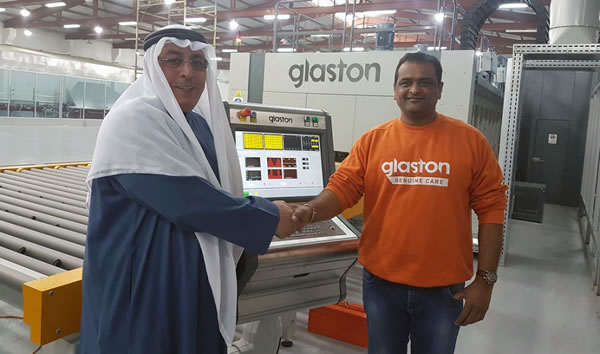 Starting solely as an aluminum production company in 1973, Al-Hadi has slowly evolved to match the market needs over time. The company aims for excellence in providing the best in glass quality products and services with dedicated technical support for local, regional and international markets in a timely and professional manner.
In 2007, Al-Hadi added a 10,000 m2 glass factory to meet the increasing demand for high-performance glass because of the growing number of building and construction customers.
"So, we chose to begin our glass processing business with a ProE tempering furnace from Glaston, which was then called Tamglass," says Abdullah Al-Qabandi.
"Glaston had good representation in our region, which meant we could get service and spare parts easily," he recalls. "That's why we decided the ProE would be the best choice for us at that time."
ONE OF THE BEST IN THE WORLD
In 2010, Abdullah and Mr. Zeyad Al- Awadhi, Chairman of Al-Hadi Glass Industries, visited the Glasstec exhibition in Dusseldorf, Germany, where they saw the launch of Glaston's FC500 series tempering furnaces. They knew immediately that this tempering furnace was one of the best in the world.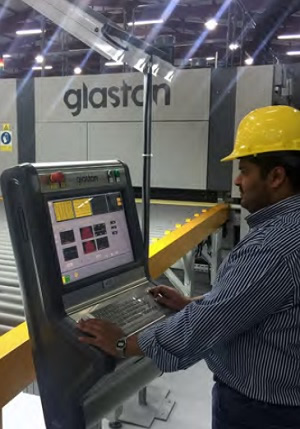 They went on to visit the Glaston factory in Finland, where they were shown all the opportunities that the FC500 could offer.
They felt that the furnace was the perfect choice for the company as it grew to match the evolving needs in the region.
After the visit, Chairman Mr. Zeyad Al-Awadhi ordered commencement of the proceedings to purchase the FC500.
Starting the proceedings to have the machine up and running in his factory, though, took a few more years. During this same time, the region was suffering from a financial crisis. Many companies closed or formed joint ventures.
"We also needed to prepare our factory to have the proper power source for the tempering line. Once we could confirm that the power worked, we could proceed with the project," Abdullah says.
SEE THE DIFFERENCE
The FC500 has been running smoothly since February 2017. According to Abdullah: "Everything has been running fine, and we're getting very good quality glass output." Customers, too, have especially been able to see the difference in glass quality, noting the considerable quality improvement.
REPORTS FOR CERTIFICATION ARE KEY
In Kuwait and the region in particular, certification testing is key to show that the glass fulfills all the standards that are needed to withstand the very hot temperatures.
Abdullah is pleased with the possibility to produce reports through the machinery's iControL automation system to verify the certification tests.
"No other competitor is doing this – and yet, this is something consultants and customers highly appreciate," he says. "It enables us to prove that we are producing better glass that complies with the most stringent regulations."
Abdullah continues: "iControL is very powerful. It shows us information that we need about the cycles, recipes and much more. It makes the job easy for our operators. If we need any help, Glaston's online support is always very quick. Once we reach out for help – then all's good again."
SERVICE AGREEMENT CREATES PARTNERSHIP
The company also chose the Glaston Care Service Agreement. "This service agreement is very important when it comes to maintaining the glass quality. It is easier to check together with Glaston that all is going smoothly.
We get all the assistance we need for the agreement period. For us, this is a partnership with Glaston – so we both know that everything is working as it should," Abdullah explains.
TRAINING CENTRAL TO SUCCESS
Glaston also trained Al-Hadi's operators to fully use the FC500 with all its features. Abdullah described the Glaston trainers as being very friendly, making sure that the sessions were not complicated.
"All of our operators had experience from Glaston's FC500 earlier. Therefore, our staff was able to learn quickly. Of course, there were some small differences, but for the most part, the machine was already familiar."
GROWING UP WITH THE MARKET
Now supported with his new FC500 tempering furnace, Abdullah plans to continue to gain more experience in glass and serve as a medium-range factory that is growing up along with his home market.
He's already been invited to tender for most of the ongoing projects in Kuwait. He says he's taken on a much more professional position now when it comes to high-performance glass with the new FC500 high-performance machine.
"In our region, you need to know how to handle glass gently and professionally. And Glaston knows exactly how to do that," Abdullah concludes.
600
450
www.glaston.net
2017-04-19T13:30:00
Glaston FC500 reaches high performance
glassonweb.com