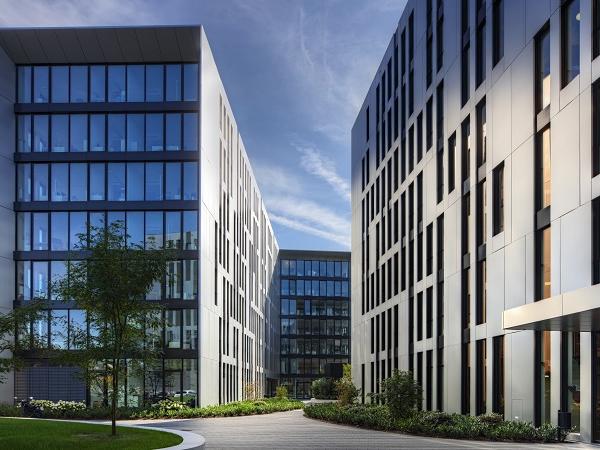 Photo source
Friedhelm Krischer
Bright spaces and cosiness thanks to SILVERSTAR EN2Plus.
Narrow, vertical recesses define the characteristic aluminium façade of the new office building ensemble in Düsseldorf – the striking complex "Clara and Robert" by slapa oberholz pszczulny architects, links two new buildings with the listed Saarhaus and has an impressive extraordinary façade, one of the design elements of which was the image of mechanical musical instruments that use perforated discs.
The floor-to-ceiling windows offer diverse insights and views, helping to create bright spaces with a pleasant atmosphere.
The insulating glass use has been individually adapted to the orientation and function of the façade and thanks to the LOW-E coating SILVERSTAR EN2plus from Glas Trösch provides for a very good indoor climate with a high degree of energy efficiency.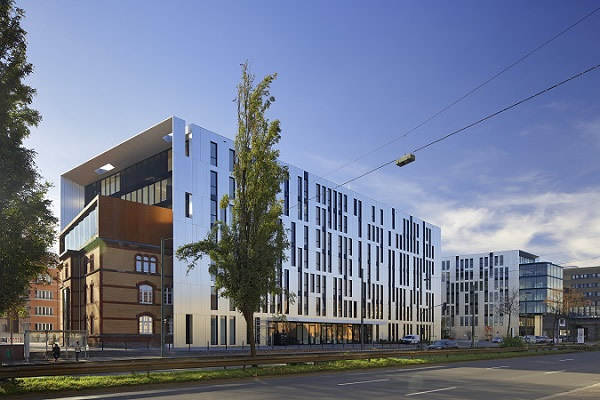 The subtle reflections on the aluminium façade and the glass elements give the office building, named after the married composers Clara and Robert Schumann, a fine outer skin which changes according to the weather conditions.
Both Clara and Robert are also each respectively characterised by a special design feature: While Robert frames the renovated old building and a creative link is created between the old and new building through reinforced corten steel, the narrow facial side of Clara is based on a glass cantilever - this four-storey glass cube protrudes from the aluminium sleeve and offers space for conference or meeting rooms which benefit from very good exposure to natural light.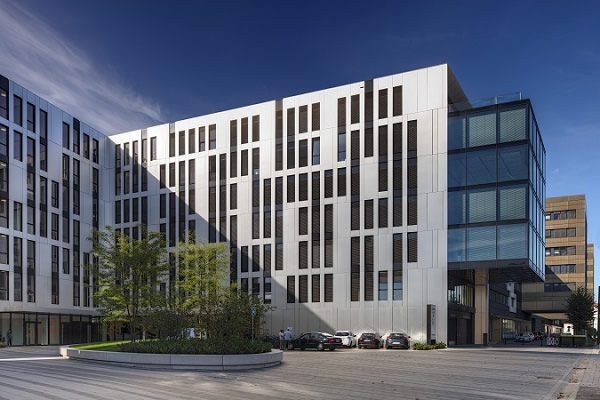 Differing insulating glass was used for the various glass elements such as the glass cube, the fully glazed main entrances or the vertical window elements. In order to satisfy the design characteristics and the differing requirements in terms of solar protection, thermal insulation and fire protection, depending upon the alignment of the façade, both the structure as well as the thickness of the glazing are varied.
Consequently, the triple insulation glazing also possesses different Uglevels: Depending on the location and function, the glazing has a range of values between 0.6 W / m2K and 0.9 W / m2K. Those which need good thermal insulation due to the minimal sunlight, have a very low Ug value of just 0.6 W / m2K, whilst those with a higher energy input in turn also have a higher Ug value.
In addition, all window elements have solar protection elements so that the rooms can be protected against overheating in strong sunlight.
The use of SILVERSTAR EN2plus also provides for a very good light transmittance value of over 70 percent in the triple pane design which contributes to the brightness in the room.
The colour neutrality of SILVERSTAR EN2plus provides clarity and transparency, whilst the low reflection value of 14 percent reduces annoying reflections on the glass surfaces, improving the outlook from the inside of the rooms.
Construction sign
Project: Clara & Robert, Düsseldorf
Developer: The Developer, Düsseldorf
Architect: slapa oberholz pszczulny, Architects, Düsseldorf
Photos: krischerfotografie, Friedhelm Krischer, Duisburg
Glass production: Glas Trösch, Bützberg
Insulating glass processing company: HoffmannGlas GmbH & Co. KG, Halle/ S.
Execution: Sommer Fassadensysteme-Stahlbau-Sicherheitstechnik GmbH & Co. KG, Döhlau
Product: SANCO SILVERSTAR EN2plus, Glas Trösch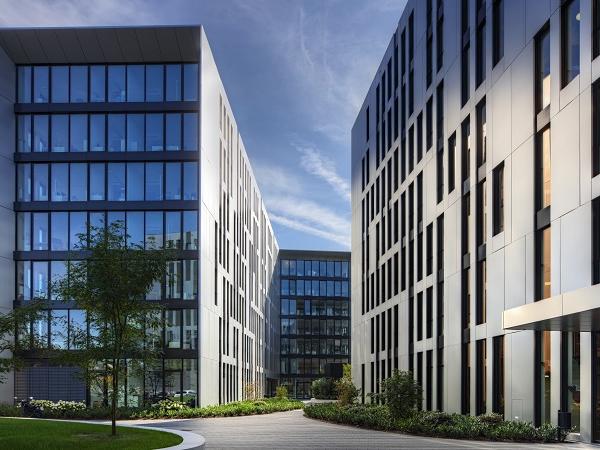 600
450
www.glastroesch.com
2017-01-26T10:27:46
Glas Trösch: Elegant exterior – comfortable interior
glassonweb.com