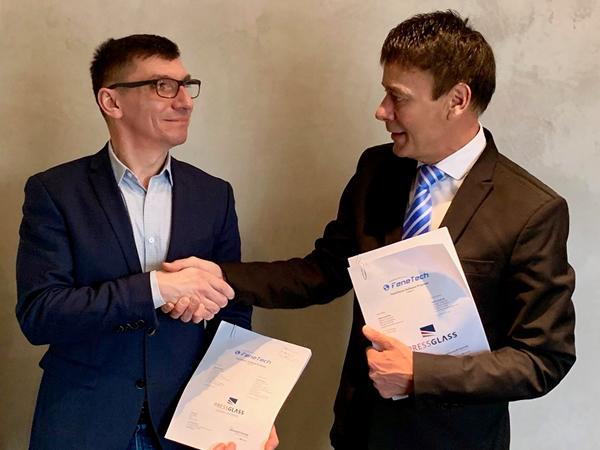 Photo source
fenetech.com
Press Glass has recently selected software specialist FeneTech as their new long-term software partner.
Poland based PRESS GLASS SA has recently selected software specialist FeneTech, creator of FeneVision ERP software, as their new long-term software partner.
The new partnership will start with the implementation of FeneVision ERP in the commercial glass plants in Poland, followed by the installation of the software in the new plant of Press Glass Inc., based in North Carolina, USA.
After successful implementation in these plants the cooperation will go further by introducing FeneVision ERP in all of Press Glass's plants, including the UK.
Horst Mertes, CEO of Luxembourg based FeneTech Europe SARL comments: "We are extremely proud to have entered into this long-term agreement with PRESS GLASS SA. The company is a state-of-the-art glass processing company, not only with all modern factories and advanced machinery, but also with a clear future-oriented vision, which matches perfectly with FeneTech's company culture. The decision of Press Glass also proves once again that proactive thinking companies are looking for fully integrated and modern software solutions that can provide full status visibility, flexibility and a clear vision for the upcoming challenges relating to Industry 4.0.  We are glad that we can offer our excellent products and services to help Press Glass to achieve this goal."
Ron Crowl, President of FeneTech Inc. adds: "It gives me great pleasure in welcoming PRESS GLASS SA to the FeneVision family. This is yet another step in FeneTech's worldwide growth and affirms that the twenty plus years of developing software for the glass fabrication industry allows us to provide innovative and forward-thinking software products and services to our valued partners."
Tomasz John, Purchasing Director for PRESS GLASS SA states: "At Press Glass we focus on building a technology advantage in the glass processing industry. In order to guarantee the highest quality of our products and services, we cooperate with the most reputable partners in the industry, such as FeneTech. Our advanced processes become more and more automated. Our partners inspire us and we constantly expand and modernize our systems and software to be ready for the Industry 4.0 challenges and beyond." 
About PRESS GLASS SA
PRESS GLASS SA, from the date of its creation, has been driven by a clear vision: "Building a modern, dynamic and globally active company that contributes to the development, and strengthens the competitiveness of its business partners by meeting their individual expectations." This vision has driven PRESS GLASS to their current market position described as globally active and Europe's largest independent flat glass processing operation. At this time, the company manufactures in 13 factories in Europe and North America. The facilities are located in the UK, Poland, Croatia and in the United States. On the global market the company offers its products under the PRESS GLASS brand, in the United Kingdom's residential market under the GLASS SYSTEMS brand.
About FeneVision Products and Services 
For nearly 25 years FeneTech, Inc. and FeneTech Europe SARL has been offering FeneVision ERP software solutions to the fenestration industry—this includes glass processing, window and door manufacturing, sunroom manufacturing, and related industries. In addition to the actual software and their regular new releases, FeneTech offers unparalleled service and support to its large customer base across the globe.
About FeneTech
FeneTech is an international leader in integrated software solutions for the fenestration industry. Headquartered in Cleveland, Ohio and Luxembourg, the company offers its products and services worldwide.
Source: FeneTech Europe SARL, PRESS GLASS S.A.
Image: From left to right - Press Glass CFO Cezary Ziółkowski, FeneTech Europe CEO Horst Mertes
Contact web side info: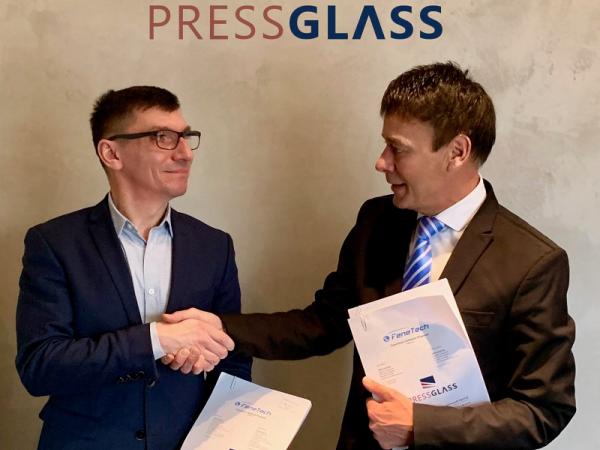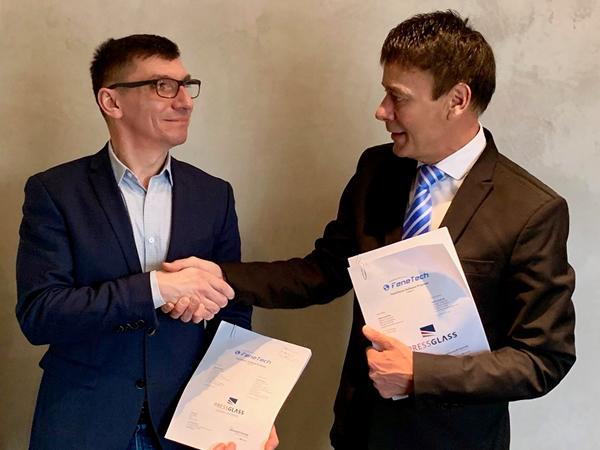 600
450
FeneTech Europe SARL, PRESS GLASS S.A.
2019-02-07T09:00:00
FeneTech is new software partner for Press Glass SA
glassonweb.com