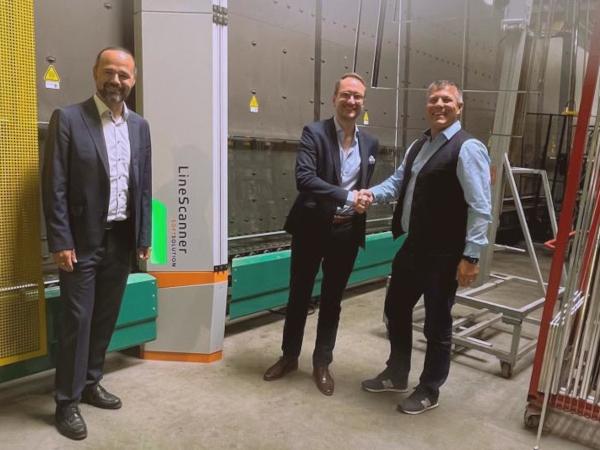 Photo source
Softsolution GmbH
Recently, Softsolution integrated three additional LineScanners into the main operation of Flachglas Sachsen.
A modern machinery park for quality assurance plays an increasingly important role in SMEs in the glass processing industry and will continue to be a central topic for medium-sized companies in the future. The expansion of automation, increasing digitalization, and consistently high, verifiable quality are extremely important. The LineScanner with data management at Flachglas Sachsen and Sülzfeld makes daily work easier for operators and provides customers with 100% traceability of the delivered glass.
Recently, Softsolution integrated three additional LineScanners into the main operation of Flachglas Sachsen, in addition to the existing single-pane LineScanner since 2010. These scanners now also inspect finished insulating glass elements at the locations in Grimma and Sülzfeld. Benjamin Thalmann, managing director of both companies, emphasizes the advantages of this investment and explains in detail how modern quality assurance systems ensure continuity in operational processes.
To produce insulating glass focusing on combinations of laminated safety glass (VSG), Benjamin Thalmann relies on scanner-based inspection systems. These systems inspect individual glass panes at the inspection station for the highest and, above all, consistent quality. The glass defect detection provided by Softsolution's software delivers reliable results regarding surface condition, coating, and glass thickness directly at the production line.
The three new LineScanners positioned after the press on the ISO lines now perform the final inspection of the finished ISO elements, including frame alignment, muntin layout and angles, butyl defects, and the correct construction in terms of glass thickness, coating side, spacer thickness, and overall thickness. Scratches, inclusions, coating defects, as well as fingerprints, dirt, etc., are also detected and documented in the archive for each ISO element.
From this data archive, certificates for each glass pane or ISO element can be retrieved at any time and without gaps, providing them to the end customer. "With this efficient process, we achieve a high level of quality in our products and such a high production reliability that we can speak of almost 100% delivery reliability," emphasizes Mr. Thalmann. At any point in production, production managers receive feedback and certainty about the quality status of the produced ISO units. "This ensures that only high-quality products leave our production," adds the long-time managing director. Additionally, he notes that his customers appreciate the punctual and proper delivery.
"In the event of inquiries or customer complaints, even weeks or months after delivery, we are still able to provide the certificates for each glass pane with the push of a button. Thanks to the connected data archive, a quality certificate for an ISO unit can be provided precisely, quickly, and easily with 100% accuracy," explains Mr. Thalmann.
Periodic evaluations of the archive data provide top management with deep insights and form the basis for internal statistics and resulting decisions for the future of the company. Through the LineScanner's management console, the owner or manager can monitor production data remotely at any time.
Regarding this, Mr. Thalmann comments briefly and concisely, "We will maintain and further improve our high level of quality permanently!" The investment in Softsolution's LineScanners has proven to be extremely beneficial for the operation, as confirmed by Markus Stefan, Sales Manager at Softsolution. The decision to invest was primarily based on the ease of documenting glass quality for customers.
The data integration with Hanic forms the basis for this integrated solution and allows the system to compare the respective order data in terms of quality criteria, dimensions, glass construction, etc. The quick retrieval of documented quality certificates is always possible in the data archive, enabling easy and efficient handling of claims.
FLACHGLAS SACHSEN AND SÜLZFELD
The variety of glass for facades and interior glass, the high competence of the employees, and the company's innovation have significantly shaped its development. We had the privilege of accompanying both flat glass companies in this quality assurance process. Mr. Thalmann emphasizes the importance of systematically securing this quality and relies on high-quality integrated solutions from Softsolution.
A wide range of services, reliable customer service, and various glass processing and finishing options are part of the portfolio offered nationwide. Around 150 employees in both companies contribute their knowledge and experience to provide professional and customer-oriented glass solutions.
An essential pillar is facade glass. The flat glass companies offer functional glasses of the latest generation for individual facade solutions. The focus at the company locations in Grimma and Sülzfeld is on climate protection glass, laminated safety glass (VSG), sun protection, thermal insulation, as well as sound and burglary protection. The portfolio is rounded off with facade panels and fall protection.
For further details and the link to the website, please visit: https://www.flachglas-partner.de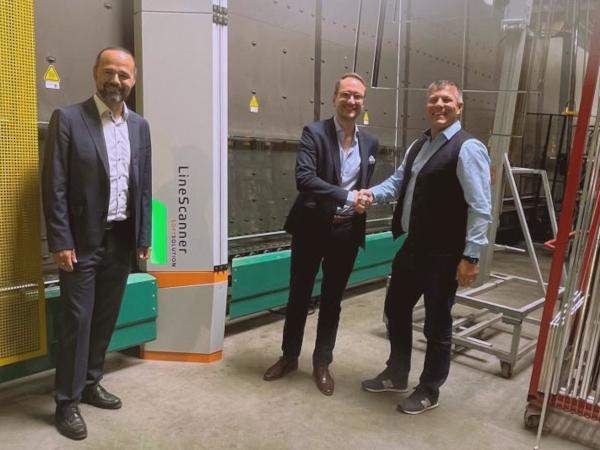 600
450
Softsolution GmbH
2023-07-18T08:00:00
Continuity and Reliable Delivery with LineScanner at Flachglas Sachsen and Sülzfeld
glassonweb.com