Driving Intelligence via Data
Driving Intelligence via Data
While it may sound like a riddle, why is a smart car like a smart factory? The simple answer is that both are complex operations that collect and organize massive amounts of data from many sources, then process and act on that data faster than the mightiest human brain.
Modern glass fabricators are using powerful A+W Software to manage complex and connected Internet of Things (IoT) data, empower machine-driven decisions and lead by example into Industry 4.0.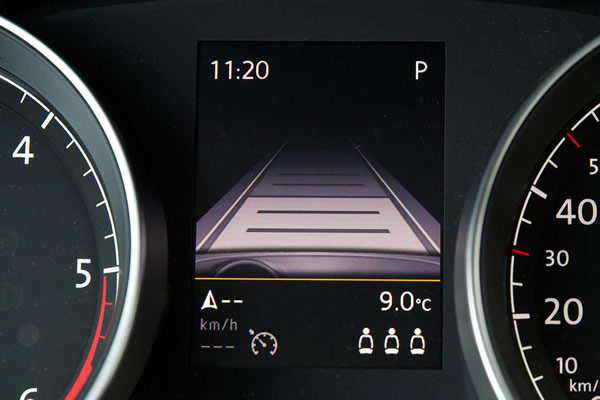 Smart cars are intuitive machines that are engineered to react to environmental factors and take action to preserve life and property.
Massive amounts of data, from road and weather conditions to operational efficiencies of the engine and steering, are collected and processed by the millisecond. The smart car then uses this data to manage distance control, automatic cruise control, lane assistance, and emergency braking.
When the unexpected happens, the smart car becomes really smart, automatically deploying the necessary safety response. Millions of calculations, based on the constant stream of data from cameras, road and auto sensors, trigger a series of lifesaving actions, from tightening seat belts to automatically braking.
So my glass processing factory can be as responsive as a smart car?
Equally impressive levels of data collection, organization and machine decision-making are already happening across the globe as part of Industry 4.0.
Glass fabrication plants are evolving into smart factories powered by software capable of organizing and making sense of the data streams generated by connected machines and Internet of Things (IoT) devices. A+W Software is harnessing it's forty years of industry expertise in leading this transformation.
Many of our valued customers have already implemented automation in their glass processing operations. The extensive experience, relationships with machine manufacturers, and specific industry focus of A+W technicians are a few of the reasons customers entrust A+W Software with their modernization.
The pioneering A+W IoT platform collects and organizes granular machine data, such as robotic movements and CNC processing actions, plus factory data, such as inventory levels, workpiece stages, and even shipping routes and traffic, as well as business data from customer and vendor orders.
Rule-based events trigger "smart" actions that bring the data to life.  Just like the smart car, process chains are controlled and actions are launched from this real-time collection of data.
A+W Software computes millions of calculations a minute, enabling connected systems to monitor processes, send commands and prompt actions across the factory floor.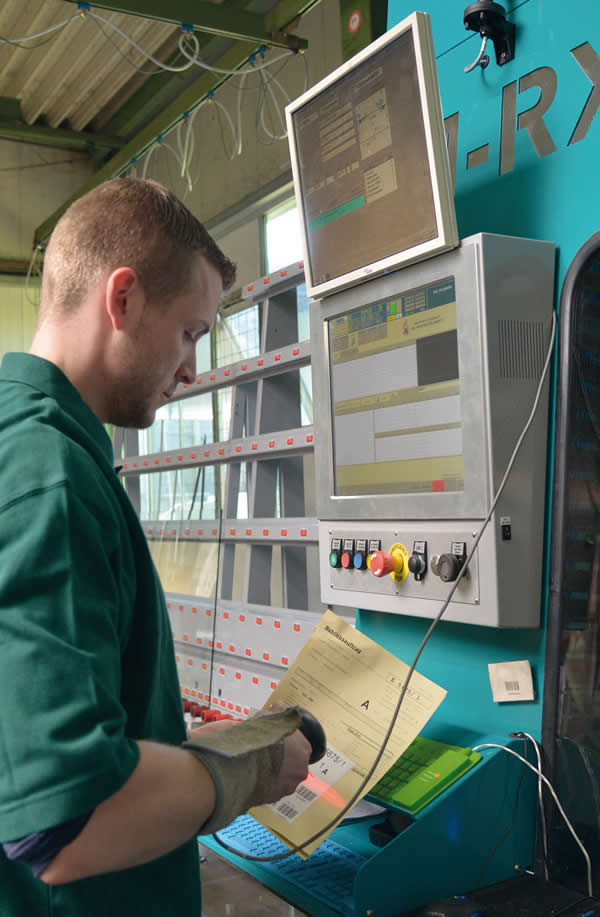 A+W Internet of Things – A Wondrous Future
Increasing digitalization and ever-broader sources of factory and environmental data will reveal possibilities that reach way beyond current capabilities.
In the future, A+W's IoT platform will marshall these resources so that replenishment, production, and even delivery processes might organize themselves independently and self-optimize continuously along each step of the process.
This digital transformation will include production-related, dynamic cost calculation, autonomous production planning, and self-organizing dynamic production using AGVs and other robotics. Within a few decades, the smart factory may well run itself.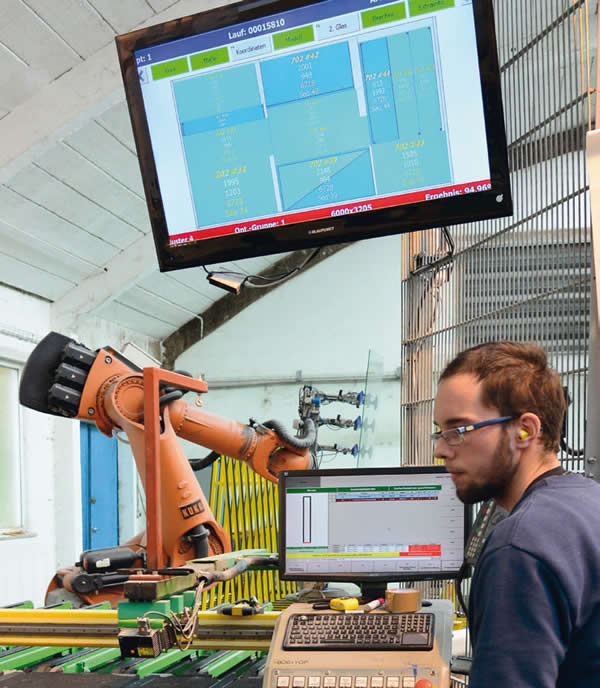 The Future's So Bright, We'll Need Shade Glass
It is not science fiction to see a future in which the entire supply chain is networked: suppliers to be networked with factories for just-in-time deliveries; factories networked with their distribution centers; DCs and 3PLs networked with retail outlets while providing delivery details directly to end customers.
Already we have inline scanners transmitting status data regarding workpieces to communicate and notify customers of where their orders are in production. It's a small step to  notify other connected machines to prepare and schedule additional operations.
Communication will exceed the boundaries of the individual company. Glass breakage at a window manufacturer can trigger a replacement order at the glass partner without delay or human intervention.
A packaging robot at an insulated glass plant might communicate directly with the glazing robots at a construction site so the order is assembled in the most efficient manner for installation.
The A+W IoT Platform provides secure access to a company-specific data lake, populated with structured and unstructured data from all company departments, from your ERP system and from individual devices and machines.
The IoT Platform allows continuous monitoring and tracing of company processes and data streams, with visualization and analytics tools benefiting human and machine learning.
At its heart is a sophisticated rules engine that triggers real-time actions based on incoming and stored data. Full integration with A+W Software's ERP powers the communications and intelligent interactions that make Industry 4.0 production possible.
A+W IOT Platform
The "big brain" of a smart factory
Enables the collection, processing, channeling, forwarding, storage, evaluation, and analysis of structured and unstructured data
"Holistic recognition memory" for intelligent communication control in complex environments
Platform for central storage and processing of data from a wide variety of sources - computers, machines, documents, people - in various output and target formats
Actions are triggered using workflows, based on data and/or states such as threshold values
Foundational to a modern company's digital transformation, supporting Industry 4.0, traceability, IoT and Enterprise Content Management
600
450
www.a-w.de
2017-09-07T09:50:00
A+W | Smart Cars and Smart Factories
glassonweb.com