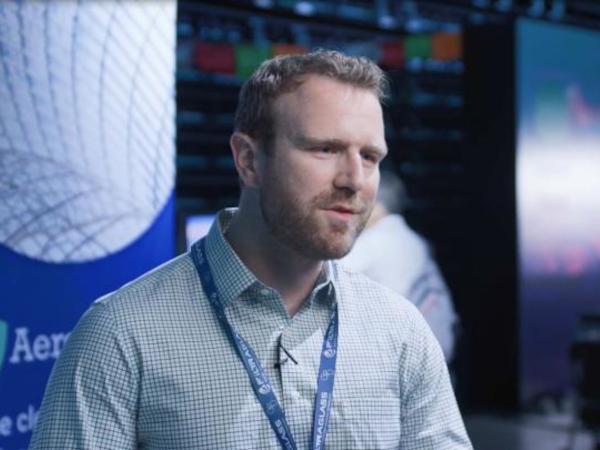 Photo source
Glaston Corporation
Read more about the company and watch the interview at Step Change 2023 Base Camp in June.
AeroShield makes the world's most transparent silica aerogels. Silica aerogel is a super-insulating material. And our innovation was making it transparent – for the first time.
Just three millimeters of our material inside a double-glazed unit can make them 50 to 60% more energy efficient.
We've been talking to manufacturers and people involved in the glass and glazing industry for a while about how our material can be incorporated into all sorts of new products. And attending Step Change was recommended to us by one of the manufacturers, saying: "Hey, this would be a great chance for you to go talk to people that are working in innovation and new products all across Europe and all across the world."
Through Base Camp, we aim to introduce AeroShield to Europe and the rest of the world. We've been to a couple of conferences in the US. But this is really the first time that we've met with the innovation teams from a lot of European companies. And we think that Europe is such a center for innovation, but also focused on sustainability.
We think there are a lot of really interesting use cases. And hopefully, people are excited about what we have to offer. AeroShield's goal is to enable more sustainable and energy-efficient products. And we think that that's best achieved by working with people that are already working in glass and glazing.
To solve this problem, we have to work at scale. And there are people that are experts in windows and glass. So, our material should become a tool in their toolkit. We want to let people know that we have a super-insulating material that can improve the U-value, enhance the thermal performance of anything else. Just let us know where you want to apply that. So at GPD and Base Camp, our goal is to talk to manufacturers about how our solution can be incorporated into their products.
AeroShield was founded in 2019 as a spin-out from MIT. Since then, we've been able to scale up our manufacturing and made 14 x 20-inch prototypes and 30 x 50-centimeter prototypes. And that's the industry's standard size for testing.
So, some of the biggest milestones for us were passing a lot of the industry standard tests that aerogels have just never been able to pass before. Things like thermal performance, durability in terms of slam testing, UV stability and all the things that we know the industry needs to see are things that we're starting to do with these industry partners.
600
450
Mari Lehtinen | Glaston Corporation
2023-10-12T11:18:44
AeroShield at Step Change 2023 event - Glastory
glassonweb.com