There are so many options when it comes to types of decorative glass – choose from frosted, acid etched, sandblasted, mirrored, or painted glass to create the look you want.
There are myriad applications for decorative glass products, but read on to discover what we think are the Top 5 effective uses for decorative glass.
Decorative glass panelling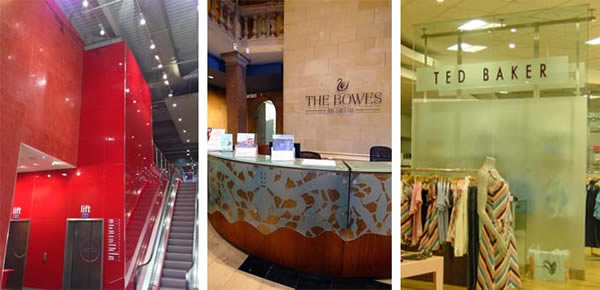 Glass panels are an effective way to both protect your walls and add a contemporary and striking decorative effect to your premises.
Particularly beneficial for commercial spaces, where unprotected walls and surfaces can suffer a high level of wear and tear, decorative glass wall panels are also a great way to add your company colours or motif to your décor.
Whether you choose painted glass or frosted, the effects can be striking.
Frosted or painted glass balustrades

Glass balustrades are super stylish in minimalist clear glass, but installed in a decorative glass they can be positively eye-catching.
A painted glass balustrade can be a dramatic design statement, while a frosted glass balustrade can be used to display company logos or simply add privacy.
Painted glass splashbacks

One of our most popular installations in homes is painted glass splashbacks. And no wonder.
Tough, durable, safe, hygienic and extremely stylish, painted glass splashbacks have a lot going for them!
And painted glass is available in an unlimited range of colours – commercial glass suppliers like Peterlee Glass can even colour match your glass splashbacks for you.
For a speedy turnaround, we also offer a range of Lacobel T painted glass, which is available in 15 contemporary colours and can be immediately cut and toughened to accelerate delivery times.
Decorative windows or shop fronts

A sleek and stylish way to add your company branding to shop frontage is to use decorative glass. Logos can be added to glass in either a painted or frosted design.
Frosted glass can also be useful for adding privacy – either as a solid frosted panel or as a unique design.
Decorative glass floors and stairs

Few design schemes look more dramatic or sleek than a glass floor. Glass floors offer so many advantages – they're hard-wearing, easy to clean, beautiful to look at and they allow natural light to flow through a building.
But often one of the concerns when installing a clear glass floor is privacy. Installing a frosted glass floor eliminates this concern, while doing nothing to diminish the other benefits.
Another common concern with a glass floor, whether in a commercial or domestic setting, is that it may lack grip and cause slips or falls.
Frosting or sandblasting can create a rougher surface texture, thereby increasing grip underfoot.