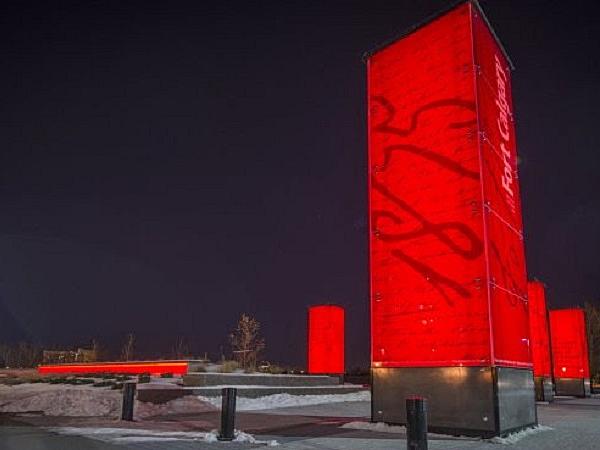 Photo source
Goldray Glass
Colorful glass towers commemorate local historical figures
The Fort Calgary Edges landscaping project, designed to create a respectful delineation between Calgary's East Village district and Fort Calgary, a national historic site representing the city's birthplace, features five scarlet red sentinels that present a striking contrast to its prairie surroundings.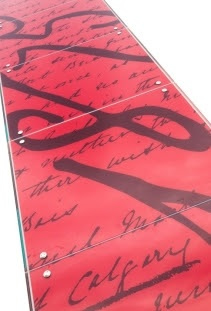 Architects specified Starphire Ultra-Clear® glass by Vitro Architectural Glass to enhance the bold, striking color of the columns, which were inspired by the red uniforms of the Royal Canadian Mounted Police. 
Established in 1875 as Fort Brisebois by the North-West Mounted Police (now the Royal Canadian Mounted Police), Fort Calgary is located at the junction of the Bow and Elbow rivers.
In 1978, the City of Calgary opened the historic site and museum on 40 acres of parkland. Each of the five glass towers pays homage to an historical city figure by highlighting their quoted words.
Goldray Industries fabricated the towers, which range in height from 18 to 28 feet, using its Technographic Interlayer, a high-resolution printed polyester material that is backlit and laminated between two large lites of Starphire® glass to enhance their color fidelity.
"We needed to be able to best display the vibrant red printed interlayer, and Starphire glass was the only option," said Roxanne Laverty, Goldray marketing coordinator. "The thickness and availability of Starphire glass also allowed us to ensure that the project would stand up to the hard northern climate of the city."
Introduced in 1990, Starphire Ultra-Clear glass remains the clearest, most transparent commercial float glass available today, with visible light transmittance (VLT) of 91 percent in a standard ¼ inch (6 millimeter) thickness. To learn more about Starphire glass, visit www.vitroglazings.com.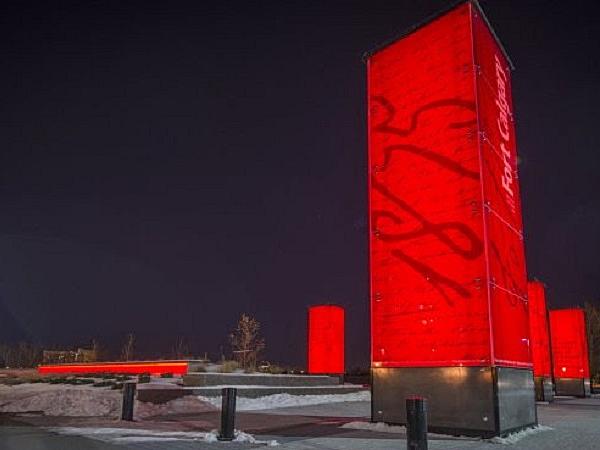 600
450
www.vitroglazings.com
2017-11-22T15:00:00
Sentinels at Fort Calgary constructed with Starphire Ultra-Clear glass by Vitro
glassonweb.com