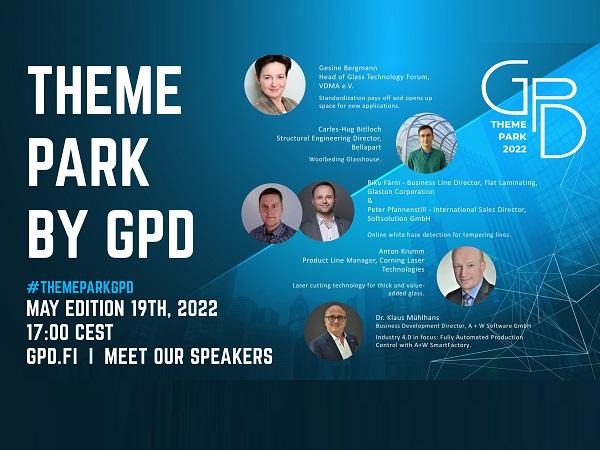 The edition will be held next week May 16-20, 2022 and the focus is on Case Studies.
Speaker material will be shared on Monday the 16th and the After Work Huddle will be on Thursday the 19th of May 2022 at 17:00 CEST. You can register for the After Work Huddle via the link below. Registration is free of charge.
Register for GPD Theme Park May edition After Work Huddle
Topics and speakers of the week.
Standardization pays off and opens up space for new applications, Gesine Bergmann, VDMA e.V.
Woolbeding Glasshouse, Carles Hug Bitlloch, Bellapart
Online white haze detection for tempering lines, Riku Färm, Glaston & Peter Pfannesnstill, Soft Solution GmbH
Laser cutting technology for thick and value-added glass, Anton Krumm, Corning Laser Technologies GmbH
Industry 4.0 in focus: Fully Automated Production Control with A+W SmartFactory, Dr Klaus Mühlhans, A+W Software GmbH
To allow each After Work huddle participant the opportunity to contribute actively, the number of huddle participants may be limited.
We look forward to receiving your registration and participation on the 19th of May, 2022!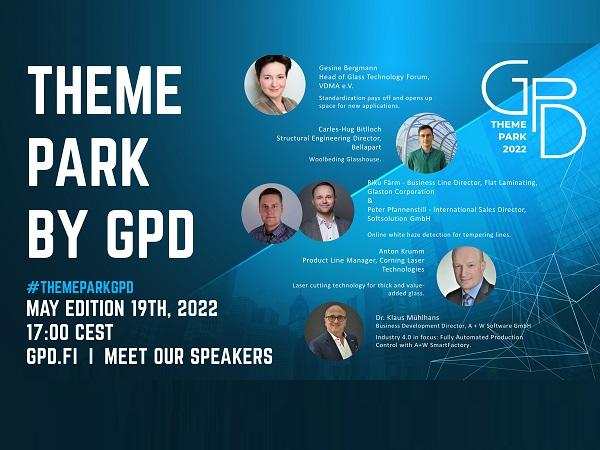 600
450
gpd.fi
2022-05-11T12:43:50
Registration for Theme Park by GPD - May Edition After Work Huddle- now open!
glassonweb.com