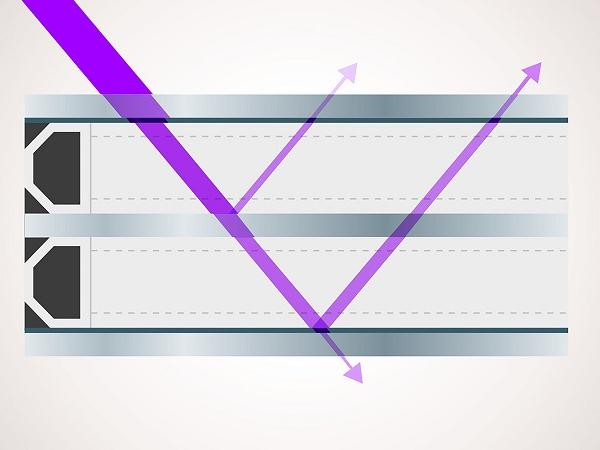 Photo source
www.sparklike.com
Sparklike Oy is the developer and manufacturer of world's first and only non-destructive insulating glass gas fill analysers for triple- and double-glazed insulating glass units.
This article was written to present Sparklike Oy – the developer of world's first and only non-destructive insulating glass gas fill analysers for triple- and double-glazed insulating glass units (IGU's). The article starts with a summarising company presentation.
The second part concentrates on the biggest highlights from the past year, including the most recent technological innovations in the realm of non-destructive insulating glass gas fill analysis, the growth of Sparklike personnel as well as their distributor network.
The third and final part of the article discusses the future of quality control, in regards to high quality insulating glass manufacturing and energy saving.
SPARKLIKE DEVICES™ ARE IN THE CROSS-SECTION OF SCIENCE, TECHNOLOGY AND NATURE
Sparklike represents cutting-edge science by developing and manufacturing innovative non-destructive gas fill analyzers for insulating glass windows and doors.
Since year 1999 Sparklike has sold over 1700 devices worldwide. Their devices are used daily by world leading insulating glass manufacturers, testing laboratories and window manufacturers. 
Furthermore, Sparklike devices™ are part of an important technological innovation, considering that all devices are based on their proprietary and patented technology, which allows the analysis of insulating gas concentration — without having to break the insulating glass unit.
In addition, non-destructivity allows Sparklike's customers to deliver tested IG units to the end-consumer, test already installed units or perform long term automated testing to their production.
The technology for Sparklike Handheld™ devices – that are designed for the non-destructive analysis of standard double glazed IGU's – is based on Plasma Emission Spectroscopy. 
Sparklike Laser™ product line, on the other hand, is based on Laser Technology (TDLAS) and can analyze the insulating glass gas fill non-destructive for triple and double glazed units, even through coatings and laminated glasses.
Finally, Sparklike devices™ are strongly related to energy saving and energy consumption. This is important, since controlling and determining the gas concentration inside the insulating glass units requires effective and reliable tools to meet the increasing and tightening industry requirements as well as end-user expectations.
SPARKLIKE: GLOBAL OPERATIONS; CONSTANT GROWTH
In order to strengthen their global presence and to better answer to the growing demand concerning their devices and services, Sparklike has increased their personnel, expanded their distributor network and is continuously developing their offering.
Sparklike is happy to announce that during the last 12 months, they have started doing collaboration with two new distributors and have hired two people to their office in Finland and in the US.
FINLAND
During the summer 2017, Sparklike took the decision to hire Mr. Jarno Hartikainen as their Development Manager. Mr. Hartikainen's main goals are to evaluate the novel industrial processes, develop business areas, to review technical upgrading opportunities, acquire suitable new customers/cooperation partners as well as to develop internal quality processes.
UNITED STATES
Furthermore, due to the growing interest towards Sparklike devices™ within the North American region, Sparklike also decided to grow their personnel by hiring Mr. Mike Burk as the North America Technical Representative since he has worked in the technical and training areas of the insulating glass industry for over 25 years. 
INDIA
In addition to the Sparklike HQ in Helsinki and representative offices in the US and China, Sparklike's sales operations are being carried out through a global distributor network. Sparklike is constantly looking to adjust their sales and marketing reach to fit the glass industry demands.
Therefore, as the growing Indian insulating glass market is rapidly aiming to meet the quality requirements of Western countries, but at the same time looking to guarantee the production quality for standard double glazed insulating glass units also for their national market, Sparklike named Mr. Prashant Bagkar from Pulsar Technologies as their official distributor for India.
SPAIN AND PORTUGAL 
Last but not least, in order to further reinforce their presence in Europe, during the fall 2017, Sparklike introduced TECNOCRISA, S.A. as their distributor for Spain and Portugal. This company was an excellent choice due to their over 30-year experience in the glass industry.
Since 1982, TECNOCRISA S.A. has distributed machineries for the glass industry and represented international manufacturers of machinery, consumables and equipment from different sectors within the glass industry.
PRODUCT GROWTH AND DEVELOPMENT 
In addition to growing their global presence in terms of distributors and representatives, as an innovation driven Nordic company that holds several patents for their cutting-edge technology, Sparklike is also constantly developing their devices and services.
An important milestone is being reach this year, when Sparklike will present their full product range for the first time ever at the glass industry's biggest event, glasstec, held in October 2018 in Düsseldorf, Germany. During the event, Sparklike will be present at Hall 14 Stand B38.
Furthermore, Sparklike will also present their technology at the engineered transparency conference organized by the Universities of Darmstadt and Dresden in cooperation with Messe Düsseldorf. 
GAS MEASUREMENT WITHOUT BREAKING THE IGU
All the devices within the Sparklike Laser™ product line allow the measurement of insulating glass gas fill without breaking the IGU or without having any extra components inside. Furthermore, this laser based technology enables the insulating gas analysis of triple and double glazed IGU's, even through coatings and laminated glasses. 
The product line was developed by Sparklike's R&D Engineer, Mr. Kai Niiranen, and is based on Tuneable Diode Laser Absorption Spectroscopy (TDLAS). By using this technology, the devices measure oxygen and from there, the amount of argon, krypton or other insulating gas, can be calculated.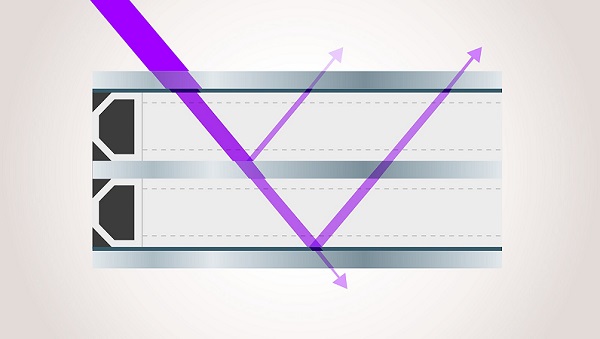 As can be seen from the image 1, when measuring the gas concentration inside an IG unit, the laser beam goes through the first pane and is reflected to the detector from the first surface of the second pane. In addition, with a triple insulating glass units, the laser beam goes through two panes and is reflected from the third pane. 
Finally, in order to get the focused laser beam to the correct measuring point, the IG dimensions are first scanned. This is done by moving the focused laser beam through the IG and collecting the reflected signal in order to obtain accurate dimensions of the IG. This, in return, enables the calculation of the gas concentration(s). 
Taking into consideration the glass industry's shift towards being able to conduct traceable quality control throughout the production chain, as well as the industry's growing interest towards IoT, the newest member of the product line, Sparklike Laser Online™ device, is enjoying well-deserved attention.
IG LINE INTEGRATED INSULATING GAS MEASUREMENT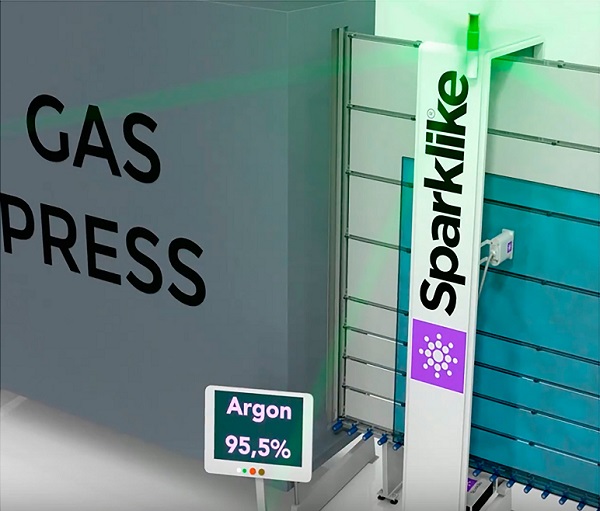 This device was developed since the customers were looking for a way to conduct non-stop quality control. In other words, the online version is a custom-made and automated solution, where Sparklike delivers the measurement components that are integrated directly into the insulating glass line.
Furthermore, this communication between the IG line and the device is done by using an Ethernet port, eventually allowing the measurement data to be stored, for ex. to the company's ERP.
The system developed by Sparklike Engineers is reading the port and sending data back according to the communication protocol. To ensure an easy-to-use protocol, all the commands and replies have pre-determined lengths. Finally, specific commands enable the measurement of the IGU in sync with the production line.
TRADITIONAL VERSUS SPARKLIKE
Traditionally gas concentration has been measured with a gas chromatograph, an invasive test device to analyze gas concentration within double and triple glazed insulating glass units.
In order to compare Sparklike Laser™ devices with the traditional technology, Sparklike Oy requested ift Rosenheim, a well-known test laboratory to perform a test in order to determine the argon gas concentration in insulating glass units by using a particularly challenging test specimen.
This test specimen included samples with different constructions i.e. clear glass, triple glazed units as well as laminated glass with different coatings.
The purpose of the test was to verify the results from measurements done with Sparklike Laser Standard™ analyzer, by using gas chromatograph as a reference device. The test showed that every sample was measurable by using the Sparklike Laser Standard™ device. The full report can be downloaded here: http://campaign.sparklike.com/ift-report-on-sparklike-laser.
ENERGY SAVING WITH HIGH QUALITY INSULATING GLASS UNITS
It has been calculated that in North America and Europe, the buildings consume a staggering 40% of the primary energy consumption. However, this figure can significantly be reduced if the buildings are purposefully designed, constructed and used.
Furthermore, a report released by the International Energy Agency (IEA) clearly stated that from the overall energy of office buildings, 20% is being consumed on lighting, 16% on heating and 14% on cooling. 
Furthermore, typically about 15–20% of building wall surface is windows. Therefore, it has been estimated that 25% of building's energy consumption could be reduced, if the windows were argon filled double glazed units.
On the other hand, in office buildings where the glass surfaces are generally much greater, argon filled triple glazed units can help to obtain even up to 50% energy savings compared to the use of air filled windows. Therefore, it has become clear that windows are not merely an aesthetic element, but play a primordial role when considering buildings' maintenance costs. 
In order to further explore the subject of buildings' maintenance costs, a well-known supplier of essential products for the global construction industry, Akzo Noble interpreted glass and glazing units' energy consumption (U-value) by converting it to oil consumption. The following table number 1 represents an estimate for glass and insulating glazed units' energy efficiency using oil consumption (l/m²*a) as the unity for energy consumption.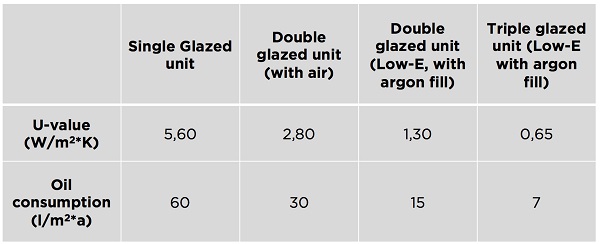 As can be observed from the above table, cost – here oil consumption – can radically be reduced by using argon filled insulating glass units. Most prominent increase in oil consumption can be detected between the single glazed unit and the argon filled Low-E coated and triple glazed unit, where oil consumption increases by staggering 757%
It can be concluded that when considering energy saving, the structures' proper heat insulation is a cost-effective way to reduce the need for heating. Therefore, properly heat insulated buildings and quality controlled insulating glass units can significantly reduce energy consumption.
Furthermore, manufacturing high quality insulating glass units, reaching the standard required amount of insulating gas during production and keeping the gas inside the unit for many years, plays a significant role in IGU's thermal performance. As can also be seen from the table number 1, energy loss always leads to unwanted and unnecessary costs.
Finally, it seems evident that the ever-growing popularity of Sparklike devices™ is due to the fact that they offer the IG and window manufacturers, as well as test laboratories the possibility to analyze the gas concentration of IG units in a fast, economic and non-destructive way. Something that was not possible before. This, on the other hand, ensures that the end-user receives an IGU with the gas concentration that complies with industry norms, regulations, as well as customer expectations.
Sparklike Oy is the developer and manufacturer of world's first non-destructive argon analysers for insulating glass windows and doors. Since year 1999, their products have been sold worldwide, and are used daily by world leading IG manufacturers, window and door manufacturers, testing laboratories, building quality inspectors and construction consultants. For more information on Sparklike Oy and their devices and services, please visit www.sparklike.com.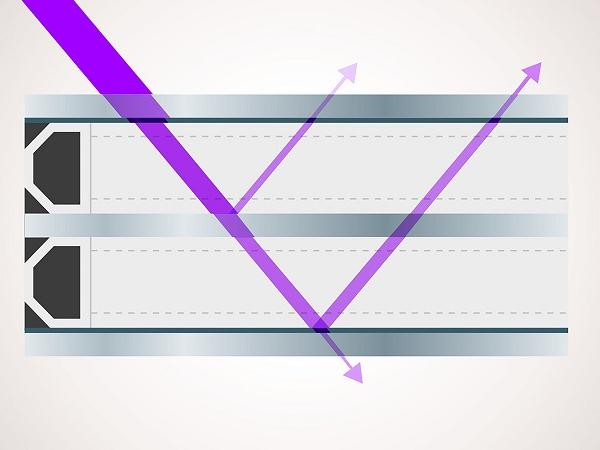 600
450
www.sparklike.com
2018-08-16T10:26:20
The pioneer of non-destructive argon measurement - Presenting Sparklike Oy
glassonweb.com