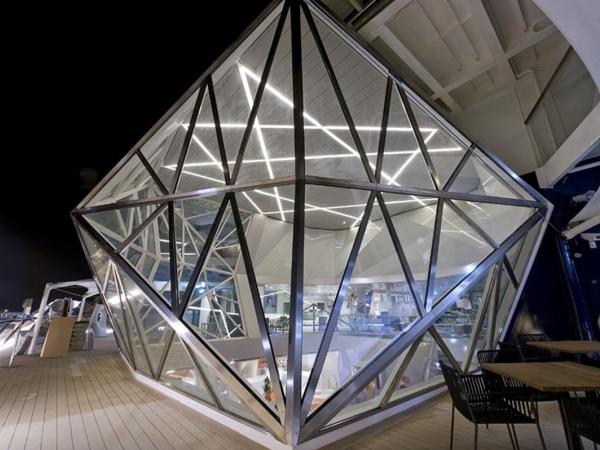 Photo source
pilkington.com
A complex diamond-shaped structure that forms part of a luxury cruise liner, is a flagship project in a turnkey solution for Finland's Pilkington Marine.
The company is gearing up to supply a range of specialist glass structures for luxury vessels, which include the new Mein Schiff (My Ship) 5 and 6, two TUI cruise liners, to be completed at the Meyer Turku Shipyard in June 2016 and Spring 2017 respectively.The plan forms part of a heavy investment in module supplies of large glass structures. 
"The idea is to have the structure completed as far as possible in the workshop, in the manufacturer's premises or at the shipyard so that it can be lifted on the vessel's frame and installed as a module," explained Matti Hopia, Pilkington Marine's Business Manager.
"This eliminates the need for massive scaffolding and weather guards.  Installation time is shorter and once the openings are covered, the inside temperature will soon allow interior decoration and furnishing to start.
Mein Schiff 5 is due to set sail this month (July) bound for the Mediterranean before a winter sojourn in the Caribbean.
Pilkington Marine has supplied the special windows for her outer decks as well as windshields and glass railings comprising around 3,000 m2 of special windows and glass structures in toughened and solar control double-glazing and circa 2,700 m2  of windshields and railings. Fire-rated panorama windows cover a total area of 160 m2. 
"The largest special window is a stunning diamond-shaped, providing a panorama of the restaurant at the rear of the vessel," explained Matti Hopia, Pilkington Marine's Business Manager.
"Diamond-shaped structures are a complex manufacturing challenge, both for strength and aesthetics. The structures should be as light-weight as possible, without any compromise in strength, because everything affects the weight – and thus the fuel consumption – of the vessel.
Mein Schiff 6, to be completed in spring 2017, will boast a similar diamond-shaped development.
Besides the projects underway at Turku Shipyard, Pilkington Marine is working on extensive glass supplies for cruise liners built by STX France in Saint-Nazaire.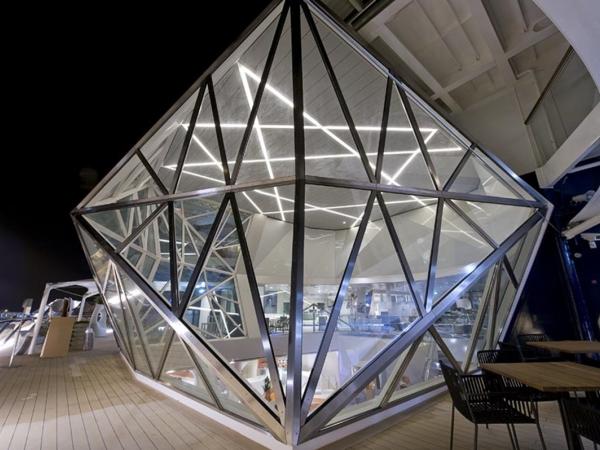 600
450
www.pilkington.com
2016-08-05T13:00:00
Pilkington: Marine diamond
glassonweb.com