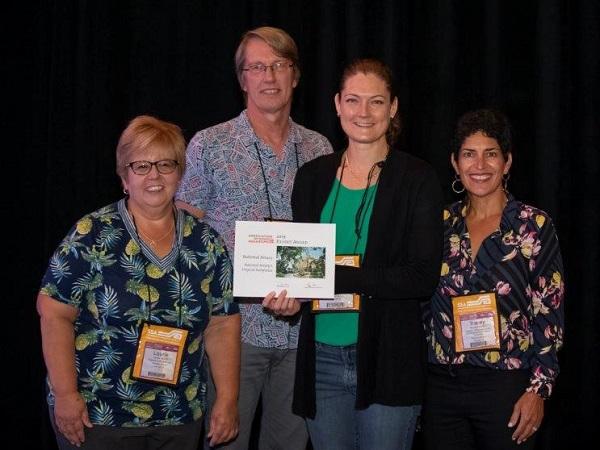 The Association of Zoos and Aquariums (AZA) announced that the National Aviary has been recognized with AZA's 2019 Exhibit Design Award for its innovation in creating the Tropical Rainforest exhibit.
The National Aviary received this national award during AZA's September conference in New Orleans. 
"The renovation of the National Aviary's oldest room has resulted in a beautiful habitat, with carefully chosen trees, plants, and water features that represent the environment tropical bird and mammal species would inhabit in the wild, and provide a window into the natural behaviors this new habitat encourages, like nesting. Our docents and interactive signage promote greater understanding of rainforest habitats, our dependence on them, and the actions we can all take to help protect them," says National Aviary Executive Director Cheryl Tracy. "We were intentional about using bird-friendly glass in our redesign, which benefits the birds inside and outside the National Aviary, and in ensuring that the glass from the original 1952 structure was given new life through beautiful works of art created by local artists." 
With its annual Exhibit Award, AZA recognizes excellence by an AZA-accredited facility (US or international) or certified related facility members in the areas of exhibit design and providing visitors with the opportunity to engage in observing and learning about the animals.
"This award is among the highest honors in exhibit design, and AZA congratulates the National Aviary for designing a novel, immersive habitat that ensures high-quality animal care as well as meaningful guest experiences," said AZA President and CEO Dan Ashe. "The Tropical Rainforest exhibit goes above and beyond AZA's rigorous standards for animal management, safety, conservation, and education."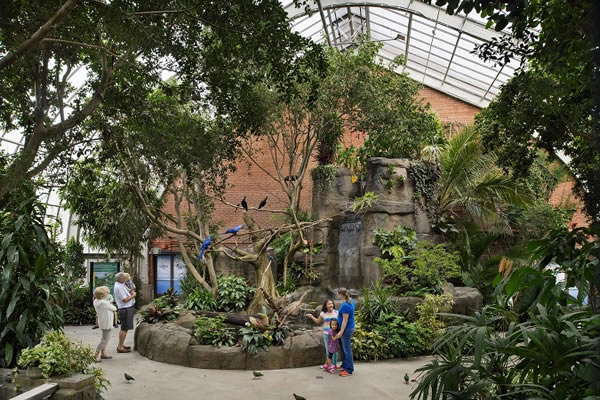 The National Aviary's $1.2 million renovation of its historic Tropical Rainforest, originally constructed in 1952, features an expansive new dome made of 19,600 square feet of laminated Starphire Ultra-Clear® glass by Vitro Architectural Glass (formerly PPG Glass).
The glass features bird-friendly AviProtek® Velour acid-etched finish by Walker Glass designed to prevent collision by birds both inside and outside the habitat, to prevent birds of prey flying outside from seeing and attempting to reach potential prey living inside the building, and to maximize ultraviolet (UV) and natural light transmittance to help sustain wildlife and plant life throughout the year.
The exhibit also includes a 15-foot tiered waterfall that encompasses immersive spaces for birds to bathe and play; new tropical plants and trees, including cacao and coffee as tools for conservation education; custom perches; new lighting and flooring; and other energy-efficient enhancements.
The space is home to more than 80 birds representing nearly 30 species and a Linnaeus's Two-toed Sloth. The variety of avian life includes extinct-in-the wild Guam Rails, a male and female Great Argus Pheasant, a pair of Hyacinth Macaws, flocks of Victoria Crowned Pigeons and Southern Bald Ibis, and White-crested Laughingthrushes, among many others.
Collaborative partners on the project included Colcom Foundation; Allegheny Regional Asset District; Allegheny Health Network; Peoples; Trib Total Media; and Vitro Architectural Glass (formerly PPG Glass). 
The National Aviary's construction and consultation partners on the 2018 Tropical Rainforest expansion were glass manufacturer Vitro Architectural Glass (formerly PPG Glass); Walker Glass Company Ltd (AviProtek® bird-friendly Velour acid-etch finish); Dlubak Specialty Glass Corporation (glass fabricator/glass recycling); Greenhouse Renovation Services, Inc. (glass installation and project management); Weber Group (waterfall design and construction) and Montgomery Smith Inc. (design and engineer consultant).
To learn more about AZA's Honors and Awards, please visit https://www.aza.org/honors-awards. 
 
About the National Aviary
The National Aviary is America's only independent indoor nonprofit zoo dedicated to birds. Located in West Park on Pittsburgh's historic North Side, the National Aviary's diverse collection comprises 500 birds representing more than 150 species from around the world, many of them threatened or endangered in the wild. The National Aviary's large walk-through habitats create an intimate, up-close interaction between visitors and free-flying birds, including opportunities to hand-feed and to meet many species rarely found in zoos anywhere else in the world. For more information, log on to www.aviary.org. 
The National Aviary inspires respect for nature through an appreciation of birds.
 
About AZA
Founded in 1924, the Association of Zoos and Aquariums is a nonprofit organization dedicated to the advancement of zoos and aquariums in the areas of conservation, animal welfare, education, science, and recreation. AZA is the accrediting body for the top zoos and aquariums in the United States and eleven other countries. Look for the AZA accreditation logo whenever you visit a zoo or aquarium as your assurance that you are supporting a facility dedicated to providing excellent care for animals, a great experience for you, and a better future for all living things. The AZA is a leader in saving species and your link to helping animals all over the world. To learn more, visit www.aza.org.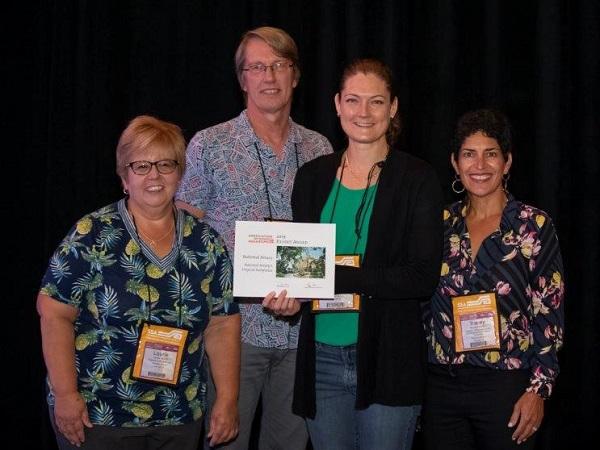 600
450
www.aza.org
2019-10-02T11:00:00
National Aviary Tropical Rainforest featuring acid-etched STARPHIRE Glass wins national award for exhibit design
glassonweb.com