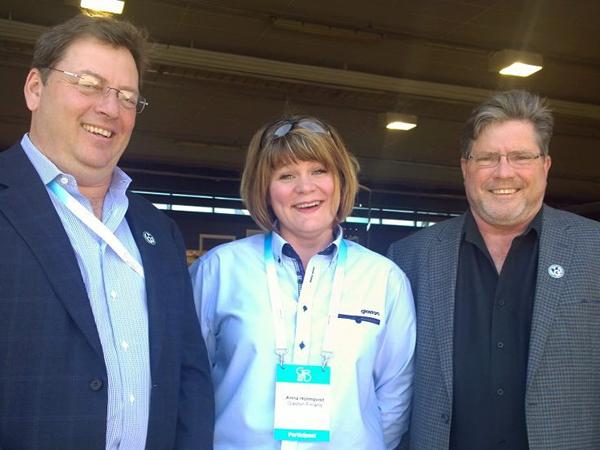 Photo source
www.glaston.net
Sharpening the edge in a niche interior market.
Celebrating 40 years of being in business, Kensington Glass Arts decided it was time to upgrade its old Tamglass furnace to Glaston's RC350.
The deal-clinching factor was Glaston's agreement to get the new furnace installed, commissioned and running saleable tempered glass in just three weeks.
With his exceptional ability to orchestrate teamwork, David Stone, CEO of Kensington Glass Arts, coached the joint teams into completing this nearly impossible schedule on time.
Kensington Glass Arts began as an art glass studio in Washington DC, engaged in stained glass and glass etching.
With a shift in economic conditions in the early 90s, the company moved into installation work and then gradually became established in glazing for commercial office interiors.
Today, under David's direction, Kensington Glass Arts has grown to become a leading fabricator and installer of high-end interior architectural glass, leaving stained glass and etching in the company's past. A more recent step in the company's development came when it started tempering glass inhouse.
"Instead of buying new equipment, we got a used Tamglass along with new CNC and polishing equipment in 2002. After using the old furnace for 15 years, it was a clear priority on our list to upgrade," David explains.
"The market has improved over the past five years. So, we have had our eyes set on upgrading how we fabricate glass, as this area offers us the biggest growth potential."
David had been tracking manufacturers of tempering furnaces for a number of years. He also visited the top international glass shows.
"I like how Glaston presents themselves. They're nice people. We've kept in touch over the years, and I have been a strong advocate for the company," he says.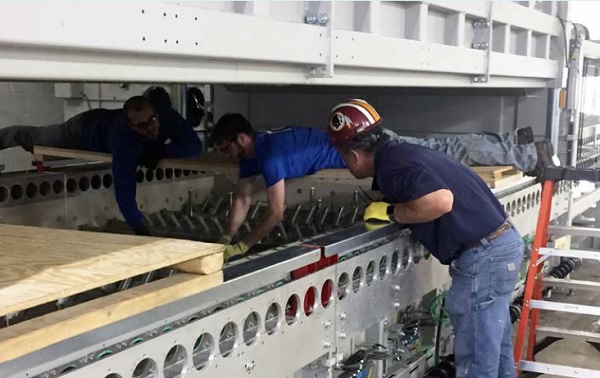 ULTIMATE CHALLENGE
As a small operation geared to serving the interior market, it was unfeasible for Kensington Glass Arts to shut down production for eight weeks to install a new furnace.
"We reached out to several manufacturers to find out how long it would take them to deliver a new tempering furnace, what all would be involved, and what would be the costs and process. We stipulated that the new furnace had to be up and running in three weeks from the time that the delivery crates arrived. The ultimate challenge, I guess," David smiles.
Some manufacturers seemed overly cocky in what they were willing to promise, while others simply said the schedule was impossible.
"Since I was already predisposed to liking Glaston, I listened to all they agreed on – and was convinced by their confidence in being able to help us make the deadline," he says.
SCHEME TO SUCCEED
To make everything happen according to the tough schedule, Glaston planned to send the engineering manager over to Kensington twice during installation rather than the normal single visit.
Also, two crews were proposed to work two shifts, six days a week. In total, there was a team of 24 people, including engineers and mechanics from both Finland and the US.
"We hoped at first to be able to remove our existing furnace and sell it. But just packing it up would be extremely time consuming," David says.
"In the end, we chose to get rid of the furnace completely rather than reselling, which helped get it out of the way in a hurry. So, the old furnace was completely dismantled before the last container for the new furnace was unloaded."
NO WAY ON EARTH TO PULL THIS OFF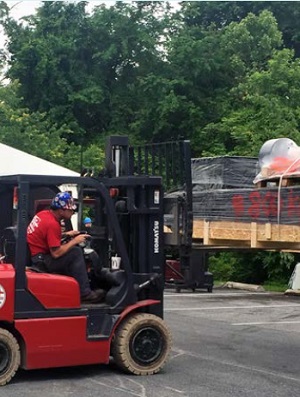 "Just imagine – six 40-foot containers arriving the same day as we were taking the old furnace apart," David describes. He called a meeting on May 22, a day before the multicultural team was to start, and emphasized: "I'm serious – we're going to make this happen!"
The faces of some team members seemed to express there was no way on earth to pull this off.
David made sure to provide all meals onsite to avoid having people leave and lose momentum.
He also split them into smaller teams to work more effectively. The team also was committed to working longer days to get the project completed.
THREE WEEKS TO THE DAY
"In the end, it all went well, because everyone did their best to pull together. By June 12, the new furnace was producing glass, exactly three weeks to the day," David says with a smile – exactly what Glaston promised. "The entire project worked because we were all on board fully to get it done."
Despite the challenges, David is convinced that an expedited timeframe is the way to go.
It's important for companies like his to keep production downtime to a minimum. The teams all committed to making this happen. And when everyone coordinates and communicates well, the whole process can be condensed in his opinion.
100% MORE GLASS OUTPUT
David says the furnace is producing significantly better quality now. "We're getting 100% more glass out of the furnace, because we've gone to a wider and longer line. Plus, the RC350 is simply faster and more effective. We're seeing a considerable reduction in energy consumption, too," David says, and adds that having the fan outside has also cut back on the noise in the factory.
"I love the new furnace – it was a good choice for us," David sums up.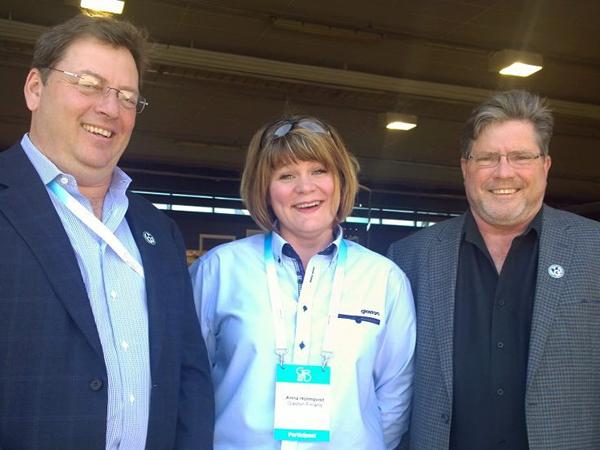 600
450
www.glaston.net
2017-09-12T11:00:00
Kensington Glass Arts challenges the startup of Glaston's RC350
glassonweb.com