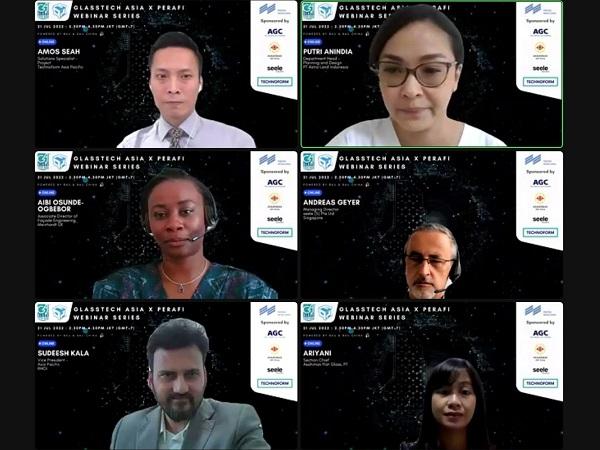 Photo source
glasstechasia.com.sg
The 7th webinar of the Glasstech Asia x PERAFI series was successfully held yesterday.
We took a deeper dive into understanding whether smarter facades were truly sustainable, reviewed the design challenges encountered by architects, and explored the metrics that gauge the performance of these smart façades.
 
A big thank you to all our attendees, speakers, sponsors, partners and supporting organisations for making this webinar a success.
#GlasstechAsiaxPERAFI Highlights
This webinar was hosted by Putri Anindia from Astra Land Indonesia, and the esteemed panellists included:
• Aibi Osunde-Ogbebor, Associate Director of Façade Engineering at Meinhardt UK
• Amos Seah, Solutions Specialist at Technoform Asia Pacific
• Andreas Geyer, Managing Director at seele (S) Pte Ltd
• Ariyani, Section Chief at Asahimas Flat Glass, PT
• Sudeesh Kala, Vice President - Asia Pacific at RWDI
Andreas Geyer, Managing Director at Seele (S) Pte Ltd, kicked off the webinar by touching on "Complex shaped steel-and-glass-structures", elaborating on their constructions and facades designs, glass technology application in many natural conditions, and informative testing sequences with real case studies to meet safety requirements.
Sudeesh Kala, Vice President from Asia Pacific at RWDI shared his thoughts on "Wind Engineering of Facades", dissecting environmental and building performance that led to the introduction of wind tunnel. He emphasised the importance of wind testing and factors affecting wind loads, and wind engineering processes.
A presentation on "Sustainable Architecture Design for Façade" conducted by Ariyani, Section Chief at Asahimas Flat Glass, PT highlighting the importance of sustainable glass design that contributes to mitigating climate change, saving precious natural resources while safeguarding health. To improve sustainable glass performance, Sunergy and Stopray were introduced that use environmentally sustainable product materials as well as energy saving simulation software that promotes cost-saving and an increased ROI.
The topic of "Drivers of Innovative Façade Solutions" was elaborated upon by Aibi Osunde-Ogbebor, Associate Director of Façade Engineering, Meinhardt (UK) Ltd touching upon factors such as performance, processes, legislations and policies, cross industry innovation etc. that drive innovation in the façade industry with a real-life case study while emphasising on the 3 stages: intent, process, and target, to achieve a new form of industrial revolution.
Amos Seah, Solutions Specialist – Project, Technoform Asia Pacific discussed "Future-proofing our Buildings with High-performance Façades" and spoke about thermal performance of a fenestration system to help curb the concerns of rising global temperature, global carbon emission targets, and expanding global energy crisis, offering solutions for improving façade performance and showcasing the impact of thermal break technology.
Wrapping up the webinar, the speakers shared their challenges with different stakeholders vis-à-vis integration, processes, application, and market pertinence. The exchange provided valuable insights and diverse perspectives on compliance matters with multiple international standard codes.
Access on-demand content with the brand-new Content Hub on Glasstech Asia website!
Stay updated with upcoming events
Watch recorded webinars and presentations at your own time
Learn more about the latest innovations with the downloadable speakers' slides
View all issues of Glasstech Asia newsletters
Sign up now to be the first to know when new content is up!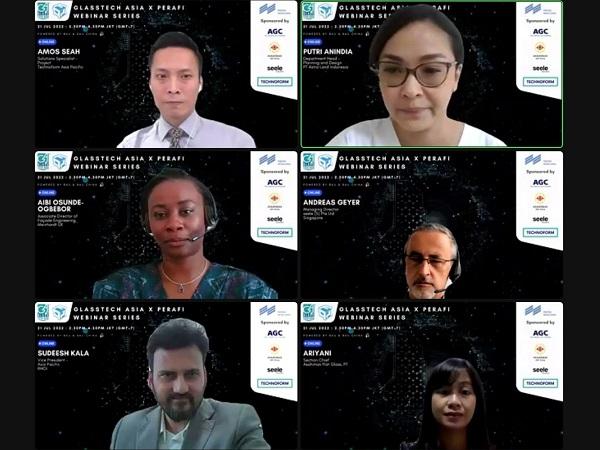 600
450
glasstechasia.com.sg
2022-07-28T09:22:08
Here's what happened at Technologies in Façades Webinar!
glassonweb.com