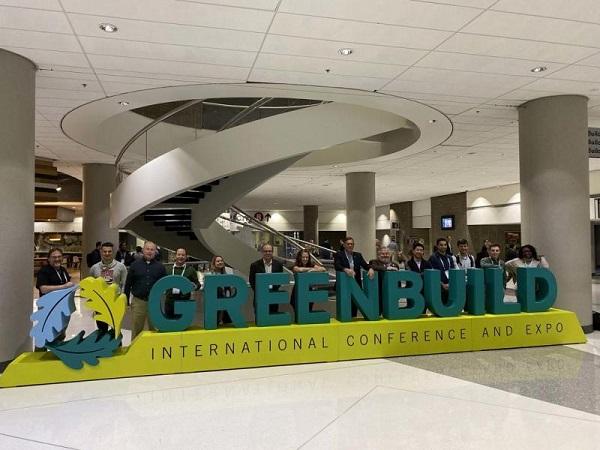 View some education session and keynote highlights for 2022.
Taryn Holowka: This year's annual Greenbuild Conference and Expo will take place Nov. 1–3 at the LEED Gold Moscone Center in San Francisco, California. Join USGBC and Greenbuild partner Informa Connect for the 20th anniversary of the event. This year, we're celebrating with an expanded take on what it means to build green.
Together, we'll learn how to build greener communities, better workplaces, greater social equity, new sustainable solutions and much more.
Greenbuild 2022 will offer insights you need to solve your challenges, connect with industry colleagues and finish the year strong. You'll experience enlivening keynote addresses, relevant education sessions, an expo hall featuring the latest in green building products and technologies, and, of course, the chance to connect with your peers and other decision-makers in the industry. New ideas, cutting-edge technology and low-carbon materials are critical for today's building professionals working to create healthier cities and communities.
Health and safety
In an effort to make Greenbuild a welcoming space for all, we have designed the session rooms with multiple seating accommodations, and even some standing options, so that you can choose the space that makes you feel most comfortable to learn and connect.
Through a detailed set of enhanced measures, Greenbuild will provide the highest levels of hygiene and safety, providing attendees reassurance and confidence that they are participating in a safe and controlled environment.
Education session highlights
Here are just a few of the topical sessions at this year's event. View the full agenda.
Decarbonization and the Path to Fossil Fuel–free Buildings by 2030 | Tuesday, Nov. 1, 10:15–11:15 a.m.
This session heralds a fundamental shift toward decarbonization as the key pathway to a carbon-neutral built environment. Leaders of the 2030 Challenge, the AIA 2030 Commitment and the LEED Energy and Atmosphere Technical Advisory Group explain how a focus on efficient use of fossil fuel–free energy is the key to achieving both LEED Platinum though LEED v4.1 for Building Design and Construction and AIA 2030 targets on the AIA's headquarters renewal in Washington, D.C.
Measuring Impact: What Is the Value of Your Green Building? | Tuesday, Nov. 1, 10:15–11:15 a.m.
Design teams are increasingly being asked to justify green building investments and to determine the most cost-effective design strategies to implement on their projects— but how? Participants will learn about the LEED innovation credits they can earn by conducting a triple bottom line analysis (social, environmental and financial) and how to incorporate these monetized benefits from green building investments to develop business cases for their own healthier, high-performance building designs.
Policy Update: The New Policies and Programs Shaping the Future of Green Buildings | Tuesday, Nov. 1, 10:15–11:15 a.m.
After years of sitting on the sidelines, the federal government is suddenly taking important steps toward addressing the climate crisis, including new investments in green buildings. From the bipartisan infrastructure law to a new White House sustainability order that charts a new course for federal facilities and procurement, Washington is creating exciting opportunities to build more sustainable and resilient communities. USGBC is on the front lines advocating for these policies, and the green building community has an important role to play in working to ensure that these policies are implemented wisely. This session will feature expert insight into the state of play in Washington, the opportunities currently available and the ways you can help your community take advantage.
Embodied Equity: A Radical Shift Toward Inclusion in the Built Environment | Wednesday, Nov. 2, 11:30 a.m.–12:30 p.m.
Reducing inequities within our built environment is a critical challenge for our industry, but how can we navigate the complex pathways that have been institutionalized over generations? Can we learn from our industry's experience in defining and addressing embodied carbon to explore how and where social inequities are embodied in today's project design, delivery and operation? How can practitioners incorporate this understanding into their practice? This session will explore the scale and significance of embodied equity in the built environment. We will discuss the root causes and compounding factors, as well as the magnitude of impact on social equity outcomes.
Affordable Housing Building Stock Decarbonization and Electrification in New York | Wednesday, Nov. 2, 11:30 a.m.–1 p.m.
New York State's affordable building stock is the hardest to decarbonize, due to climate, density and range of building types. This presentation will outline the bird's-eye view and drivers for decarbonization across state, city and New York City's public housing stock. The state has ambitious policy through the Climate Leadership and Community Protection Act of 2019, which requires the state to develop a plan to reduce state carbon emissions by 40% by 2030 and by at least 85% by 2050. To meet the goals, the state is proposing to decarbonize 2 million homes by 2030, of which 800,000 are in disadvantaged communities.
The Great Convergence: Green Building, ESG and Sustainable Finance | Thursday, Nov. 3, 11:30 a.m.–12:30 p.m.
For more than 25 years, green building has provided a framework to define leadership and drive market transformation. The result is thousands of certified green building projects that are more efficient, less polluting and healthier for their occupants. Today, there are new tools driving market transformation. Green building is increasingly used in tandem with environmental, social and governance (ESG) reporting as part of equity and fixed-income investment strategies. Together, green building and ESG are powering a new generation of market transformation, driven by engaged investors and impact-oriented investment vehicles. This session will look forward and consider how green building and ESG will work together in the next generation of financial products, including a focus on impact frameworks, the role of green building certification and post-issuance performance measurement.
Keynote speakers
Jane Fonda | Wednesday, Nov. 2, 9 a.m.
Jane Fonda is a two-time Academy Award-winning actor (Best Actress in 1971 for "Klute" and in 1978 for "Coming Home"), a producer, an author, an activist and a fitness guru. Her career has spanned over 50 years, accumulating a body of film work that includes over 45 films and crucial work on behalf of political causes such as women's rights, Native Americans and the environment. She is a seven-time Golden Globe winner and was honored with the Cecil B. DeMille Award in 2021, was an Honorary Palme d'Or honoree, a 2014 AFI Life Achievement Award winner, and the 2019 recipient of the Stanley Kubrick Excellence in Film Award as part of BAFTA's Britannia Awards.
Currently, Fonda continues to lead the charge on Fire Drill Fridays, the national movement to protest government inaction on climate change she started in October 2019 in partnership with Greenpeace USA. Her latest book, "What Can I Do? My Path From Climate Despair To Action" details her personal journey with the movement and provides solutions for communities to combat the climate crisis. Fonda also notably celebrated her 80th birthday by raising $1 million for each of her nonprofits, Georgia Campaign for Adolescent Power & Potential and The Women's Media Center.
Jean Rogers, Ph.D. | Tuesday, Nov. 1, 9 a.m.
Jean Rogers, Ph.D., has a longstanding career in sustainability, including founding and leading the Sustainability Accounting Standards Board (SASB), a nonprofit dedicated to optimizing U.S. capital markets by fostering disclosure of material sustainability information that meets investor needs and enhances public trust. Prior to joining Blackstone, Rogers advised companies and asset managers on long-term ESG integration as an independent board director and C-level advisor. Rogers holds a Ph.D. in environmental engineering from Illinois Institute of Technology and earned both her bachelor's and master's degrees in civil and environmental engineering from Manhattan College. She was a Loeb Fellow at Harvard University and currently serves as an advisor to the Social Innovation and Change Initiative at the Harvard Kennedy School and the Hoffman Global Institute at INSEAD.
Registration
Register for Greenbuild 2022 soon—the early bird rate ends Aug. 29. View pricing and passes.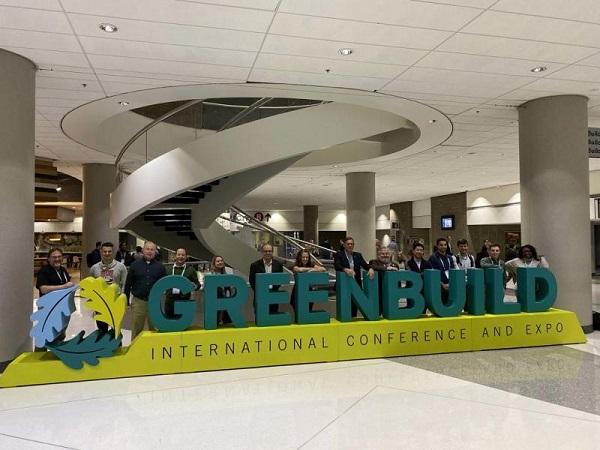 600
450
www.usgbc.org
2022-08-01T07:00:00
Greenbuild: What you need to know for 2022
glassonweb.com