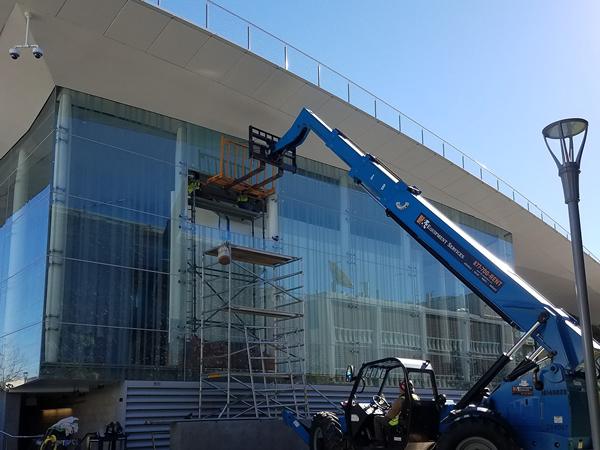 Photo source
www.girouxglass.com
Loyola Marymount University needed our help recently to replace a pane of broken glass in their newly-constructed Seaver Life Sciences Building.
It's a gorgeous 100,000-square-foot, three-story facility which boasts large, custom glass lites throughout, and is topped by a grass-covered roof (shown above) that's also a "living laboratory" for research!
When C.W. Driver accepted the role of general contractor for the new science structure (designed by CO Architects), they had to orchestrate building a space where the construction technologies and processes used were as innovative as the science and academia that would later take place within the space itself.
Giroux Glass is well-versed in designs that plan for the future, with a focus on openness, transparency, and light. When one of the top-level storefront glass lites broke and we were called to replace it, our Service department was well qualified to perform the task. 
The challenge with this particular lite was its position, along with its significant size and weight.  It measured 125" x 65", and at almost an inch thick (15/16"), weighed just under 800 pounds.
We duplicated the original glass with a new custom, laminated clear piece, with a ceramic frit pattern to match. The hefty panel of glass was held up by spyder fittings, which, in itself, did not present us an unusual challenge.
The tricky part of this installation was that the top of the glass was encased in 5- to 6-inches of drywall on the interior, (causing C.W. Driver to cut it out to make it accessible for final measure and install), and by plaster on the exterior.
Our field technicians: Christian Ruiz, Rigo Gutierrez, Derrick Kerr, Chris Ortiz, and Steven Perez, devised a plan to access the broken piece by first removing the piece below it, to give our crew the amount of room they needed.  
Since cups could not be used to remove the broken glass, they utilized an A-frame to transport the broken glass, which is both a safer and more efficient method. The result is a seamless replacement, restoring, once again, the beautiful glass below the unusual grass above.
We're proud of our skilled and creative team of glaziers, and we're excited at the opportunity to continue to provide valued service to landmark structures such as this one, throughout our own Los Angeles and beyond!
Thank you to C.W. Driver for providing interior scaffolding, and to H&E Equipment Services for the forklift used on the project.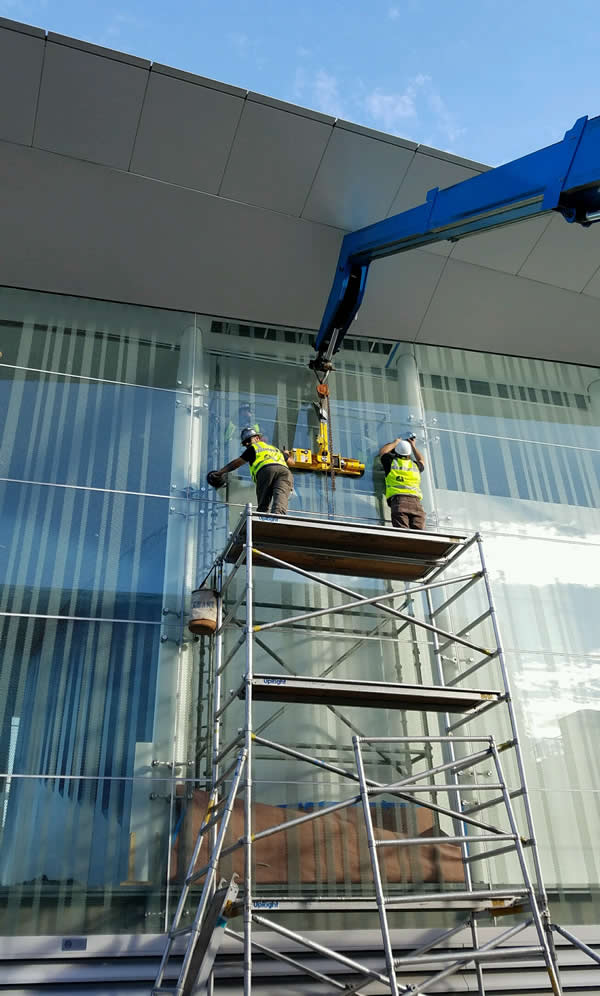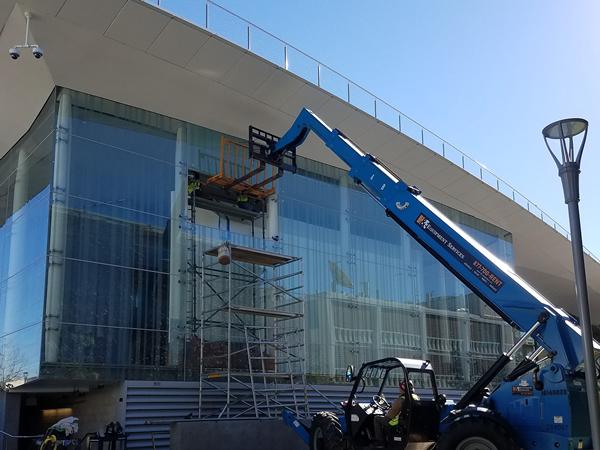 600
450
www.girouxglass.com
2017-01-11T13:15:00
The Glass below the Grass at Loyola Marymount University
glassonweb.com