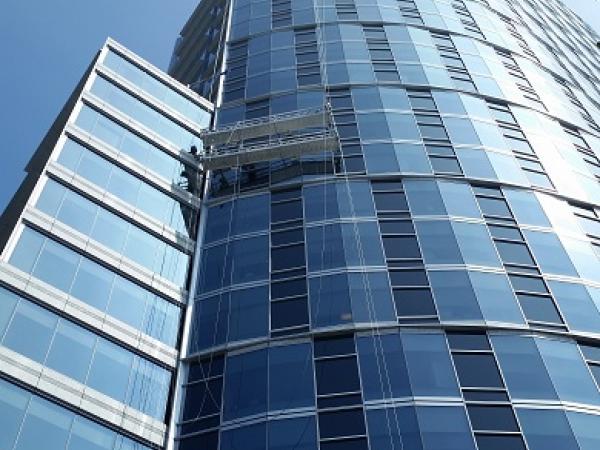 Photo source
girouxglass.com
Located in the heart of Century City stands the landmark Constellation Place/MGM tower, a beautiful building consisting of large double pane windows that run from floor to ceiling.
The tower's commercial management company, Constellation Place, LLC, asked Giroux Glass' Service Department to help with some needed glass repairs -- a relatively simple replacement.
The catch, though? It's in the sky! And it's the reason why we were asked to do the job which many other glass companies would decline.
The job will require maneuvering around a low soffit and a 2-foot deck, making it difficult to assist with just manpower. The high-performance, insulated oversized glass, ranging around 62"x144"x1" in size, also needs a specific approach to repair.
Due to its size, a double-deck swing stage (resembling a bunk bed), a davit post and a whence (equipment used to hoist materials via cable) were the tools planned for the process.
We then contacted Sky Climber's equipment guru, Harold Gidish. Gidish was able to accomodate Giroux Glass in rigging the building. This September, we will use this approach and hoist over 810 lbs. of glass!
It may not seem challenging initially, but the job will require our glaziers and the glass itself to hang safely outside on the 11th floor, held by 3/8" cables tethered to the roof.
The architect's original vision for the aesthetics on this building was specific and precise, leaving the replacement process to us -- with the best track record in safety (0.61 EMR rating in CA) -- to tackle the challenge with our own developed game plan.
Along with that, the task of equipment engineering and obtaining special color glass with long lead times allowed our team only one shot at making it right.
Despite this, our Service Department is, as always, happy to help Marko Nufio, the tower's assistant engineer, and we look forward to our next challenge in the sky.
We expect to have the project completed by the end of September 2016.  Look for the future blog post with details then!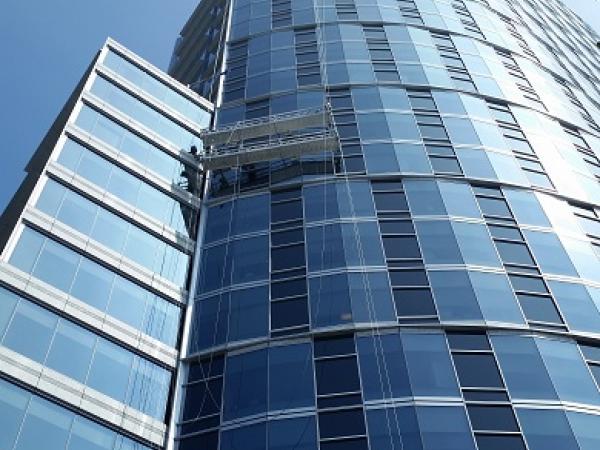 600
450
www.girouxglass.com
2016-08-01T13:00:00
Giroux Glass: Our Challenge in the Sky
glassonweb.com