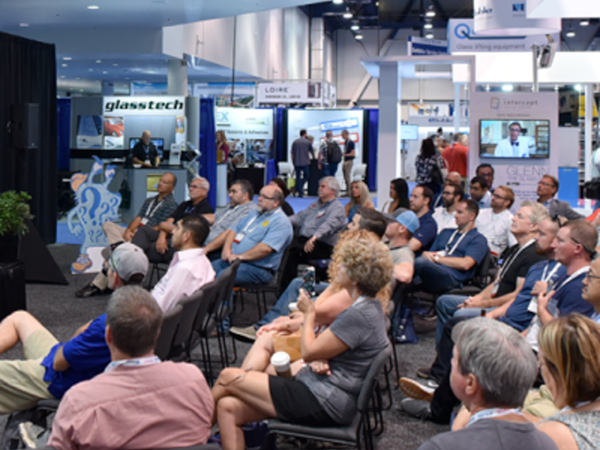 Photo source
www.glassbuildamerica.com
Education, awards presentations, social gatherings and more will take place in the GlassBuild Main Stage area this year.
SCHEDULE OF EVENTS
(as of Aug. 9, 2022. Subject to change.)
TUESDAY, OCT. 18
11:45 am – 12:15 pm
NGA Technical and Codes Update
Presented by Karen Wegert, Associate Director of Technical Services, National Glass Association
Learn about new energy codes and standards to watch, as well as how to navigate NGA's technical papers by topic area.  
12:30 pm – 1:00 pm
Economic Update
Presented by Connor Lokar, ITR Economics
Connor Lokar of ITR Economics is a regular at GlassBuild America. He'll return to give his fast-paced, to-the-point predictions for construction business-cycle trends to help plan for the coming 6-12 months.
1:15 pm – 1:45 pm 
InstallationMasters | The Best Fenestration Performance Demands Proper Installation
Brought to you by the Fenestration and Glazing Industry Alliance (FGIA), this session previews essential principles from the InstallationMasters professional certification program. Offering replacement, new construction and combined segments, the program addresses water management, installation materials and components, installation practices for various frame styles and shapes, job site safety, product performance and more for windows and doors.
2:30 pm – 3:00 pm
Insulating Glass | Dos and Don'ts of IG Fabrication and Testing
Brought to you by the Fenestration and Glazing Industry Alliance (FGIA), this session provides a glimpse into key learning objectives from the IG Fabricators Workshop. Led by industry experts, the workshop addresses best practices for critical aspects of fabricating and testing IG units, including cleaning, cutting and handling glass, desiccants, sealants, gas fill, frost point and more.
WEDNESDAY, OCT. 19
10:00 am – 11:00 am
Women in Glass and Fenestration
A GlassBuild America event
How can we encourage the next generation of women to join the glass and fenestration industry? Join fellow Women in Glass + Fenestration for light refreshments and discussion on how to raise awareness about careers in our industry. 
11:15 am – Noon 
Mental Health and Suicide Prevention  
Presented by John Hewitt, "We Mind and Kelly Matters;" Steve Dillon, VEKA North America; Dustin Anderson, The Alone Effect; and the American Foundation for Suicide Prevention 
In 2020, the Centers for Disease Control and Prevention found that men working in construction have one of the highest suicide rates compared to other industries, averaging four times higher than the general population. Hear from mental health advocates in the glass and fenestration industry about their efforts to raise awareness, increase suicide prevention and change the stigma surrounding mental illness.   
12:30 pm – 1:00 pm
MyGlassClass.com: Test Your Knowledge, Win a Prize!
Presented by the National Glass Association
1:00 pm – 1:30 pm
Inspiring the Futurescape
Presented by Dow
Across the globe, people are demanding safer, more sustainable and more aesthetically pleasing structures. At Dow, we're developing innovative building materials that help support greater design flexibility and sustainability. Come learn how Dow's innovations can help you bring forth new designs – to redefine the built environment of tomorrow – to "inspire the futurescape."
2:00 pm – 3:00 pm
The Glass Magazine Awards
Presented by Glass Magazine
Glass industry companies continue to push the envelope—materially and figuratively—innovating high-performance products for tomorrow's built environment. Join Glass Magazine editors to celebrate and recognize the 2022 Glass Magazine Award winners.  
3:15 pm – 3:45 pm
Curtain Walls | Design Considerations, Tolerances and Testing
Brought to you by the Fenestration and Glazing Industry Alliance (FGIA), this excerpt from the FenestrationMasters professional certification program covers the various types of wall systems and the design considerations for each product, as well as the importance of tolerances and clearance in wall construction. You will also learn about the applicable test methods for curtain walls.
4:00 pm – 4:30 pm
MyGlassClass.com: Test Your Knowledge, Win a Prize!
Presented by the National Glass Association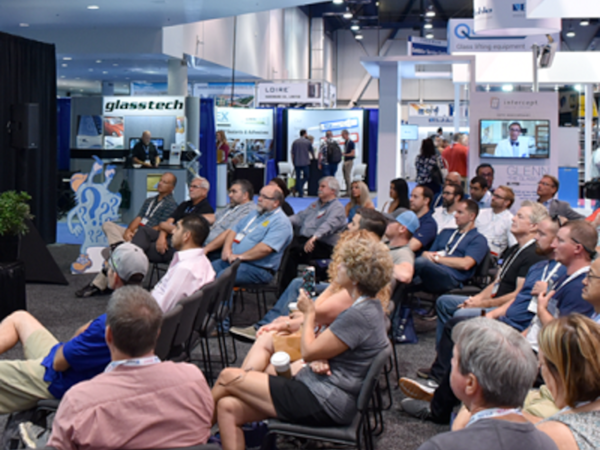 600
450
www.glassbuildamerica.com
2022-10-17T07:30:00
Find Out What's Happening at the GlassBuild Main Stage
glassonweb.com