Smart Glass manufacturer Eyrise has cut the ribbon on their new lamination line and will begin integrating it into the production of their eyrise dynamic Liquid Crystal Windows.
The lamination technology system is the first of its kind to add custom lamination to the manufacture of eyrise Dynamic Liquid Crystal Windows.
The eyrise dynamic smart glass factory, which had its grand opening 2018, has been running around the clock to meet the demand for new construction projects.  Until now, the lamination process had to be farmed out to external parties. This new lamination system will streamline the process of creating eyrise Liquid Crystal Windows. 
Eyrise dynamic smart glass windows have been contracted to be installed into several large scale projects across Europe. 
Glass lamination lays a transparent plastic sheet between glass panels to produce safety glass that holds together when shattered.  In the event of breaking, the interlayer keeps the outer layers of glass bonded even when broken. This produces a characteristic "spider web" cracking pattern when the impact is not enough to completely pierce the glass.  Since the laminate is completely transparent, it does not degrade the clarity of windows when used.  This is particularly useful for eyrise smart glass.
Although switchable window technology has been on the market for several years, eyrise Liquid Crystal windows are a paradigm shift from the older generation of switchable glass because of its ability to be completely neutral in its clear state without a yellow or blue tint.  
Smart glass 2.0
The first generation of switchable windows have variations known as electrochromic or suspended particle device technology or SPD.  This is where a thin film of rod-like nano-particles is suspended in a liquid and placed between two pieces of glass or plastic.  When voltage is applied, the suspended particles align and let light pass. When no voltage is applied, the suspended particles are randomly organized, blocking and absorbing light. Changing the voltage within the film varies the orientation of the suspended particles, allowing the tint of the glazing and the amount of light transmitted to shift from brighter to darker. However, due to the nature of this technology, the glass usually has a blue or yellow tint.  This technology is also slow-acting, needing up to 30 minutes to change luminance. 
Eyrise smart glass is a completely upgraded technology.  It is different due to its patented technology that uses liquid crystals to achieve the luminance changing effect without the need for the extra film.  These are the same liquid crystals that are used in many HD, 4K displays and smartphones.  The result is smart window technology that has complete solar control with the touch of a button.  And because eyrise uses liquid crystals rather than an electrochromic film, the windows are completely free of any blue or yellow tint when in the clear state or blue when in the dark state.
Eyrise Smart glass Lamination
Celine Gilpa, Marketing Director and Head of Business, explained the benefits.  "This new lamination line makes us an agile and reactive organization to customer's needs by simplifying the supply chain and increasing control." She said.  "With this, we will be able to deliver a product that surpasses the expectations of our clients."
Peter-Paul Michiels, Site Manager and Head of Operations was pleased with the lamination installation.  "This Laminator is the first of its kind.  In order to create a superior product, we either had to help our vendor build this laminator to our specifications or do it ourselves.  Since our technology is very specific, we decided that we would have it created for us since something like this has never existed before.  This lamination system is designed specifically for liquid crystal smart glass.  We can now have more control for new types of dynamic glass in the future." 
The laminator, which is about the size of a large lorry, took several weeks to install. "We can now control the quality standards for fast feedback, lower cost, and greater customer satisfaction." Peter-Paul Michiels continued.  "This added value will allow us to concentrate on our research and development, making an even better, more innovative product in the future." 
For more information about eyrise smart glass, please visit www.eyrise.com. 
Media Contact
Company Name: Eyrise
Contact Person: Andros Sturgeon
Email:Send Email 
Phone: +31 40 258 0503
Country: Netherlands
Website:http://www.eyrise.com/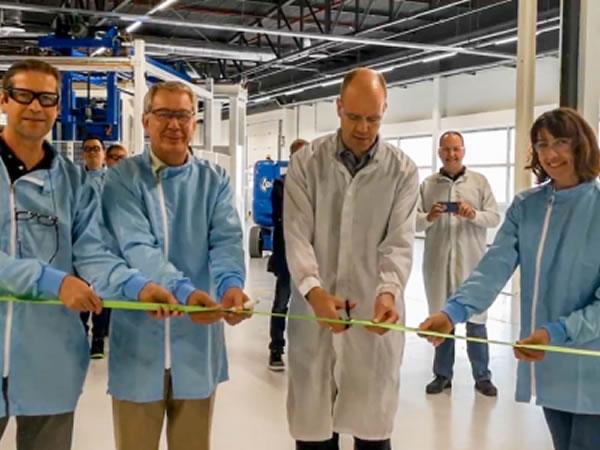 600
450
Eyrise
2019-08-05T15:00:27
Eyrise smart glass lamination system opens in Veldhoven
glassonweb.com