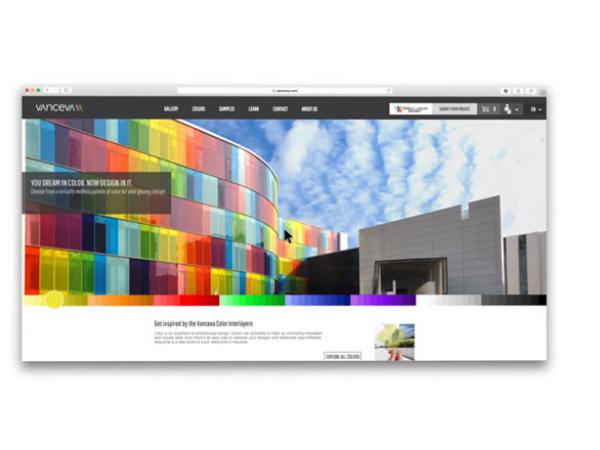 Eastman Chemical Company, manufacturer of the Vanceva Color System for laminated glass, announced today the launch of www.vanceva.com, a redesigned website to improve communication with professional architects, interior designers, glass fabricators, engineers and other industry professionals.
The website, which also incorporates Vanceva's new logo, represents the creativity and flexibility of the brand. The Vanceva Color System offers the industry creative freedom to incorporate color into glass and glazing systems where it was previously inconceivable.
The new Vanceva website includes an expansive gallery of both U.S. and international projects that use the Vanceva Color System to inspire the community with innovative design methods.

Whether it is from a simple door, a modern office space, an entire building façade or a glass bridge, the gallery shows that it is possible to incorporate stunning colored glass design into every type of project. "We hope visitors to the website will be inspired by the projects and see the possibility of what they can achieve and the almost unlimited choice of colors we offer," said Doug Marren, Global Marcom Manager, Advanced Interlayers for the Vanceva Color System.



The Vanceva Color System uses tinted interlayers which are laminated between two pieces of glass. The palette of 16 colors can be combined in as many as four layers to produce more than 17,000 transparent, translucent and opaque glass colors and gives designer's unmatched flexibility to create custom colors and one-of-a-kind aesthetics.

Vanceva color interlayers also offer all of the benefits of polyvinyl butyral (PVB) interlayers for laminated safety glass, including security, solar control, sound insulation and UV protection. This website also offers expanded tools to facilitate an architect's or designer's work. Within the online Color Studio, you can create and view unlimited color combinations right from your desk.

With the Vanceva Color Selector tool, you can make any Vanceva Color System interlayer combination and find the closest match to a RAL/Pantone color code. Then, you can order samples of the color creations online to perform lighting tests, share with customers and compare for compatibility to other project materials.

"As we were redesigning the Vanceva website, it was clear that the time was also right to take a fresh approach with the logo, giving it a new look and feel that captures the essence of the Vanceva color system," said Marren. "The new logo has an evolved design that reflects the important role color plays in the product and its layering system." Without further ado, enjoy our world of color and watch our new Vanceva website launch video! Saflex® and Vanceva® brand PVB interlayers are the most trusted name in PVB interlayer technology for laminated glazing. They deliver outstanding performance and durability, backed by reliable and knowledgeable service. As a result, they are found in nearly 40 percent of laminated architectural and automotive glass worldwide.


# # #


Vanceva®, Saflex® and World of Color Awards ™ and all other trademarks listed below are trademarks of Eastman and/or its affiliates. Eastman is a global specialty chemical company that produces a broad range of products found in items people use every day. With a portfolio of specialty businesses, Eastman works with customers to deliver innovative products and solutions while maintaining a commitment to safety and sustainability. Its market-driven approaches take advantage of world-class technology platforms and leading positions in attractive end-markets such as transportation, building and construction, and consumables. Eastman focuses on creating consistent, superior value for all stakeholders. As a globally diverse company, Eastman serves customers in approximately 100 countries and had 2014 revenues of approximately $9.5 billion. The company is headquartered in Kingsport, Tennessee, USA and employs approximately 15,000 people around the world.

For more information, visit www.eastman.com.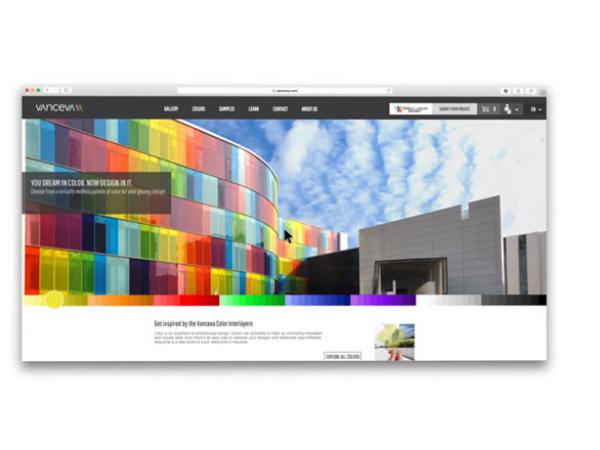 600
450
Eastman
2016-02-08T12:00:00
Eastman Launches New Vanceva® Website with Expanded Functions and Photo Gallery
glassonweb.com