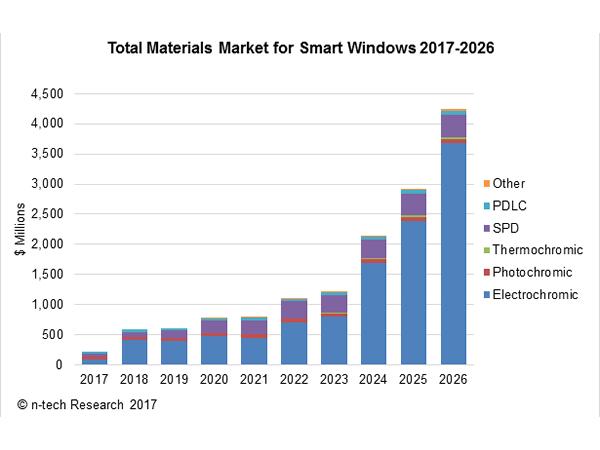 Photo source
ntechresearch.com
n-tech Research Issues Latest Smart Windows Materials Market Analysis, Sees $1.1 billion ($US) Market in 2022
n-tech Research, a leading industry analyst firm providing coverage of the smart windows sector has just issued its latest report addressing the smart windows materials (electrochromic, photochromic, thermochromic, PDLC, SPD, etc.) market.
The firm projects that in 2022 the market for smart windows materials will generate over $1.1 billion ($US) in revenues. 
Additional information about the report is available at: http://ntechresearch.com/market_reports/smart-windows-materials-markets-2017-2026
About the Report:
This report identifies the opportunities for materials sold into smart windows markets. The firm most recently issued study of the smart windows market was issued in November of 2016. (see the report, "Smart Windows Markets: 2016-2025 http://ntechresearch.com/market_reports/smart-windows-markets-2016-2025 for details)
This new materials focused study:
Provides ten-year forecasts of smart windows materials breakouts by type of material in both volume (square meters) and value ($ millions) terms and by end user markets (construction, automotive, public transportation and aerospace). 
Identifies the materials strategies of the leading smart windows suppliers and the materials-related R&D that they are undertaking to improve their products. 
Predicts the commercial implications of the research on self-dimming materials being carried out around the world as technologists identify materials and techniques for smart window platforms that will lead to decreased cost, increased durability, and enhanced features for smart windows. 
Discusses how materials strategies can help reduce the cost of smart windows, which has long been considered the key impediment to further market penetration.
Analyzes the role for polymer-based substrates in the smart windows sector and as a key enabler for retrofitted smart windows. 
From the Report:
By 2022, the market for smart windows materials will be dominated by electrochromic (EC) materials, which will account for 65 percent of the revenues generated by smart windows materials.  The firms that supply EC are well funded and well advanced with their technology and EC is certainly the material to beat in the construction sector, although competition will be significant among different formulations of EC materials.
Meanwhile, SPD materials will follow their own path, primarily in automotive industry, where their high switching speeds are an advantage.  Revenues from these materials will reach about $280 million by 2022, assuming SPD windows are adopted by more car makers as seems likely.
New smart windows technologies and materials are likely to appear in the next few years but will be challenged to compete with established active materials.  We anticipate that it will be no significant revenue from these newer materials until the 2020s, but the most likely novel smart materials to succeed will be variants on materials originally developed for displays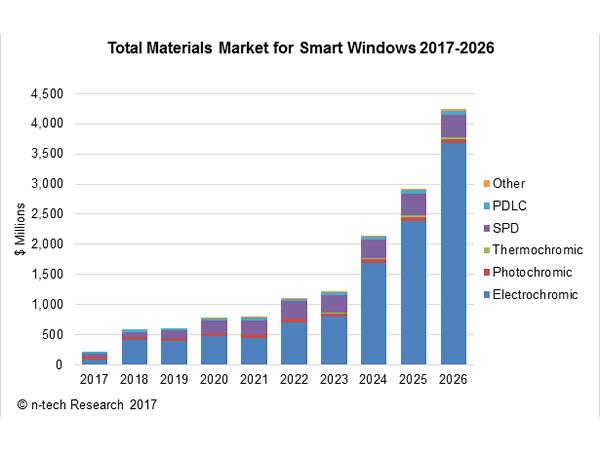 600
450
ntechresearch.com
2017-04-19T11:00:00
Smart Windows Materials Markets: 2017 - 2026
glassonweb.com