Photo source
www.pilkington.com
Two structurally glazed 'jewel boxes' dominate the street-facing part of the building, enticing visitors to enter the space.
The fundamental role of glass in the built environment is to allow light into spaces while keeping the elements out. But it often also plays a defining aesthetic role too, giving buildings their form and setting them apart as a piece of design work.
That was the case with the glazing installation at the newly refurbished Elmhurst Library in Queens, New York. Two structurally glazed 'jewel boxes' now dominate the street-facing part of the building, enticing visitors to enter the space.
The refurbishment of the historic building – originally constructed in 1906 – was a significant project for Queens, doubling the floor-space of the building and modernising facilities to meet the needs of today's library users.
The newly opened facility is expected to attract more than 1.2 million visitors per year, making it one of the busiest libraries in the USA.
Engineers from Pilkington Architectural and Pilkington Planar™ partner installer W&W Glass worked closely with the architect during the design process to specify a system that would deliver maximum transparency, as well as high levels of structural strength.
The boxes are constructed from heavy-duty Pilkington Optiwhite™ true low-iron insulating glass units with a low-e coating, which reduces heat-loss from the space by reducing the amount of radiation of energy outwards from the building.
Adding to the visual impact of the glazing, as well as helping reduce excessive heating and glare from the sun, is a white, silk-screened "frit" of vertical lines.
For the roof, Pilkington Optiwhite™ toughened and heat-strengthened laminated glass was used to deliver the required mechanical strength.
The glass walls are supported by cantilevered Pilkington Optiwhite™ low-iron SentryGlas® laminated glass fins, which lend high levels of structural support without significantly reducing the transparency of the system.
Phil Savage, commercial contracts manager at Pilkington United Kingdom Limited, said: "This is another prestigious project that showcases the market-leading capabilities of the Pilkington Planar™ system to deliver spectacular architectural features that really define a building's appearance."
Jeff Haber, Managing Partner at W&W Glass added: "We have worked with Pilkington for more than 20 years, and the Pilkington Planar™ system was the best choice for this project to achieve the design intent."
"The quality of the system itself and the excellent service and engineering support that comes along with it, makes Pilkington the go-to choice for structural glazing. The results achieved on this building are testament to that."
The Elmhurst Library houses more than 75,000 books and multimedia for adults and children in English, and 36,000 books and multimedia in nine different languages, along with a wide range of IT resources available to users.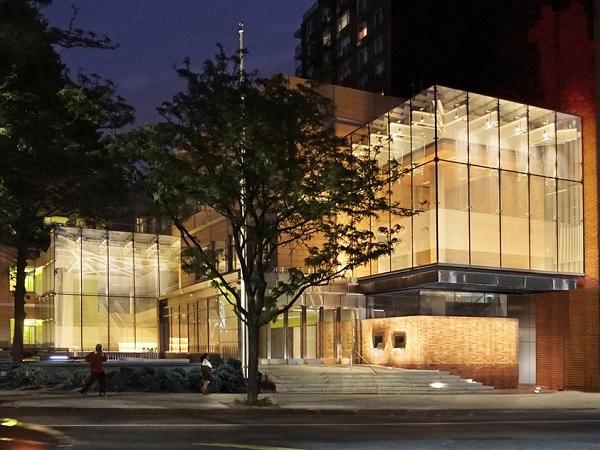 600
450
www.pilkington.com
2017-08-10T10:00:00
Pilkington Planar™ entices readers to one of USA's busiest libraries
glassonweb.com