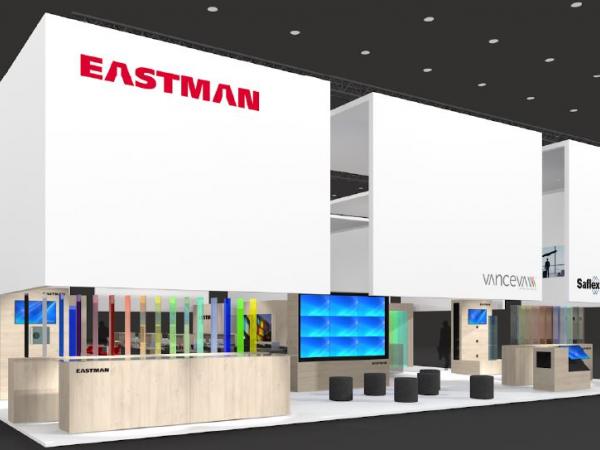 Interactive displays and information about Eastman PVB product lines at glasstec.
The Eastman booth, located in Hall 11-A48 at the Messe Düsseldorf, will feature interactive displays and information about Eastman PVB product lines including Vanceva Illusion White, Saflex structural, acoustic, solar and automotive PVB products, as well as present the winners of this year's Vanceva World of Color Awards™.
Booth Highlights
Saflex DG Structural PVB Gaining Traction
The use of Saflex DG structural PVB interlayers has increased in a variety of structural applications, including exposed edge laminates such as floors, stairs, balconies, canopies, point glazing systems, clip systems, captured systems, curtain wall and sloped and overhead glazing.
Designed specifically for applications requiring increased interlayer rigidity and high glass adhesion, more architects and designers are choosing Saflex DG structural PVB in their projects.
Saflex Acoustic Demonstration
Saflex Q series acoustic PVB interlayers provide even higher levels of noise reduction, making them an ideal choice for architectural applications such as apartment complexes, hotels, restaurants, airports, educational buildings and healthcare facilities.
The advanced three-layer system provides superior sound dampening performance versus conventional interlayers by reducing noise and disseminating sound waves.
Saflex Solar Demonstration
Saflex SG solar PVB for laminated glass employs a proprietary additive designed to enhance solar heat gain performance as compared to monolithic glass and clear monolithic glass laminates made with standard clear PVB interlayer.
Specifically formulated for the architectural market, Saflex SG PVB provides exceptional durability and pairs well with Vanceva color interlayers.
New Saflex Automotive HUD Demonstration
Head-Up Display (HUD) systems are emerging as an effective method to help combat driver distraction. Today's systems enhance the overall driving experience by allowing drivers to keep their eyes on the road and still view critical vehicle data.
Since the inception of automotive HUD systems in the late 1980s, wedge shape interlayers have been used to enable a clearer HUD image.
As HUD technology evolves, wedge shape interlayers must also evolve so OEMs can deliver the experience drivers want and expect with this increasingly popular technology.
Eastman Launches Vanceva Illusion White
Vanceva® Illusion White PVB offers the ability to transition from medium translucence, starting with Vanceva Arctic Snow white interlayer (~65% light transmittance), to full transparency glazing without ceramic frits, paints or printing.
Transform ordinary glass into stylish safety glass ideal for indoor and outdoor applications. Compatible with other Saflex and Vanceva color products, designers and architects have increased configuration options.
Vanceva Winning "World of Color Awards" Projects
Also during the Glasstec 2016 show, Eastman will honor the winners of the fifth Vanceva World of Color Awards.
This international competition recognizes the achievements of architects, interior designers, and other industry professionals who have demonstrated innovative and liberal use of Eastman's Vanceva color interlayers for laminated safety glass in their building design and interior spaces.
This year's competition collected 74 amazing projects from around the world. Awards will be given for EXTERIOR Division Winner, INTERIOR Division Winner, as well as Honorable Mentions for both categories at the Eastman exhibit booth.
No matter where visitors' interests lie — architectural or automotive — this year's Eastman Booth at Glasstec 2016 has something for everyone.
600
450
Eastman
2016-09-20T10:25:00
Eastman showcases new products at glasstec
glassonweb.com