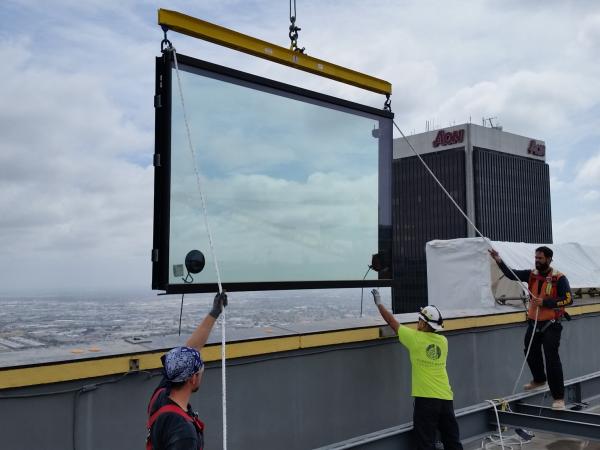 Our team worked tirelessly, putting in some long days and 80-hour work weeks, to complete the starphire glass updates on the Paul Hastings North Tower, one of two Corporate International-style buildings that make up the City National Plaza in Downtown LA.  
Originally known as the ARCO Towers (completed in 1972 and designed by A.C. Martin & Associates), each building rises 52-storeys and features dark bronze windows, subtly contrasted by greenish-black polished granite (LA Conservancy).
The bronze windows that make-up the building's exterior are not only a design feature, but a way to keep the building energy-efficient. Now, with the use of special coatings, even ultra-clear glass can also provide energy efficiency.
Giroux Glass came into play on this historic LA site as the building required upgrades to its 51st and 52nd floors, to allow for more high-end tenant space.
These floors boast 16-foot tall ceilings, a large skylight, an open-air patio, and incredible panoramic views of the city and its neighboring towers -- the US Bank Tower and the new second-tallest building west of the Mississippi, the Wilshire Grand Tower (still in construction). It's a nearby complex that Giroux Glass is familiar with, due to past projects that include renovations to the "Jewel Box" at the offices of Gensler Architects, among others.
Our scope on the Paul Hastings Tower included replacing old pieces of bronze glass on the 51st floor, and replacing granite blocks on the 52nd floor, with ultra-clear low iron/starphire glass. We framed the glass with "swiss coffee" white exterior panels to finish the project. From far away, it looks as if there isn't any glass installed at all.
Our crew installed 140 glass panels in three different sizes, each weighing approximately 800 pounds, to wrap around the north, south and east sides of the 51st and 52nd elevation. The new glass-wrapped floors now offer a virtually unobstructed view for the new tenants.
Mike Duren, our superintendent on the job, said, "This was one of the more challenging projects I've ever done. There was a lot of stress, a lot of work, and some long hours." But with anywhere from 20 to 25 glaziers on the job (including one female glazier, Brandy Castro), not one injury occurred, and not one piece of glass was broken, even after maneuvering glass and materials 700 feet high in the Los Angeles skyline.
People dining at nearby Drago Centro were in for dinner and a show, as a large crane often used two thick, wire cables to transfer glass and other material (that was too large to fit in the building's freight elevator), from the ground floor up to the rooftop. The rest of the equipment, including spyder cranes and other machinery, was transferred up elevators, through an open skylight, and onto the roof, where glaziers used a swing stage for glass installation.
It was difficult maneuvering roughly 10-foot by 7-foot glass units up the high-rise, around structural beams, and from a swing stage dangling 700 feet in the air -- let alone 140 of them! -- but it was nothing our brave and talented glaziers couldn't handle.  It's what we do.
Thank you to all those who made this project possible for us...
General Contractor: Pankow
Suppliers: Viracon who fabricated the glass, and Arcadia who fabricated the aluminum framing and provided CAD drawings of the 52nd floor.
Our Giroux Glass team: Estimator, Chris Bonnet; our CAD team, who generated drawings for the 51st Terrace; Kelly Edwards, our superintendent who did an outstanding job ensuring we had sufficient supplies and manpower; Mike Duren, our lead foreman on the project; Ryan and Scott who made numerous deliveries for the project; and others.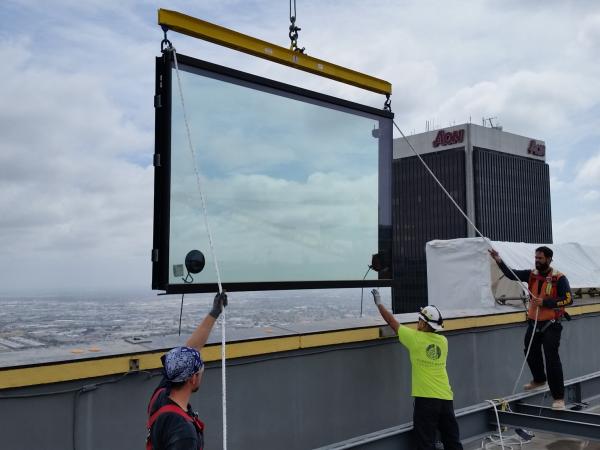 600
450
www.girouxglass.com
2016-06-09T13:00:00
City National Plaza Gets a Facade Lift
glassonweb.com