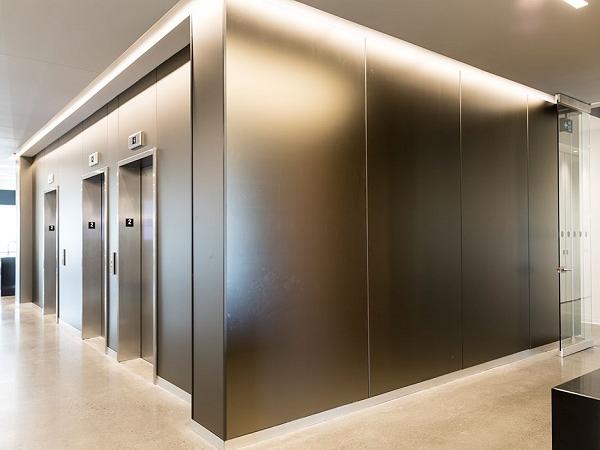 Photo source
walkerglass.com
Walker Glass manufactured a low-iron glass with white, backpainted and bronze-tinted mirror with a satin acid etch applied.
For years, the interior of a commercial building was considered an afterthought. The look was dictated by choices of paint, carpet and wall coverings. It was basic and usually left to the tenant.
However, a revolution of sorts has been taking place in recent years, with a stronger push to design interiors with innovative building products forging a memorable and branded appearance.
The new workplace strategy promoting open floor plans required that architects and interior designers create modern and progressive images in these more capacious spaces. 
A new campus was designed for ABB in Montreal to house major aspects of its business including R&D, Manufacturing, Testing, and E-mobility. The outside design was elegant, but what about the inside? What would the award-winning architectural firm Lemay do to make the interiors appealing and functional,  and what obstacles would they face in trying to achieve their goals?
"One of the new workplace's key elements is the complete absence of private offices," said Pierre-Antoine Brais, Project Director and Interior Design at Lemay. "This creates challenges that can be mitigated by the use of glass dividers and restricted access to information-sensitive areas such as human resources.
"In ABB's case, we sought out functional, sustainable materials that were easy to maintain. Design-wise, we wanted to convey a feeling of light and lightness."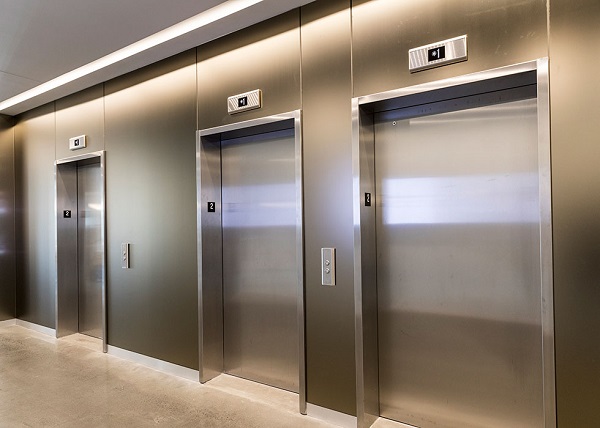 This effect involved scaling back walls and making them less opaque. For example, Lemay used glass near the elevators because there is light coming in from the perimeter windows, and Lemay wanted to extend it towards the center of the workplace, using a high-quality, reflective surface with an interesting texture. 
"It was a new way to interpret a material in more than a just functional way," he said.
The glass mentioned above plays a major role in achieving this appearance. Walker Glass manufactured a low-iron glass with white, backpainted and bronze-tinted mirror with a satin acid etch applied. The results are stunning and reach far beyond the traditional painted walls.  
"When we were working on this project, there was an excitement here because we love the effect we have on interiors," said Charles Alexander, Business Development Manager for Walker Glass. "The key for us was the addition of our satin etch on the bronze mirror. It transformed the look dramatically. 
"The satin tamed the reflectivity of the mirror just enough that it allowed the color to expand, and gave the surface an extraordinary look and feel. Lemay's design was absolutely perfect for this application."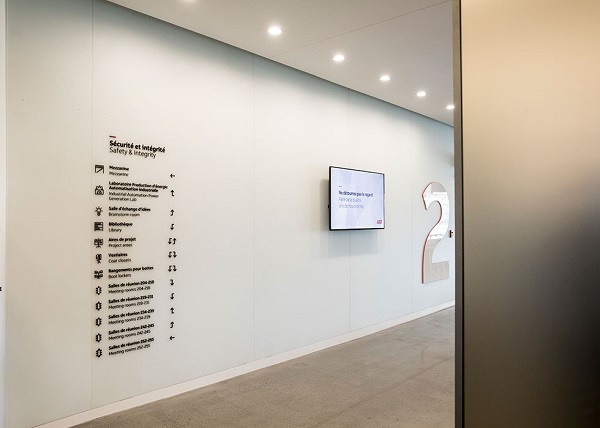 Aesthetics are just one part of the design. Feeling good is the other, and that is all about the need for the occupant's comfort. How did the team from Lemay approach this very important aspect for the ABB project?
"User comfort is always our first concern. If the environment isn't comfortable, or doesn't meet the users' needs, it won't succeed," said Lemay associate Sandra Neill. "We strive to meet the client's corporate objectives while at the same time conveying the brand. 
"Comfort plays a role in brightness, acoustics and furniture. We also have to give the end-users the tools they need to perform their job in the most effective and efficient manner."
For example, the new ABB site has a comprehensive offering of informal meeting areas and alternative workspaces: project areas; collaboration booths with soft seating and tables for small gatherings; adjustable-height tables, with and without treadmill work stations; window locations; single and double phone booths for complete audio privacy; egg pods and individual lounge seating equipped to support mobile workers with portable technology devices.  
"Comfortable and efficient workspaces are key to ensuring employee productivity and satisfaction," said Sandra.
The inside of the building, once a postscript to a bigger story, now gets headlining attention. The mixing of beauty and comfort that leads to productivity is something every building owner, developer, or business can truly get behind, now that the days of basic interiors are long gone.
Project: ABB Canada Campus- Interior, Montreal, QC
Architect: Lemay
Glazier: Vitrerie JL, Boisbriand, QC
Low Iron Glass: Vitro (PPG) Starphire® 
Mirror and Etched Glass Manufacturer: Walker Glass, Montreal QC
Etched Products Used: 
Textures Satin: The satin finish is characterized by a highly polished surface and high light transmittance.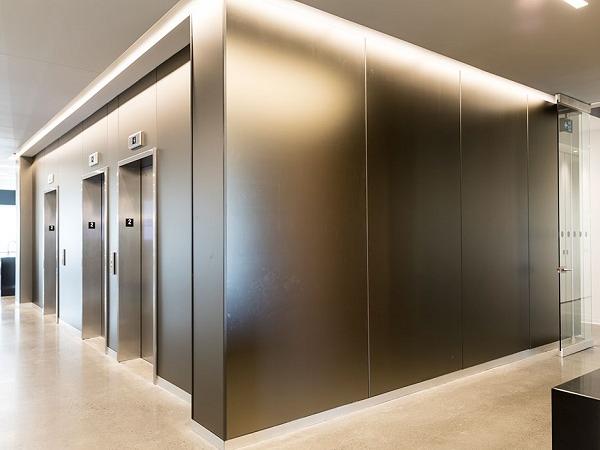 600
450
walkerglass.com
2018-02-21T13:55:00
The Beauty That Resides on the Inside | Walker Glass
glassonweb.com