Company address
Siemensstrasse 88
Alzenau 63755
Germany

COMPANY DESCRIPTION

Although Bühler Leybold Optics is active in developing all different fields of coating technologies, for example PECVD or evaporation methods, magnetron sputtering is still the technology of choice in large area coating.
The company offers all relevant sputtering methods, including DC, DC pulsed (uni- and bipolar), MF and HF with rotatable and planar cathodes for the deposition of metallic, semiconducting and insulating films at high sputter rates.
Bühler cathode systems
Single and double planar cathodes
Single and double rotatable cathodes
Moving target planar cathodes
Depending on the machine platform, Bühler cathodes are available as horizontal drop-in and side-mounted or vertical hinged versions
Exotic and hazardous materials
Bühler has built up extensive expertise in handling exotic target materials. Providing a safe design to work with potentially toxic or flammable materials is crucial for establishing a safe, reliable and responsible working environment.
Bühler is always dedicated to creating the best solution for the requested process. Please challenge us.
Customer benefits
Optimized magnetic configurations for excellent uniformity and utilization
Optimized double planar geometry that allows the use of two standard single planar targets in parallel
Top-pumping versions of all Bühler planar and rotatable cathodes available
Advanced target moving system for extended utilization of crucial materials in a given layer stack
Easy and quick maintenance
Products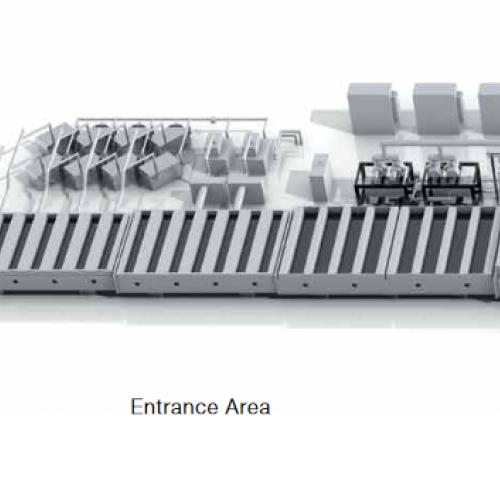 LEYBOLD OPTICS GLC series H
SEND INQUIRY
The LEYBOLD OPTICS GLC series H is a horizontal inline sputter-coating tool specifically designed for the needs of architectural glass coating.
More details ...
With its unique compartment design, LEYBOLD OPTICS GLC series H is ideally suited for challenging layer stacks and flexible product mixes. Typical coatings include solar control, anti-reflection, single, double and triple low emissivity (low-e) as well as solar control coatings. The LEYBOLD OPTICS GLC series H is available for standard US and Jumbo substrate sizes and can be configured to coat on glasses of sizes up to 3,3 m * 15,6 m. Advanced technology ensures low production costs
The advanced gap control allows for maximum utilization and economical use of target material, keeping production costs low.

Full size double planar cathodes either double the campaign time for a given target material or offer the flexibility of a second material.
Unique gas flow for high process quality
The unique process gas flow management results in high reactive sputtering rates with lowest target oxidation and reduced process-gas consumption.

An active gas-separation function guarantees effective gas-separation factors, even with small footprints.

The optimized design allows for a reduction of the TMP power during the process which directly leads to energy savings.
Intelligent solutions for an optimized design
The optimized design of the 850-mm compartment ensures a stable process and excellent gas separation.

The top-pumping cathode design reduces the overall length of the coater.

LEYBOLD OPTICS GLC series V
SEND INQUIRY
The LEYBOLD OPTICS GLC series V, ranging from the A400-V7 R&D system to the A1700-V7 industrial solution, offers a sputtering tool for optical thin-film applications.
More details ...
Dozens of installed systems have accomplished benchmark levels in uptime, throughput and layer quality. The LEYBOLD OPTICS GLC series V serves the needs of anti-reflection and high-reflection coatings as well as transparent conductive oxide coatings such as ITO or AZO. High flexibility thanks to a modular concept and a variety of sizes
The modular concept and a well-designed set of options permit a high degree of flexibility to meet any customer-specific requirements.

Several sizes from A400 up to A1700 are available for labs as well as fab production machines, making the LEYBOLD OPTICS GLC series V a very flexible choice.
Tilted versions for low particle applications
The LEYBOLD OPTICS GLC series V is available in tilted versions of +7° or -7°, minimizing particle impact on the substrate surface.
Low production costs thanks to single-purpose optimization
The LEYBOLD OPTICS GLC series V can be cost-optimized for single-purpose production machines.

Low manufacturing costs can be achieved for industrial products such as electrodes or reflectors.

LEYBOLD OPTICS GLC 2000V
SEND INQUIRY
LEYBOLD OPTICS GLC 2000V is the sputtering tool for high precision demands.
More details ...
LEYBOLD OPTICS GLC 2000V is the sputtering tool for high precision demands. It offers the combination of large substrate sizes and wide temperature ranges with a standard coating uniformity of +/- 1.5%. Typical coatings include low emissivity (low-e), solar control, AR, anti-reflection, high-reflection and transparent conductive oxide coatings, as well as exotic target materials. Versatile application possibilities due to a wide temperature range
A wide temperature range supports a versatile product palette for sophisticated applications.

The LEYBOLD OPTICS GLC 2000V is a prerequisite for challenging layer stacks as well as for exotic sputter materials.
Intelligent design and software for highest flexibility and reliability
The compartment structure allows flexibility in positioning the cathodes within the LEYBOLD OPTICS GLC 2000V system.

Advanced software delivers high uptime regardless of complex transport demands.
Excellent heating uniformity thanks to optimized heating zones
Heating uniformity is absolutely essential for the production of high-performance transparent conductive oxide (TCO) layers. Even at substrate temperatures of up to 350 °C LEYBOLD OPTICS GLC 2000V offers excellent temperature distribution properties thanks to multiple customizable heating zones.
Excellent serviceability thanks to cathode lid design
The unique cathode design allows for excellent accessibility and easy maintenance, ensuring that downtime for the LEYBOLD OPTICS GLC 2000V is kept to a minimum.