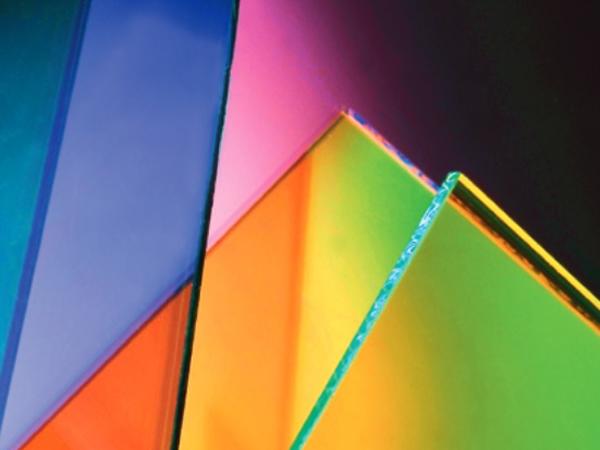 SCHOTT NARIMA glass is particularly suited to landmark architecture, like opera houses, memorials, museums, and flagship shopping destinations.
Imagine a concert hall set upon a river that shimmers like the aurora borealis that bathes it with light at night. Or a glowing television tower built upon an upright, eight-pointed star whose deep blue reflective sheathing makes it look like a portal to the heavens.
How about a campus building dedicated to cutting-edge research, jutting out from a hill on stilts as a modern, colorful tribute to the research within.
These aren't figments of the imagination. They are some of the best examples of architectural glass, located in Reykjavik, Turkmenistan, and Pittsburgh. Their eye-catching effects are produced by SCHOTT's dichroic NARIMA® color effects glass.
NARIMA appears to be one color when viewed directly, and another when viewed from an angle. It gains this effect during its manufacturing, when it's coated with various layers of metal oxides in a dip-coating process and then cured in an oven at over 500°C.
These extremely thin layers of metal create the characteristic dichroic effect of the glass, but it's also hard, scratch resistant, and chemically resistant, ensuring a long-lasting and low-maintenance architectural glass.
SCHOTT NARIMA glass is particularly suited to landmark architecture, like opera houses, memorials, museums, and flagship shopping destinations. Architects use NARIMA to make a statement, and to signal to the world that this design is a work of art. Take a look at some of the best examples.
HARPA Concert Hall and Concert Center, Reykjavik, Iceland:
The HARPA Concert Hall is a crown jewel of Icelandic architecture that millions have visited. Impressive, because Iceland is home to only 331,000. Designed by Olafur Eliasson, the building's glassy facade is honeycombed with three-dimensional, hexagonal glass bricks.
In the day, the building shimmers in gold and warmth, hinting at the island's volcanic underbelly. As the sun sets, blue hues emerge, reflecting the sea and the sky and the Northern Lights. The bricks were constructed with a number of SCHOTT products, including NARIMA and AMIRAN glasses. It's truly a building in dialogue with its environment.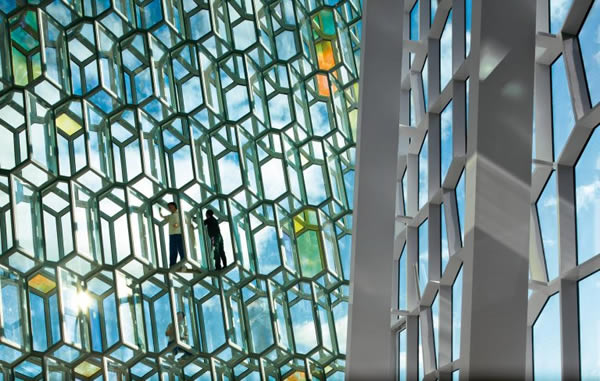 The Sherman and Joyce Bowie Scott Hall, Carnegie Mellon University, Pittsburgh:
Scott Hall is a 110,000-square-foot, $75 million campus building designed to support research into nano particles. Architects OFFICE 52 designed the building with a glass curtain wall – a non-structural façade that keeps the elements out.
SCHOTT's NARIMA glass panels were installed as "fins" jutting out at a perpendicular angle along the building.
The shape of the fins looks a bit like a maze, but viewed from afar they reflect light blues, lavenders, and teal. The technology behind dichroic glass is often used in the nano-science that occurs within Scott Hall.
Le Printemps Hausmann Department Store, Paris, France:
When visitors to Paris are done taking in the Louvre and the Eiffel Tower, they go to Le Printemps Hausmann department store, which is a tourist destination in itself. NARIMA glass was added during a renovation of this masterpiece.
Because Printemps' original style relies on warm bronze tones and lavish ornamentation, designers added blue-gold NARIMA glass during a renovation to add a modern flair that reflected the building's roots, which date to 1865. From the outside, the 12,000 glass panels give off a gilt reflection that hints of the luxurious products inside.
Turkmenistan Tower, Ashgebat, Turkmenistan:
At its heart, Turkmenistan Tower is home to television studios. But if this building were featured in a space opera about an advanced civilization, most people wouldn't blink an eye.
From a base that slopes inward on all sides like a pyramid rises an eight-pointed star sheathed in blue glass. A 211-meter tower emerges from the center of the star, with a spinning restaurant on top.
SCHOTT overcame some technical challenges to create a client-specific NARIMA blue for this project. During the day, the glass serves as a slightly darker reflection of the sky around it, creating the impression of a portal to another world.
At night, it is illuminated by photovoltaic lights to create a glowing beacon. SCHOTT provided more than 5,000 square meters of NARIMA glass to make the star, which is recognized by Guinness as the largest architectural representation of a star in the world.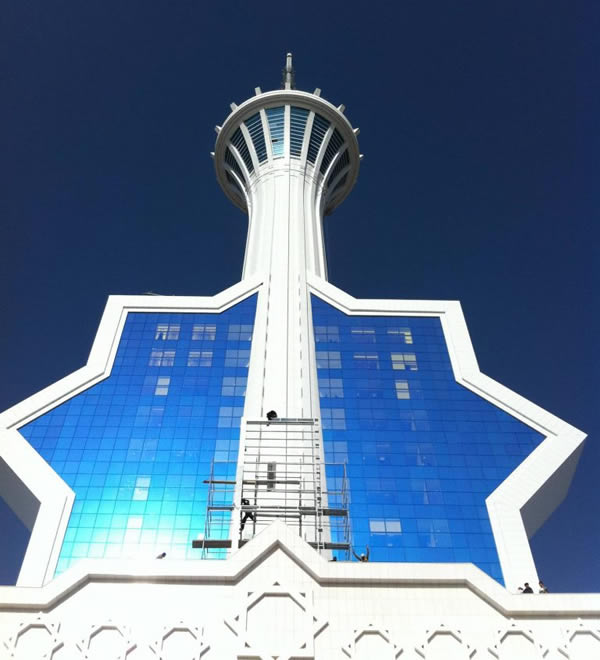 Remembrance Plaza, Lynn University, Boca Raton, Florida:
Lynn University suffered a tragedy in 2010, after four students and two professors died while serving as aid workers in Port-au-Prince, Haiti. The six were responding to the devastating earthquake there when an aftershock caused their hotel to collapse.
The university hired Sousa Architecture to create a memorial that uses prisms of blue-green and blue-gold NARIMA glass to create a stunning rainbow effect that is both solemn and celebratory.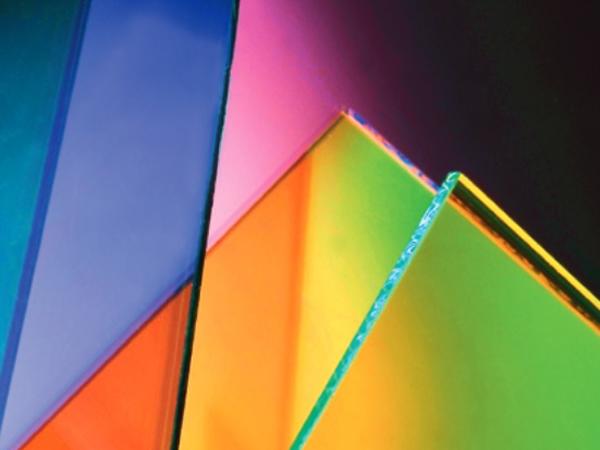 600
450
blog.us.schott.com
2017-02-13T13:00:00
When the building is art, this architectural glass is the palette
glassonweb.com