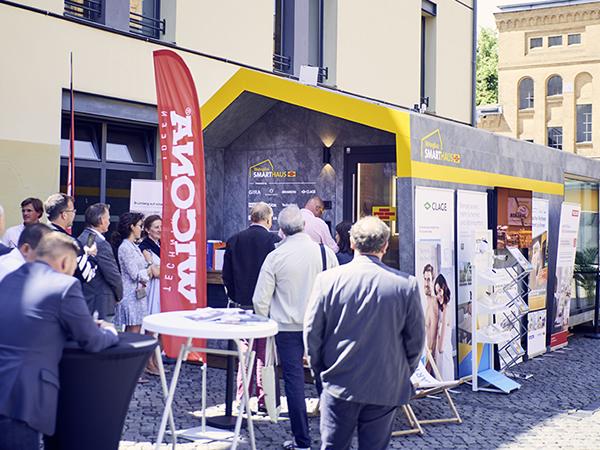 Photo source
www.wicona.com
Hydro Building Systems Germany GmbH is a leading player when it comes to living trends of the future. With its WICONA brand, the company is participating as a partner in the latest "Smart-Haus" project by the Schwäbisch Hall Building Society.
Three WICONA systems are installed in the 25 m² compact abode. WICLINE 75 TOP, the window built to Passivhaus standards, WICSTYLE 75 evo front door and the ARTLINE XL sliding door system.
Up until the end of October 2019, the Smart-Haus is making a guest appearance in 17 selected towns and cities in Germany and will stop off at a co-operative bank for three days in each place. The house was designed by Berlin architects Simon Becker and Andreas Rauch. Its concept represents the integration of the three megatrends – Smart Living, Tiny Houses and Sustainability – with state-of-the-art technology.
The Smart-Haus is a functionally designed wood construction system made from sustainable materials, with a living and sleeping area, bathroom and kitchen. Despite its small surface area of 25 m², a great deal of intelligent technology has gone in to the Smart-Haus.
A total of 20 brand-name manufacturers have supplied products for the Smart-Haus. The different solutions are interlinked and can be centrally controlled. This will illustrate to visitors how smart technology makes it possible for them to achieve greater comfort, security and energy efficiency in their own homes.
Dr. Werner Jager, Director of Technology and Marketing at WICONA, comments on the motivation of the Ulm-based systems company to be involved in the project: "Smart-Haus offers us multiple opportunities: We can present our systems to end customers in a technically ambitious, future-orientated environment. The intelligent features in the individual WICONA products, their attractive appearance and high functionality can be directly experienced by visitors to the Smart-Haus. And we can also highlight our cause – the sustainability of our products: Reduction of CO2 during manufacture, environmentally friendly materials and certified materials cycles. 
In addition, our fabrication customers benefit from the increased brand awareness that can be generated in this way and the subsequently increased demand. Using the Schwäbisch Hall communication channels, we are speaking to up to 7 million savers in Germany."
In the Smart-Haus, WICONA is presenting three high-tech innovations in windows, doors and sliding modules:
WICLINE 75 TOP is a window system built to Passivhaus standards, which combines attractive design, ease of fabrication and long-lasting quality with high energy efficiency in a single component. With its intelligent compound material, the ETC Intelligence® thermal break zone enables Uf values of up to 0.79 W/(m²K) to be achieved – without insulation inserts!
Visitors enter the Smart-Haus via the WICSTYLE 75 evo front door. With its smooth rebated cover profile, it doesn't just deliver on looks, but its seamless design "shrugs off" dirt and makes it particularly easy to clean. The flush structure ensures a harmonious, smooth appearance. Its key technical feature is the integrated motor, which automatically opens or closes the front door – via your smartphone, even from the outside.
The occupant can bring nature into the Smart-Haus with ARTLINE XL, the high-quality, thermally insulated sliding door system with a frame depth of 150 mm. ARTLINE XL boasts an almost frameless appearance: An extremely slim interlocking profile (26 or 38 mm) contributes to the minimalist impression of the ARTLINE XL. This makes the sliding doors appear to recede, allows light and air to freely enter and visually "magnifies" the living space outwards. Radio magnetic contacts control the locking status of the sliding door.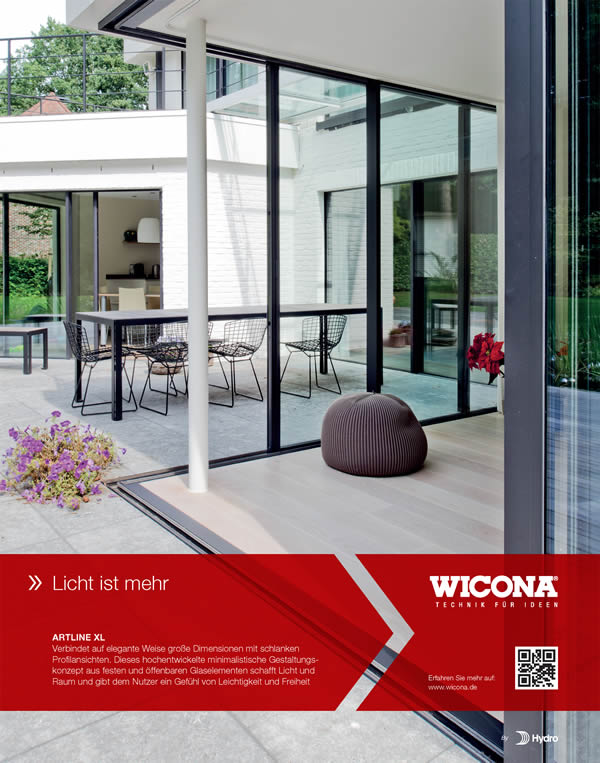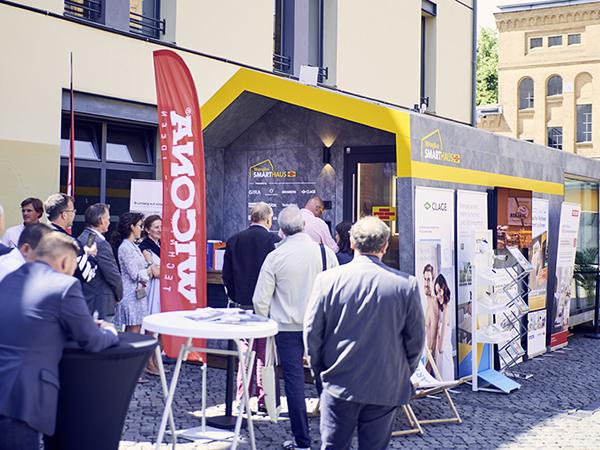 600
450
www.wicona.com
2019-08-19T09:00:00
Touring Germany as project partner for "Smart-Haus" - WICONA
glassonweb.com