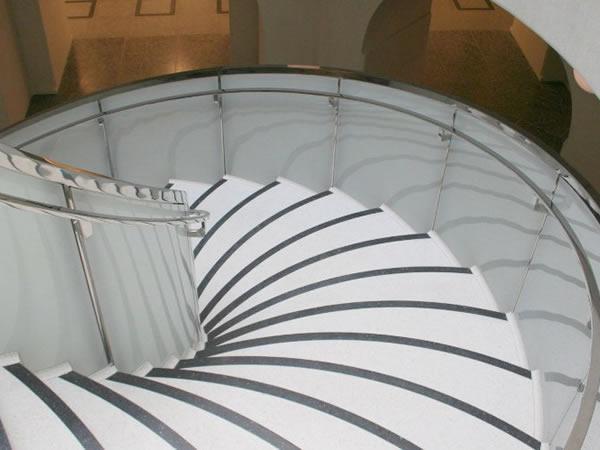 Photo source
www.ionglass.co.uk
Ion Glass provided Tate Britain with an intricate curved glass balustrade to the magnificent spiral staircase that forms the centrepiece of the new development.
Project: Rotunda Staircase, Tate Britain. The staircase is the centrepiece of the £45million, three year project to redevelop Tate Britain. Architects: Caruso St John. Ion Glass working in conjunction with Szerelmey and Lend Lease.
Product: Curved Glass Balustrade - polished stainless steel handrail with curved glass infill panels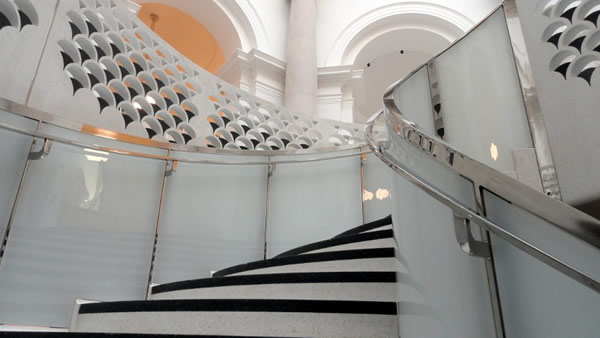 Overview:
Situated on Millbank, construction of Tate Britain was undertaken by Higgs and Hill in 1893 and originally opened in July 1897. It was named the national Gallery of British Art, but is more commonly known as the Tate Gallery after the founder Sir Henry Tate.
The first phase of redevelopment began three years ago, transforming the oldest part of the building, the entrance, Rotunda and galleries in the south east quadrant.
Ion Glass were commissioned to provide Tate Britain with an intricate curved glass balustrade to the magnificent spiral staircase that forms the centrepiece of the new development.
The staircase links the ground floor to a series of basement spaces created for education, displays and social activities and was officially opened to much acclaim on November 18th 2013.
Technical Information: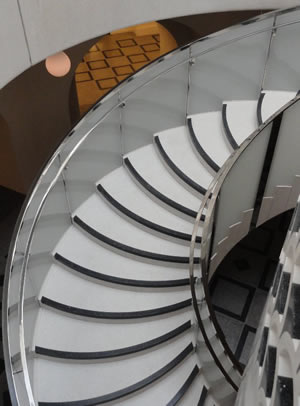 At the heart of the Rotunda, each side of the glass balustrade features both an inner and an outer skin of decorative opaque glass with each individual panel made from 9.5mm laminated toughened glass with a sandblasted effect.
Each pair of panels had to fit accurately around the curve of the spiral and also to sit perfectly around each individual step.
The glass is suspended between polished stainless steel uprights with a 5mm clearance between the stonework of the steps and the handrail above.
Ion Glass have developed an accurate system of laser surveying for complex glass projects which was able to account for all the nuances in the metalwork as well as the differing radii of the inner and outer panels of each section.
The detailed laser survey at Tate Britain provided precise measurements from all angles, with the detailed information transferred to working drawings.
Each infill on the staircase is curved, making traditional MDF templating impossible but Ion produced templates in 5mm glass to ensure a perfect result that also accommodated any nuances in the metalwork.
The whole process was double-checked onsite to make the final adjustments to each panel before proceeding to manufacture.
Using a laser survey is both quicker and more accurate than traditional templating, especially as glass measurements cannot be taken until the other elements of the building project are complete.
The use of glass templates at the Tate Britain ensured that the final glass panels fitted perfectly first time.
Comment: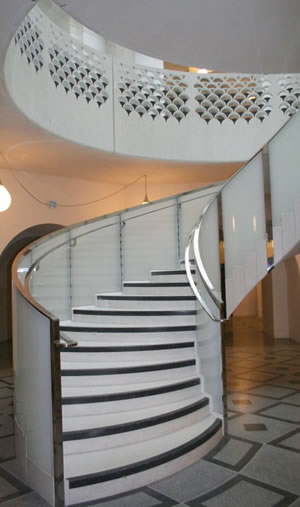 The staircase is the centrepiece of the development and looks absolutely stunning - we are very proud to have been involved in such a high profile project and with such success.
The accurate fit of each individual panel is a testament to the skills of our technicians.
The achievement on the staircase was described by the architect as 'remarkable'
Glass product types
Curved frameless glass balustrades for chuches and listed buildings
Curved glass balustrades systems are a beautiful and stylish addition to any project and can be specified for a wide range of situations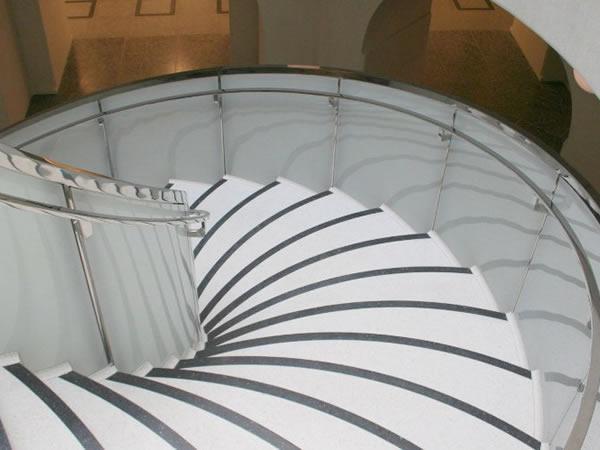 600
450
www.ionglass.co.uk
2016-11-11T09:25:00
Tate Britain Rotunda Staircase
glassonweb.com