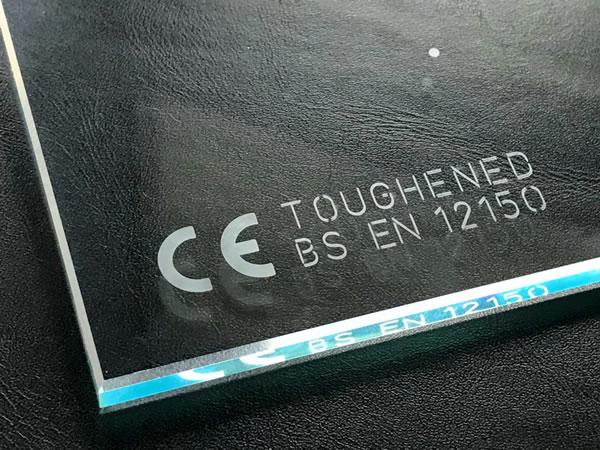 Photo source
www.glassmarkingsolutions.com
Retainagroup provides marking products to the glass industry including a unique marking fluid and laser units.
Where there is a need to indelibly mark relatively low volumes of glass products, e.g. to meet legal or internal tracking requirements, the process using self-adhesive stencils and our safe to handle marking fluid provides an ideal solution.
Application of marks is simple, providing a clear, neat and permanent result. Once we receive details of the required mark, our technical department produces the design and submits a photo for approval. Following acceptance, the design is laser-cut into stencils that are then despatched with the appropriate amount of fluid.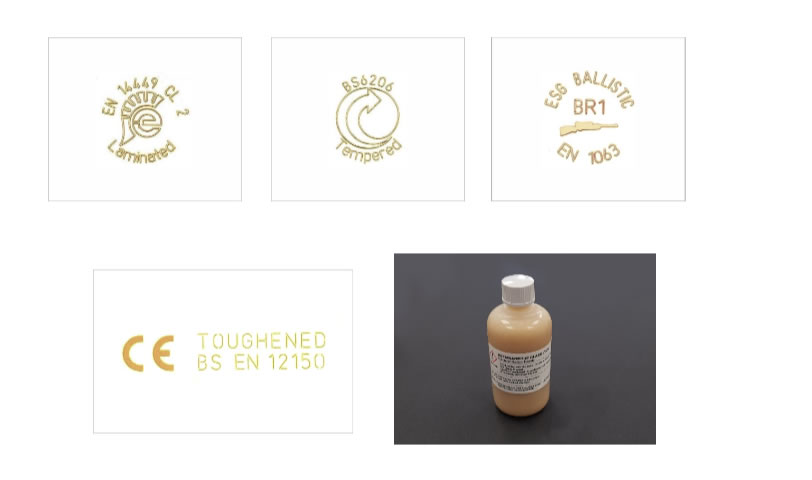 Marking time is between 25 and 90 seconds, depending on the desired depth of mark. Water is used to remove excess fluid and the stencil is then peeled off the glass.
Our customers order stencils for a wide variety of reasons – e.g. if a batch of glass has been despatched without being marked, if marks are found to be of inferior quality, if the incorrect Standard has been applied, or if they need a back-up to their automated systems.
For companies processing higher volumes of glass (or polycarbonate) we have three laser marking units that produce a clear, permanent mark in an average time of just one second.
Mobile laser unit
This model is air-cooled and suitable for operating in relatively clean environments, with a temperature that does not consistently exceed 30°C. The laser is contained in the marking head assembly, held by the operator when marking. The assembly weighs less than 5kg but a harness is included for prolonged use.
This unit is for marking materials anywhere in a warehouse/production environment, thus reducing handling stages. It is particularly beneficial for large/heavy items, or if, for some reason an item has not been marked at its designated marking station.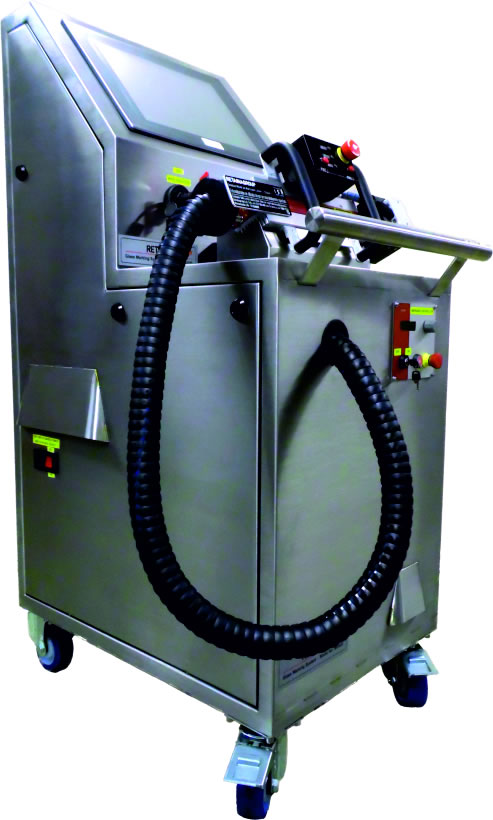 The unit is powered by 2 x 12v, 85Ah batteries, to create 24v, 85Ah. This is enough to power it for at least 8hrs of continual use and there is an integral battery charger, allowing it to operate whilst charging. The charger operates on inputs from 90v to 270v AC, 40 to 70Hz and therefore the laser units can operate in all major countries.
Fixed laser unit with rail-mounted system
With this model the laser is on a sliding rail, that can be positioned e.g. at the front of an oven. The operator applies the mark to the underneath of the glass as it is loaded onto the oven bed.

The rail-mounted version includes an extraction system and can be air or water-cooled. Again, the air-cooled version operates up to 30°c, while water-cooling allows for a temperature of up to 40°c. The rail can be up to 3m in length, i.e. the width of most ovens.
Fixed laser unit with table-mounted system
The table unit is ideal for marking small to medium sized pieces of glass. The guide rail allows repeatedly accurate positioning of the mark up to 110mm from the edge and the foot pedal allows quick firing of the laser whilst leaving the operator's hands free.
The lockable height adjustment of the laser provides a gap of up to 70mm, allowing for virtually all thicknesses of glass to be marked. The unit is available in air or water-cooled versions. The standard table size is 600mm x 1200mm but we can provide non-standard sizes to meet customer requirements.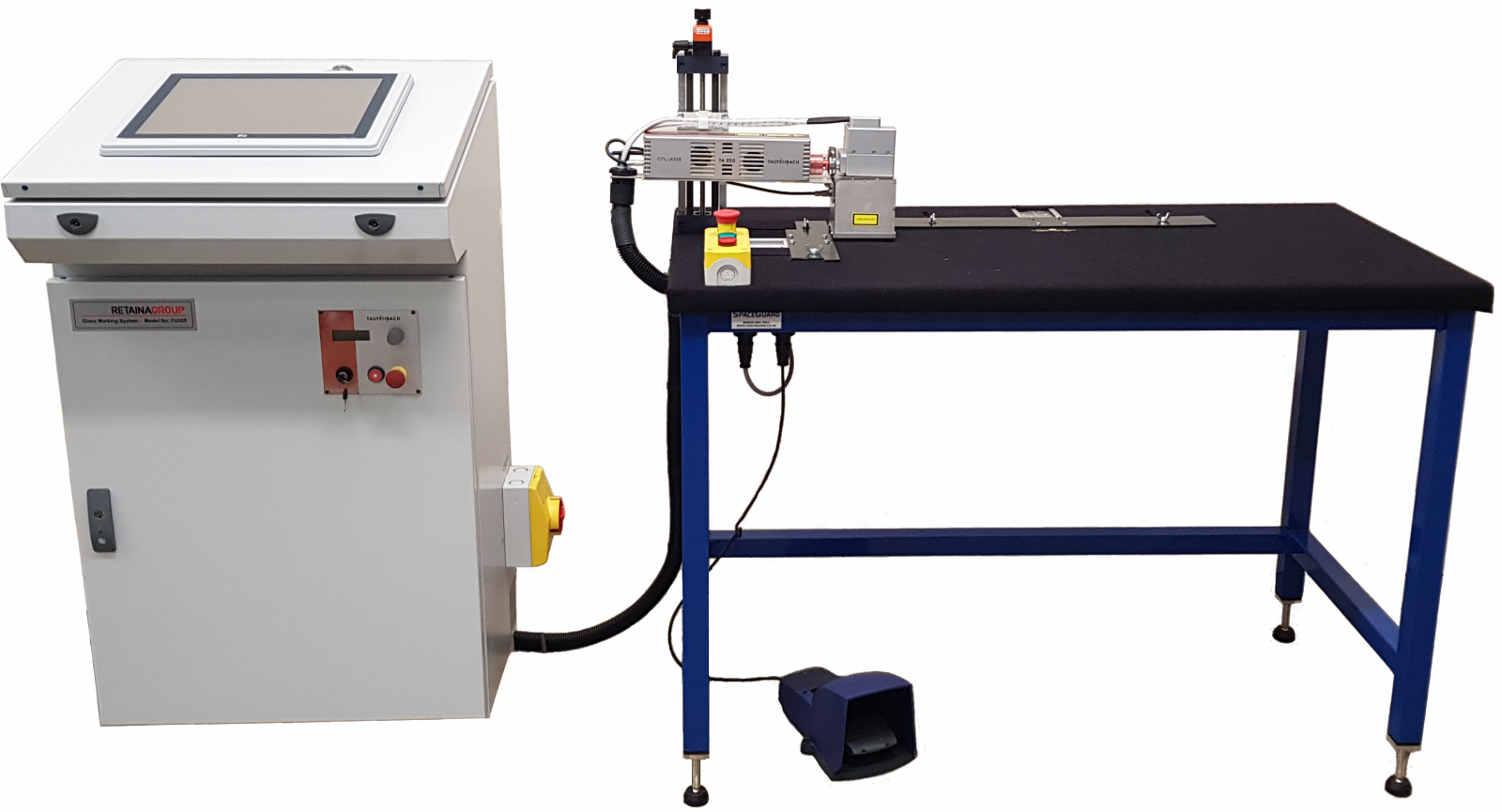 General Information
The laser is a class 4, 20-watt CO2 system with a wavelength of 10.6µm. It can operate as a continual wave or pulse width modulated. The composition of each individual mark is created using software that also controls the laser power and frequency. It is capable of printing imported images and true type fonts.
Fixed text, incremental, time/date stamp and database (reading from file) can be included. All major 2d and 3d barcodes can be printed. The PC is Wi-Fi enabled so the desired mark can be set up, then added remotely to the laser system. There are two types of marking controller – the first allows one marking file to be stored, therefore there is no need for a PC.
The second version can store 200 marking files. Again, a PC is not required if there are only a small number of designs as they can be provided via TCPIP, Ethernet or USB and the files selected via TCPIP I/O device e.g. rotary switch. When a larger number of designs is required, the PC supplied is a win10 embedded, touchscreen, fan-less industrial model, allowing stylus or finger touch control.
It has an IP65 rated front, for protection against dust and liquids. The scan-head comes with a lens with a focal length of 100mm, providing a marking field of 70x70mm, or one with a focal length of 75mm and a scan field of 50x50mm. The shorter focused lens produces a smaller spot size and thus a more concentrated power. It can produce a better quality mark on certain materials, including glass.
Our laser units are extremely reliable and maintenance procedures are simple to follow.
Please visit our website www.glassmarkingsolutions.com for further information or call Carlos Arango on +44 (0) 1233 504161 to discuss your requirements and pricing. Alternatively, you can send an email to general.sales@retainagroup.com.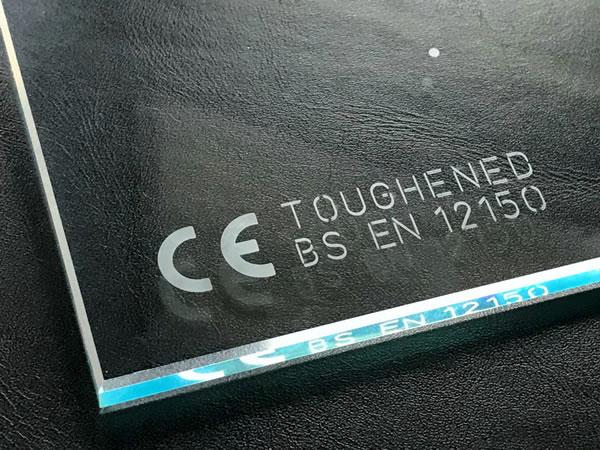 600
450
Retainagroup
2018-11-08T08:00:00
Simple to apply glass-marking techniques
glassonweb.com