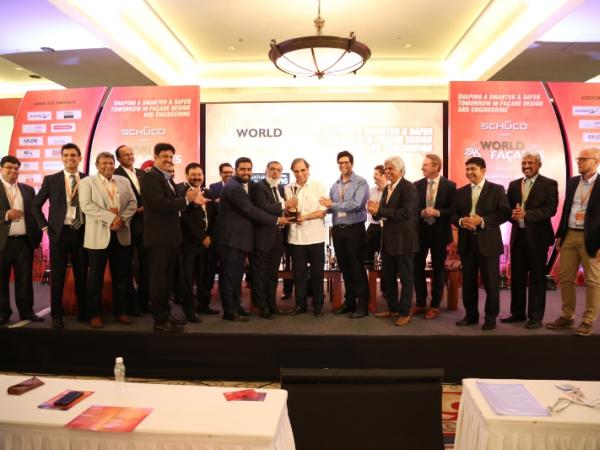 Photo source
Zak Trade Fairs & Exhibitions Pvt. Ltd.
Architect Hafeez Contractor was invited as the guest of honor at the 14th edition of Zak World of Façades conference held at ITC Maratha, Mumbai on 22nd April, 2016.
Zak Group - the pioneers in the field of organizing conferences for the façade and fenestration industry and harbinger of elite industry gatherings - took immense pride in felicitating Architect Hafeez Contractor for his remarkable contribution in the field of architecture and bestowing the Indian buildings with unprecedented facades.
Architect Hafeez Contractor received the token of appreciation from the Zak Group Chairman Syed Zakir Ahmed, amidst a loud and standing applause and the industry biggies joined him on stage in honoring the star of the evening.Architect Hafeez Contractor with his extraordinary ways and an singular vision, has through the years of practice, brought about a paradigm shift in the way buildings are designed in India. He was recently honored with the highest civilian award - Padma Bhushan, by the honorable president Pranab Mukherjee.
The 14th edition of the Zak World of Façades conference saw a never before gathering of some of the most prominent and appreciated names from the construction industry in India and abroad, sharing their expertise and experience in order to achieve best façade execution practices. Some of the key subjects of discussion were 'Guidance on fire and safety in facades', 'Execution of facades and the New National Building Code' and the all-important discussion on 'Return on Investment with façade engineering'.
The endeavor was to unite the ever-expanding brigade of experts in the field of façades and building envelopes, to bring to fore the novice ideas and improvise the old and thereby enabling an adept and empowered façade industry. The conference doubled up as a unique platform for networking and enhancing business relationships.
Another high point of the conference was when Prabhat Rahandale, Chief Fire Officer, Mumbai Fire Brigade, who kindly took out time from his extremely busy schedule to make a presentation, highlighted some of the key pain areas of the contemporary Indian buildings where they lack the basics of fire safety.
He in a very candid talk took the audience through an enlightening journey on how the buildings can be made safe and all it takes is nothing more than a few small but significant steps that we all need to take on individual levels. He also spoke about the challenges faced by the Mumbai Fire Brigade in addressing the fires and classified the different types of fires with case studies of some recently occurred fire accidents.
The conference was complemented by a unique display where some of the most fascinating facade products were showcased. Schueco displayed their Panoramic Facade System - Schueco FWS 35 PD while Glass Wall Systems showcased their exceptional facade building services. Modiguard was present with their high-performance Sunguard range of glass and complementing that was the high strength and high performance interlayer systems by Kuraray.
The display included high precision hardware from the houses of Cotswold, Kinlong, Lavaal and a full range of point fixed hardware system from Lilli Systems from Italy.
Fibre cement cladding from Swisspearl, fine ceramic cladding from Qutone and high pressure laminates from FunderMax along with unique PVDF coating system by AkzoNobel shone bright as the architects and users sought for high-end facade alternatives and rich look. Engineered formwork was displayed by Technocrat and various facade connection techniques were on display by Wuerth. McCoy Soudal displayed their silicone and adhesives and Siderise from UK exhibited their unique range of perimeter barrier systems for fire and acoustic isolation.
About Zak Trade Fairs & Exhibitions Pvt. Ltd.
Zak Trade Fairs & Exhibitions is one of the leading exhibition and conference organizers in India having organized over 500 exhibitions and conferences on various industries. One of their flagship events is Zak World of Façades (http://www.zakworldoffacades.com) which is Middle East & South Asia's largest conference series on façade design & engineering having attracted over 7000 delegates across its 21 editions in 5 countries. The event attracts senior architects, developers, façade consultants, PMC's, façade contractors along with consultants and decision makers. The conference touches upon the key topics of interest and challenges of the façade industry and engages the industry leaders and aspiring professional alike.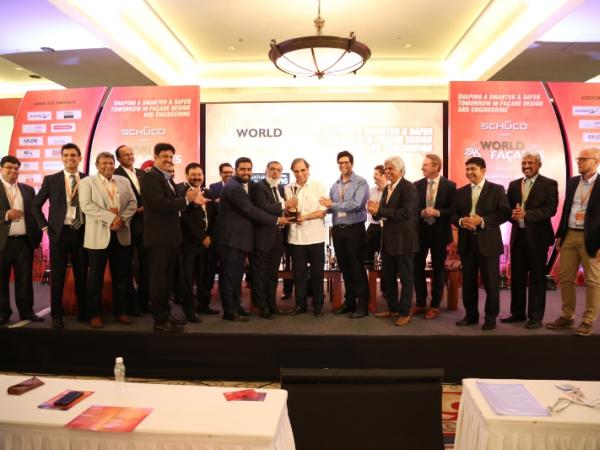 600
450
Zak Trade Fairs & Exhibitions Pvt. Ltd.
2016-07-15T13:00:00
Padma Bhushan Awardee Architect Hafeez Contractor Felicitated at Zak World of Façades
glassonweb.com