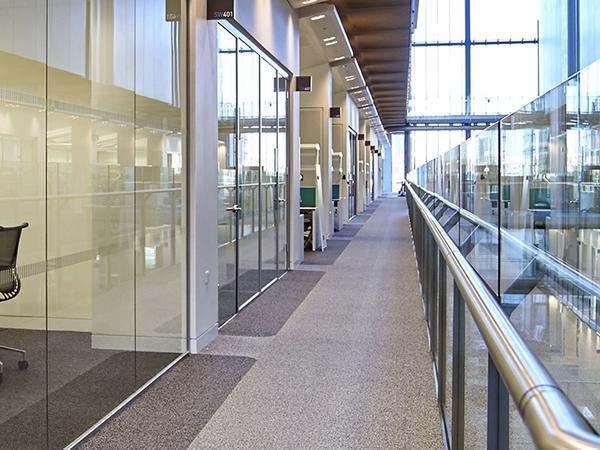 Photo source
optimasystems.com
Through innovation and a commitment to driving acoustic standards forward, Optima is creating and leading an Acoustic Revolution.
Industry Leading Acoustic Performance
At Optima, we have an unrelenting desire for excellence through innovation. At the core of our innovative nature is the delivery of industry-leading acoustic performance. We shaped the industry that we now reside in by introducing frameless glass partitioning to the UK market 30 years ago, dramatically transforming office environments and opening up exciting new design possibilities.
As design trends and client requirements have evolved over the years, so too have our products. Our technical expertise, our investment in product development, and our passion for excellence, have enabled us to create exceptional partitioning systems that offer market leading acoustic performance.
Through innovation and a commitment to driving acoustic standards forward, Optima is creating and leading an Acoustic Revolution.
Rigorous Acoustic Testing
Sound reduction performance, in essence, is the ability of a partition to reduce the amount of noise that passes through it. In the world of glass partitioning, we are the leaders of acoustic performance delivery.
The Sound Reduction Index, or SRI, is measured by testing a partition sample in an acoustic laboratory in accordance with EN ISO 10140-1 and 2. The results are then weighted as a single number value in accordance with EN ISO 717-1 and expressed in dB (Rw). This method of measurement, under controlled laboratory conditions, allows precise comparisons between similar products to be drawn.
For an informed and accurate comparison of the acoustic performance of similar glass partition systems, it is vital that the laboratory tested Rw(dB) value of each system is analysed. This will provide a fair contrast when reviewing or specifying apparently comparable systems, in addition to providing peace of mind that the chosen system has been rigorously tested and officially certified.
All of Optima's systems are fully tested and certified in UK laboratories, and full test reports for each of our products are available. The acoustic tests are conducted on full height, multi-module screens with glazing joints and perimeter track-work; not simply a 'window' in a smaller sized opening. Testing samples using the latter method will generally give an artificially higher acoustic rating and any results obtained in this way should be treated with great caution.
Exceptional Sound Insulation Performance
We have a thorough understanding of our market and an appreciation that each of our clients has a unique set of requirements. We don't develop for development's sake. Our products have been meticulously created with end user needs in mind.
Today, clients want and need exceptional performance when it comes to acoustic sound insulation within office environments. With the on-going requirements for predominantly open plan office space, there is a growing need for quiet office rooms and meeting rooms with controllable acoustics for confidential conversations to take place. Consequently, the acoustic performance of glass partitions has become increasingly important.
At Optima, we're not just focused on the aesthetic glass partition elements alone. It is also vital for our doors to perform, so we can offer complete systems that are carefully designed, expertly engineered and rigorously tested.
Exceptional advances in our door sealing technology solidifies our position at the cutting edge of progress, enabling us to provide glass doors that achieve a similar acoustic performance to bespoke timber door sets. This complete product package combined, with outstanding installation techniques, ensures that we are at the forefront of the industry.
Our products are what set us apart; our installations reinforce the difference, and our service and support make us incomparable. Optima shaped this industry, and as we continue to make ground-breaking developments in the acoustic performance of glass partitions, we are proudly leading the Acoustic Revolution.
Optima UK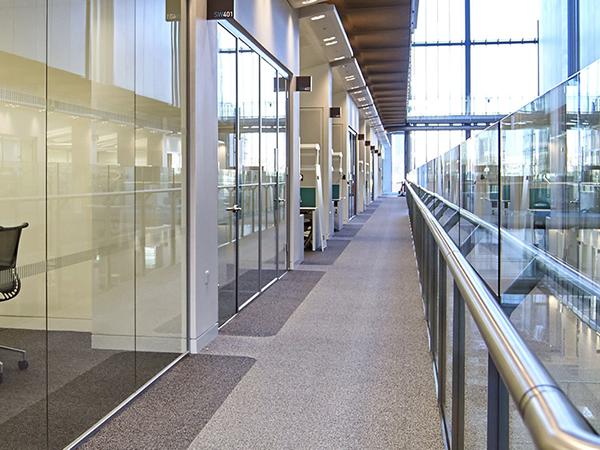 600
450
optimasystems.com
2018-03-09T09:00:00
Optima Leads the Acoustic Revolution
glassonweb.com