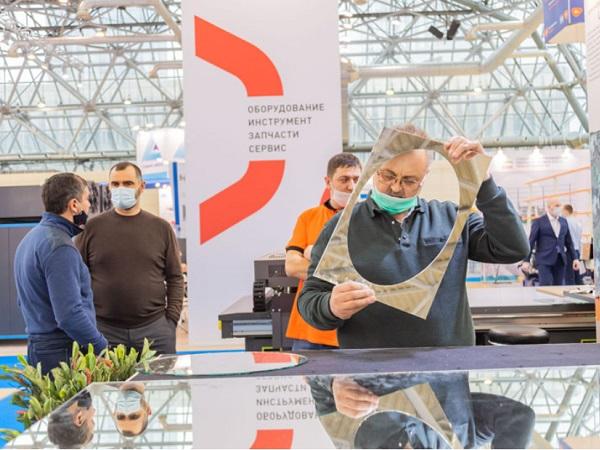 Photo source
www.mirstekla-expo.ru
23rd International Exhibition for Glass Products, Manufacturing, Processing and Finishing Technology
Mir Stekla 2022 is this year's most important event for glass makers and consumers. The event will traditionally be a meeting place for manufacturers of translucent structures, glazing, architects, builders, designers, manufacturers of glass containers, tools and components. It rightfully has a reputation as an effective business platform.
The busy days of meetings between market professionals and experts at Mir Stekla are not only a traditional exchange of experience between manufacturers and suppliers of glass products and equipment for their production, presentations of new technologies and solutions, but also an incentive for the development of the industry in a new environment, finding effective ways for import substitution in the glass industry. 
This year, interest in the show and its conference programme is expected to be high. Exhibitors will present market innovations, learn about global trends, generate new business contacts, find suppliers, and increase sales.
Dates: 6–9 June 2022
Hours: 10.00–18.00 on 6–8 June, 10.00–16.00 on 9 June   
Venue: Forum Pavilion, EXPOCENTRE Fairgrounds, Moscow, Russia
Organised by EXPOCENTRE AO
Supported by the Russian Ministry of Industry and Trade, the Russian Union of Designers, the Glass Union, the National Association of Manufacturers of Building Materials, Products and Structures
Under auspices of the Russian Chamber of Commerce and Industry
Exhibitors: 80+ companies
Countries: 12 (China, Czechia, France, Germany, Hungary, India, Italy, the Netherlands, Russia, Turkey, the UK, the USA) 
Foreign exhibitors: Vetromeccanica, WBT, REFMON, Best Makina, Mountain Glass, PSR, Teknika Makina, Yuntong Glass Mech-Electro Technology, All glass, etc. 
Russian exhibitors: Glass Research Institute, Borovichi Refractories Plant, Diacraft, the Axion Factory of  Microelectronic Technologies, Intmarket, KDK, KPDT, Podolsk Refractories, Karat, Steklo-gaz, Ritservice, Rayal-M, P-S-I, Russcom Prime, Russian Research Center Applied Chemistry (GIPH), Stromizmeritel, Stanki Mira, Tekhno-Grafika, FERRO Special Materials, Yta, etc.
Types of products on display: equipment and technology for float glass production, glass containers, tools and materials, innovations, research and development, medical, interior and automotive glass, as well as art and decorative glass products
Conference programme
The conference programme of Mir Stekla 2022 will complement the show by focusing on topics that are now especially relevant for the Russian glass industry.  
Leading industry experts will talk about the unlimited possibilities of glass, new challenges requiring an immediate response, challenges that the glass industry will have to face in the near future, strengthening cooperation between science and industry, and creating pilot production facilities, which will allow glass manufacturers to join efforts to make competitive high-tech products using the fundamental knowledge of scientific institutes and the technological solutions of production.
The most important events of the programme:
Forum on New Challenges for the Glass Industry 2022. Organised by RBC, EXPOCENTRE AO
Key topics:
- The results of the first half of 2022 on the Russian glass production market
- Import substitution in the glass industry: new opportunities
- What support measures are glass producers expecting from the government?
- Prospects and trends in the glass industry
4th Forum on Translucent Structures. Windows, Facades, Doors. Organised by the Russian Union of Designers, EXPOCENTRE AO
Scientific and Practical Conference on Glass Quality. Organised by Glass Research Institute, EXPOCENTRE AO
Key topics:
- Standardisation of the glass industry: development and prospects
- Testing and certification of glass and glass products
- New products on the market and import substitution
Panel on a path from basic research to an innovative product. Aims and objectives of the research and production ecosystem. Pilot production as a necessary element for the development of the science-industry link. Organised by Grebenshchikov Institute of Silicate Chemistry of the Russian Academy of Sciences, EXPOCENTRE AO
Topics:
- Revival of the chain of raw materials-scientific development-pilot production-introduction into production
- Strengthening cooperation between science and industry   
The show will also include
Conference on the Glass Architecture  
Conference on HR in the Glass Industry
600
450
www.mirstekla-expo.ru
2022-06-01T07:46:35
Mir Stekla 2022
glassonweb.com