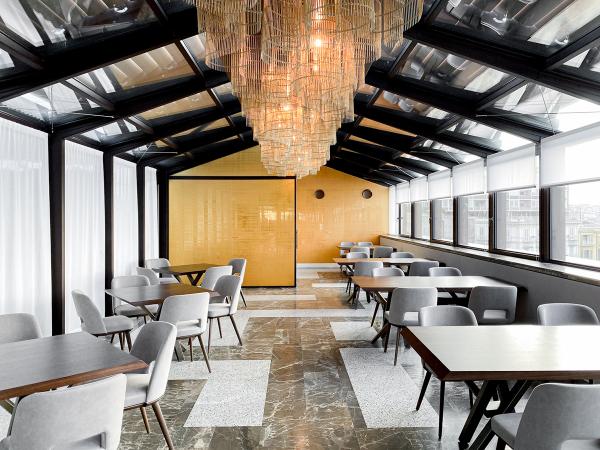 Photo source
www.omnidecor.it
Personalised glass for The Britannique Naples, Curio Collection by Hilton
This story is about a contradiction that constantly presents itself in architecture. A "classic" problem: how to separate spaces while maintaining a strong connection between them. Therefore, avoiding barriers that would inevitably take up space, affecting – and somehow frustrating – the harmony of the rooms. Materials like glass come to the rescue with personalisable patterns that support creativity and meet wants and needs.
The example we show you, is a project created for The Britannique Hotel in Naples. Glass is a solid barrier, very thin, and permeable to light: thanks to its reduced thickness, it allows to separate and define spaces in a discreet and non-invasive way. However, because in many cases partitions must also be visual, transparent glass is not suitable.
The solution that combines creativity and functionality is offered by OmniDecor personalisable glass. Products created to physically and visually separate rooms without necessarily having to compromise on light.
Glass personalisation is obtained using different methods that can also be combined: with frosted decorative patterns; with coloured lacquered glass; by layering different products.
Project Notes:
The Britannique Naples, Curio Collection by Hilton. The glass that separates the shower box from the room is created using layers of DecorOpal Antartic with fading effect and DecorFlou Design Manhattan on Reflecting glass.
Other elements feature OmniDecor DecorFlou Gold and DecorFlou Gold Design Linen.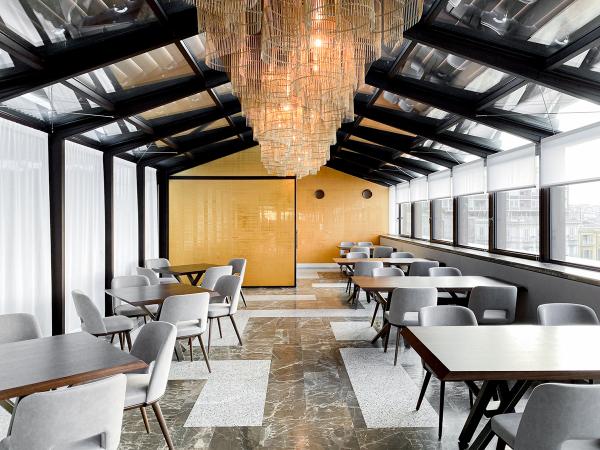 600
450
www.omnidecor.it
2021-06-29T11:00:00
Living art by OmniDecor
glassonweb.com