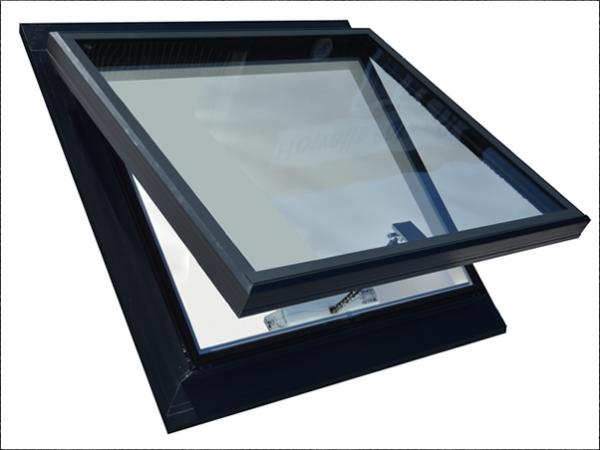 Photo source
Howells Opening vent | Photo: www.howellsglazing.co.uk
Howells Patent Glazing is pleased to announce the launch of its new glass rafter roof light, Ultraline.
Designed to maximise daylight, Ultraline offers architects and specifiers the freedom to use larger expanses of glass. Each joint is supported by a glass rafter, or fin, which reinforces the structure without breaking the sightline.
The low-pitch aluminium roof light is non-intrusive and typically measures 2.4 metres long and 1.2 metres wide. However, as each roof light is designed and made to order, specifiers can increase the width and depth to suit the application. Loadings are calculated by an independent glass consultant.
Glazing Options
Howells offers several glazing options with clear toughened glass as standard. Customers can upgrade to solar-controlled, high performance or super neutral glass. For certain applications such as swimming pools, schools and hospitals, the company offers a toughened laminated glass. With manual handling limited to 130kg, larger expanses of glass will require a crane and glazing robot for installation.
Independently Verified
Ultraline has been independently tested for Weather tightness (BS 6375 Part 1) and Resistance to snow and permanent load (EN 14351). It is certified to PAS 24 and Approved Document Q (Security – Dwellings), offering peace of mind against low-level burglary. The glass rafter roof light also meets the requirements of Secured by Design.
Energy Efficient Performance
Howells' aluminium roof lights are thermally broken for superior thermal performance, Ultraline achieves an overall U-value of just 1.4 W/m2K when using a 28mm double glazed unit with a centre pane value of 1.0 W/m2K. Triple glazed options also available.
For added impact, Ultraline can be powder coated in a standard RAL colour, including dual colours (one colour inside, another out). Typically, Howells offers High Gloss Black or RAL 7016M Anthracite Grey externally and RAL 9910S Hipca White internally, as standard.
Product Development & Testing
Ultraline is a prime example of the skill and expertise of Howells. Over 40 years, the patent glazing specialist has developed a reputation as a genuine solutions provider; each and every glazed product is bespoke, designed and manufactured by the team.
This ability to benchmark product development and proactively respond to market demand is underpinned by independent testing and proven performance. The company's roof vent system attained the best achievable results when independently tested (Wintech) for air permeability, water tightness and wind resistance, earlier this year.
Roof Vent System
Designed to integrate with the company's patent glazing bars and all roof light systems, the roof vent is compatible with other systems and can be accommodated into any application with overhead glazing, both single and double glazed. Howells' recommends a minimum roof pitch of 10 degrees. Lower pitches can be achieved but are reliant on perishable silicone seals.
With a five-year warranty, the vent system comprises electrically operated opening ventilators connected to an open/close switch or digital control panel with rain sensor and thermostat, managed using a manual worm gear & operating pole.
Howells also offers a water and air permeability tested trapezoidal roof vent system, believed to be the first in the UK.
Each rooflight is manufactured using Howells' bespoke system in the company's ISO 9001:2015 certified facility.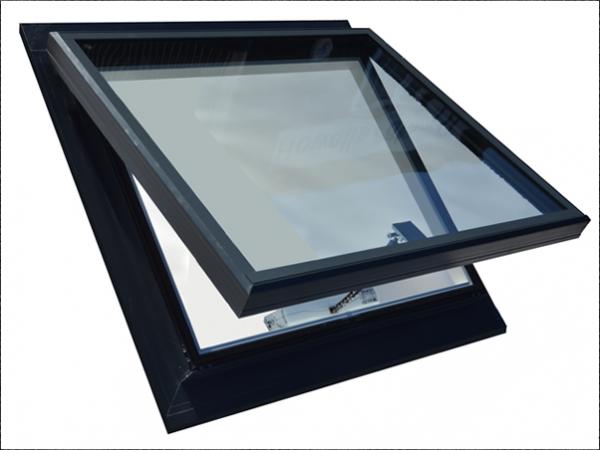 600
450
www.howellsglazing.co.uk
2019-07-05T08:30:00
Howells launches new glass rafter rooflight
glassonweb.com