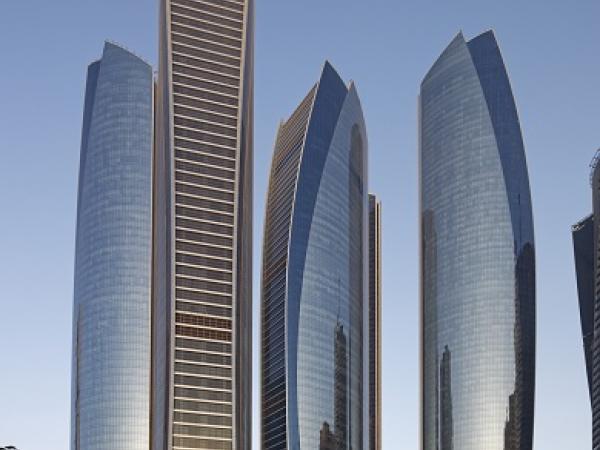 Recently, an ensemble consisting of five glass monoliths has embellished the ever growing skyline of Abu Dhabi.
Due to their fully-glazed curtain walling, for which the Schüco UCC 65 SG system was used, the "Etihad Towers" soar dynamically and lightly into an almost permanently blue sky, which they reflect once more in their façades.
In recent years, Abu Dhabi, the most wealthy of the United Arab Emirates, has documented its path to becoming a cosmopolitan, economically differentiated metropolis by constantly adding new and increasingly spectacular high-rise structures. Growth and the turn towards the new economic focus areas of tourism, trade and services are programmatic ideas which have been laid down in the "Abu Dhabi Economic Vision 2030" by the ruling Zayed Al Nayan family. Within this vision, which has already become reality in many places, skyscrapers take a central functional and symbolic role.
The Etihad Towers in Abu Dhabi - an ensemble consisting of five towers, of which three arise from a multi-storey podium.
Three functions plus a central hub
The ensemble of the Etihad Towers consists of five towers in total which are between 54 and 74 storeys tall. The highest tower stands 305 metres tall. In addition to a hotel tower and an office tower, the space on offer includes almost 900 luxurious apartments and a number of penthouses in three "residential towers", yielding a total usable floor space of around 500,000 m². Three of the five towers rise up from a multi-storey podium, which accommodates a shopping mall, bars and restaurants and hence simultaneously assumes the overarching functions of a central hub for residents and guests at the Etihad Towers.
The external views of the Etihad Towers are characterised by curtain walling made from aluminium profiles and grey-blue coated solar shading glass (135,000 m²) as well as a structural glazing façade at the base (6000 m²).
141,000 m² of glass façade in total
The spectacular sculptural effect achieved in the external appearance of the Etihad Towers can be attributed to their continuous structural glazing façades. These feature curtain walling made from slimline aluminium profiles and large glass units with a grey-blue coating. The total area covered by this façade type, which was implemented as a project-specific special solution based on the Schüco UCC 65 SG system, is 135,000 m². The podium façade at the base was also created as a special solution. There, the Schüco AOS SG system was developed into a 6000 m² structural glazing façade with point-fixed glass units. The design concept from the Australian practice DBI Architects was supported by façade planning from Priedemann Fassadenberatung GmbH, Großbeeren, Germany.
Masterplan with usage labels
1 Working
2 Living
3 Hotel
4 'Floating' restaurant
5 Shopping mall
With the Etihad Towers, Abu Dhabi now has an unmistakeable landmark.
The façades of the Etihad Towers are a project-specific special construction.
A breathtaking panoramic view through the façade of the hotel tower.
Schüco – System solutions for windows, doors and façades
Together with its worldwide network of partners, architects, specifiers and investors, Schüco creates sustainable building envelopes that focus on people and their needs in harmony with nature and technology. Metal and PVC-U window, door and façade solutions from Schüco meet the highest requirements in terms of design, comfort and security. At the same time, CO2 emissions are reduced through energy efficiency, thereby conserving natural resources. The company delivers tailored products for newbuilds and renovations, designed to meet individual user needs in all climate zones. Everyone involved is supported with a comprehensive range of services at every stage of the construction process. With 4800 employees and 12,000 partner companies, Schüco is active in more than 80 countries and achieved a turnover of 1.425 billion euros in 2014. For more information, visit www.schueco.com
Project details
Project title: Etihad Towers, Abu Dhabi (UAE)
Client: Sheikh Mohammed Bin Suroor Al Nahyan, Abu Dhabi (UAE)
Main contractor: Arabian Construction Company (ACC)
Architect: DBI Design Brisbane (AUS)
Façade planner: Priedemann Fassadenberatung GmbH, Großbeeren, Germany
System supplier: Schüco Middle East Windows & Façade Systems LLC
Completion: 2015
Schüco products
Curtain walling for the towers: Schüco UCC 65 SG (project-specific special solution)
Podium façade at the base: Schüco AOS SG (project-specific special solution)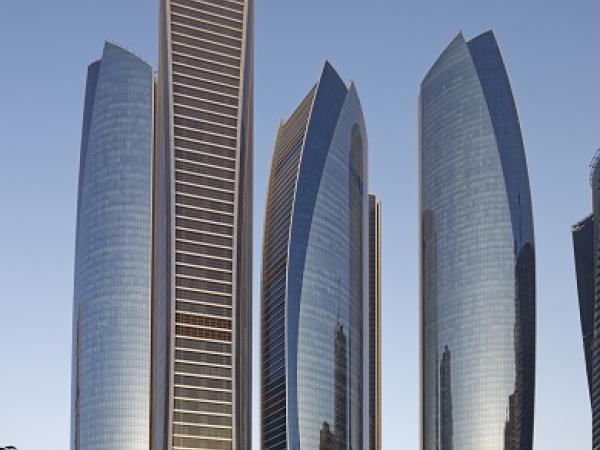 600
450
www.schueco.com
2016-06-22T13:00:00
Five glass sculptures - Etihad Towers, Abu Dhabi (UAE)
glassonweb.com