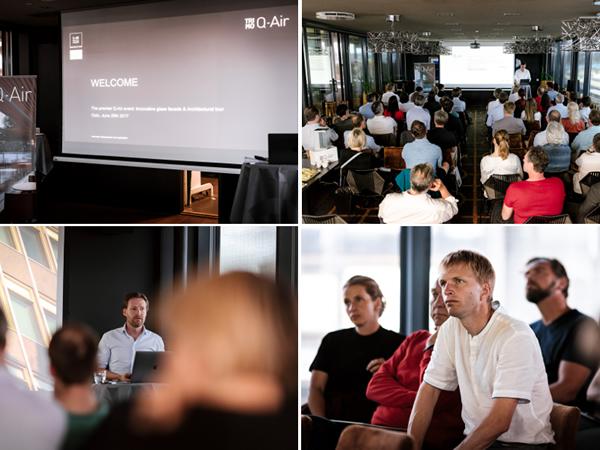 Photo source
trimo-group.com
The premier Q-Air event, which took place at June 28th, 2017 in Oslo, saw architectural, construction, engineering, university and glass industry leaders gather to share and demonstrate the knowledge and experience of using the innovative Q-Air glass façade.
Positive responses set the stage for Q-Air being a "game changer" for the new future of real-world sustainable architecture, construction and living.
The Q-Air conference was opened by Trimo's supervisory board Chairman, Mr. Jeffery L. Grady, who gave a warm welcome and introductory speech to the over 40-attendees spanning different professional from both the private and public sector.
Participants listened with great interest lectures about the innovative Q-Air glass façade system, recognising its wide potential for use in new build and refurbishments projects, and for all building application types.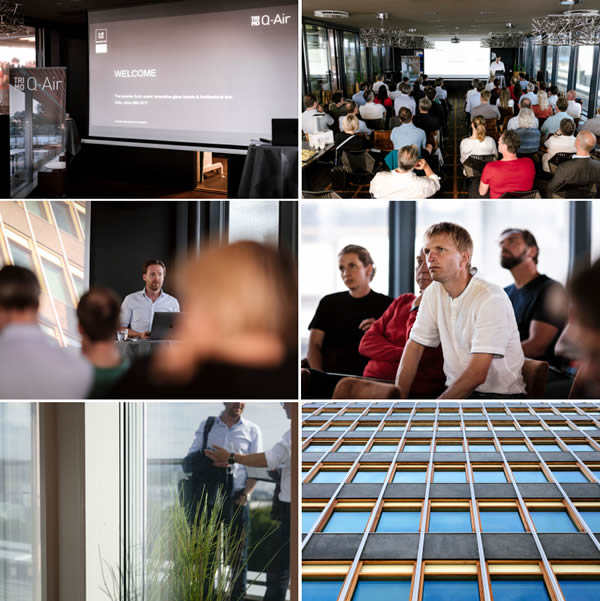 Lecturers Atle Geving, the architect and façade consultant, and technical director Matjaž Žnidaršič from Trimo Group presented architectural and construction possibilities, ultimate technical performance and exceptional interior comfort that is provided by the Q-Air innovative glass façade.
A case study and architectural visit of Wergelandsveien, a multi-story office building in the centre of Oslo centre, which was refurbished using Q-Air glass façade, intensively demonstrated the architectural aesthetics of the project.
It also presented a real-world application for Q-Air, whose efficiency has created a great deal of optimism for the ability to construct real sustainable glass façade buildings for occupants, owners, environment and wider society with many positive impacts.
Enthusiasm for the superior energy efficiency of the building, maximised natural daylighting, acoustics and the preservation of the 1960's architectural layout is growing rapidly. 
Project leader Øyvind Meyer Kristiansen from Höegh Eiendom, the owner company of Wergelandsveien, presented the owners view and emphasised: "The new Q-Air facade solution saves us approximately 60 % of the energy consumed by the previous building. The office building was in operation while being refurbished. Internal living comfort is significantly improved and external sunshades are not needed. Aesthetics is increased and the architectural layout preserved. We and the tenants, are extremely satisfied with the solution."
Q-Air represents one of the leading European innovations, which is underlined by being selected and supported by Horizon 2020 programme, a Fast Track to Innovation Pilot scheme.
This Q-Air dissemination event was initiated and organized by Trimo, a project coordinator of Q-Air H2020 project, together with the collaboration of the Swedish consortium partner Skandinaviska Glassystem. 
More about Q-Air project H2020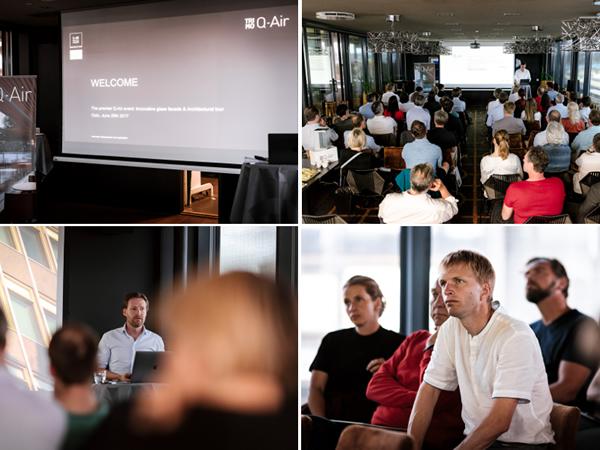 600
450
trimo-group.com
2017-08-31T08:00:00
Cutting-Edge Q-Air Demonstration Met with Universal Praise by Building Professionals in Oslo
glassonweb.com