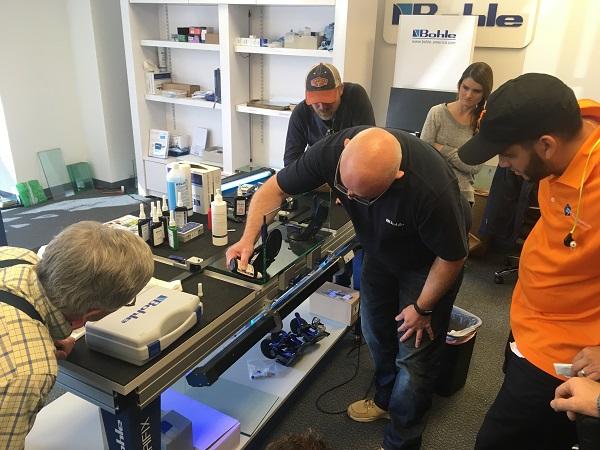 Photo source
bohle-america.com
UV Bonding is a skill that can be extremely helpful in many areas of the glass and glazing business.
Bohle America's has been presenting comprehensive seminars several times per year in order to educate willing participants and have them advance their skills and business.
The last week of April brought another set of seminars to Bohle America's Charlotte, NC location. These sold out sessions were extremely detailed and hands on. After completing the course participants received a certificate of compliance and competence.  In addition the graduates will be added to a special section on the Bohle America website.
For over 25 years Bohle has been known as the world's leading manufacturer and supplier of UV bonding adhesives, UV lights, fixation devices and bonding showcase hardware.
Participants in this 2 day program will gain a complete understanding and knowledge of the correct method for UV bonding glass to glass and glass to metal and as well as gaining competency and confidence to pursue this complex yet highly lucrative glass furniture process.
High quality, optically clear and bubble free bonds that are void of de-lamination are possible every time with the correct technique.
Participants will be required to take part in building a variety of 3-dimensional, functional show cases with hinges, shelving and locks. On successful competition of the Program, each participant will receive a UV Bonding Compliance Certificate and the company associated will be entered into the Bohle Competent UV Bonding Database for project references.
UV Bonding Theory
Understanding the Methodology: Understanding UV adhesives, UV lights, Fixation devices, Cleaners
Understanding Substrates · Tempered Glass vs. Laminated Glass vs. Float Glass vs. Acrylic
Fields of Application: Glazier applications · Store Fixtures Fabrication · Shower Enclosures
Understanding Pre-Treatments Pyrosil® Surface Treatment Technology
Understanding show case hardware
Hands-on Practical Application
3/8" glass thickness - 90° butt joint and mitered edge bonding
Shower enclosure and vertical applications
Bonding with a UV table
Showcase Construction: Hinges, locks, internal shelves
Decorative surface bonding of textured glass to glass
MORE sessions are coming up in Charlotte and our Portals location in Kansas City.  
Sessions are limited to 6 participants- and they fill up fast!
Email info@bohle-america.com to register.
Kansas City dates: (Registration ends June 1)
June 14 & 15, 19 & 20, 21 & 22
Charlotte dates: (Registration ends November 17)
December 7 & 8, 10 & 11, 13 & 14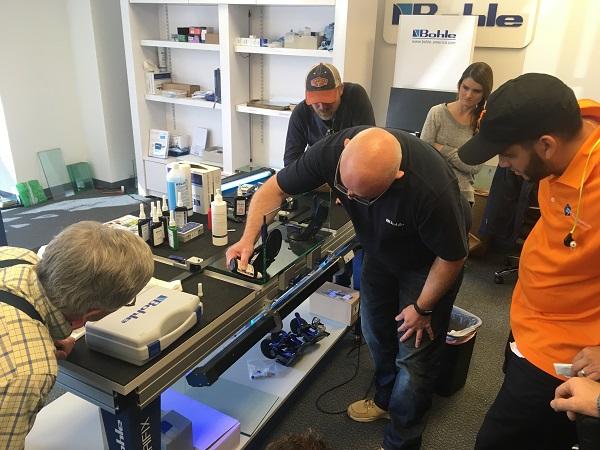 600
450
Bohle America
2018-04-30T07:00:00
Bohle America's UV Bonding Certification Seminars a Huge Hit
glassonweb.com