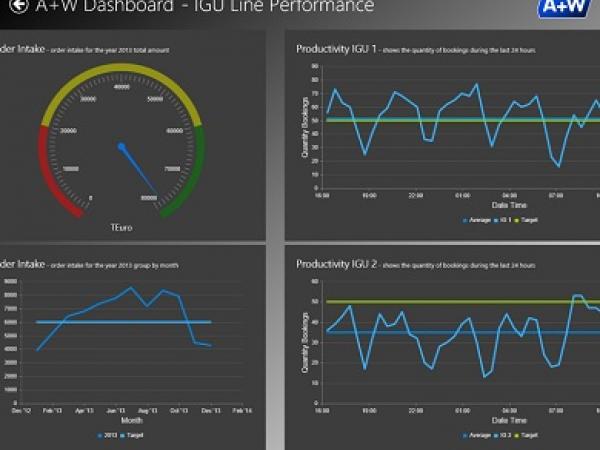 High-end specialized information and international elite sports - One fault per stockplate, two in every tenth jumbo: That's the reality – aggravating and ex-pensive for glassworkers. 
But why, asked A+W optimization expert Dr. Klaus Mühlhans, don't we use intelligent optimization to cut out the fault sites identified by the jumbo scanner, or at least to place them in as small a pane as possible? No sooner thought than done – the A+W Defect Optimizer was born, and will cut the number of defective panes in half for users in the future!
"Optimization is the heart of what we do at A+W" – with these words, spoken as part of his opening remarks, A+W CEO Dr. Uwe Schmid summed up not only the main topic of the cur-rent value+ event, held at Wetzlar's Rittal-Arena, but ultimately also the whole identity of A+W and the benefits the company offers to its customers: The new generation of A+W cutting optimization systems alone saves A+W users real cash, day after day – news that made the audience sit up and take notice, generating excitement even before the national handball game that put the finishing touches on the event.
But in the A+W philosophy, "optimization" means much more than just "improved material yield." To the software maker, which is based in the German state of Hesse, the term always also includes process optimization, so it stands for a holistic approach with the goal of boost-ing success for glass and window industry businesses.
The value+ success model
First, though, it was all about the value+ customer concept, which has turned out to be a successful model a year after its launch. "Investing in maintenance," Schmid says, "pays off" – that's the result of studies so far. As for how value+ makes it possible to turn this insight into actual reality for mid-sized glass companies, A+W sales manager Peter Dixen explained.
Value+ customers, Dixen said, not only have access to a broader range of resources; they also, and especially, receive support in making better use of their existing "license assets" – they have A+W's best experts and specialized consultants at their disposal for that. Ingo Neuber, who is responsible for training and documentation at A+W, explained the innovative tools A+W has available for doing this.
A fast, clearly organized view of KPIs: A+W Dashboard displays the current production status in near real time
 
Product fireworks: a look ahead to Glasstec
The product fireworks announced by Schmid continue – A+W, says Heiko Schuh, sales manager for Central Europe, has improved and expanded its product range, promising an exciting Glasstec appearance. One area of focus: more information, prepared for optimum usability. One example is the business intelligence tool A+W Discovery, which can be used to combine and prepare data from various sources across sites. Fast data access and clearly organized depiction of current KPI data from production are offered by the A+W Dashboards – browser-based with a high information density and clearly laid out graphics, this highly flex-ible management tool can also be used on smartphones, tablet computers, and PDAs.
In the core area of optimization, the A+W team plans to exhibit not only the A+W Defect Op-timizer, but also the model optimizer A+W Shape Optimizer and the A+W Stack Optimizer, a special optimizer for A-rack organizations, plus the A+W Logistics Optimizer for route optimi-zation.
The future is now:
Web-based order configuration
Perhaps one of the biggest surprises was the browser-based order configurator presented by development manager Josef Körner as part of a sneak preview. The configurator features an intuitive touchscreen interface, showing how the future of order processing might look. The advanced operating concept was thrilling, as was the substantial potential for savings in the area of internal order processing.
The final point in the informational part of the event was made by Rainer Feuster, sales manager at A+W technology partner Viprotron, who presented on topics including the error detection options offered by the jumbo scanner.
After this challenging agenda, everyone was looking forward to exciting entertainment during the handball game between two countries' national teams. Unfortunately, Germany lost to Norway – but the event was still a complete success, as one participant noted: packed with information, it firmly convinced attendees that a visit to the A+W booth at Glasstec 2014 will be well worthwhile!
A+W Software GmbH            
info[at]a-w.com | www.a-w.com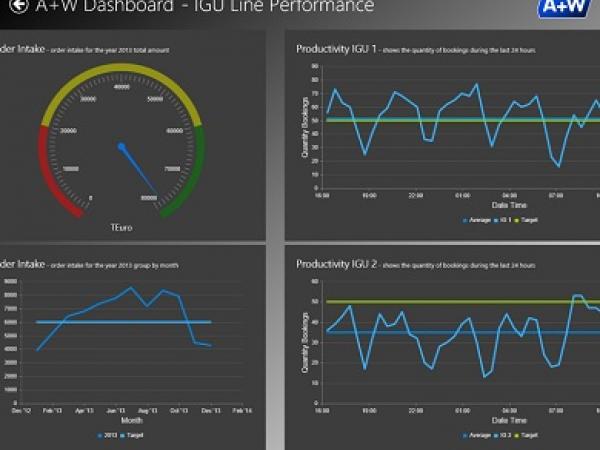 600
450
www.a-w.com
2014-06-19T13:00:00
A+W value+ Event: "Glass Sorting and Yield"
glassonweb.com