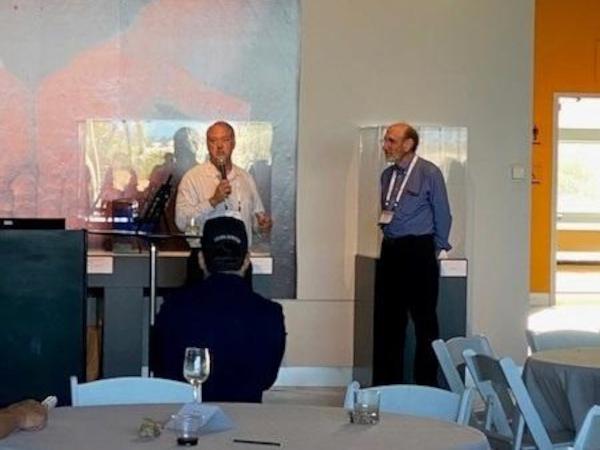 Photo source
Kyle Sword (left) and Steve Selkowitz at NGA Glass Conference: Tacoma 2023 | Photo: NGA
Steve Selkowitz discusses high-performance adoption; Recognized as NGA Honorary Member at Glass Conference: Tacoma
During NGA Glass Conference: Tacoma, Stephen Selkowitz, Stephen Selkowitz Consultants; Affiliate, Lawrence Berkeley National Laboratory (LBNL), presented "Future Glass and Facades – Challenges and Opportunities in a Carbon-Constrained World," urging the industry to act quickly in order to prove NGA's 2022 International Year of Glass claim "glass can help save the world." The goal is to create a compelling vision of the potential benefits of advanced glazing and deploy high performance facades at scale.
He also addressed the ongoing hurtles to adoption of such high-performance solutions—particularly the greater cost. "We need to convince owners to make investments in things they aren't doing right now," Selkowitz said. "Most owners are going to care a little bit about the planet. But they care more about the people that occupy the space. So, we need to bring it back to the occupants."
While the glass and glazing industry has developed a wide range of product solutions to provide better energy and thermal performance on the façade, could part of the solution be in how high-performance façade systems are delivered to the project, Selkowitz asked.
"How can we change the design delivery system? … In Europe, they are changing the model to having someone deliver façade as a service. It's like a software. You don't buy it. You update and change it over time," he said. The model would reduce the up-front cost to the building owner, while better ensuring long-term performance, as the systems would be updated throughout the life of the building.
NGA PRESENTS HONORARY MEMBERSHIP TO SELKOWITZ
During the conference reception at the Tacoma Glass Museum, Selkowitz was recognized as an NGA Honorary Member for his generous support of industry organizations and his leadership in the industry as an expert on window technologies, façade systems and daylighting. The award was presented by NGA Board Member Kyle Sword of NSG Pilkington North America.
600
450
National Glass Association
2023-08-03T09:43:23
Advancing High-Performance Facades: Stephen Selkowitz Urges Swift Industry Action for a Sustainable Future
glassonweb.com