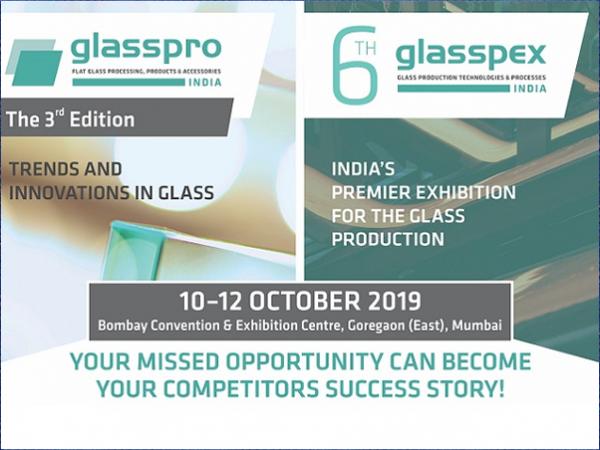 Photo source
www.glasstec-online.com
Two of the India's premier events on the glass industry - glasspex India & glasspro India- will open their doors from 10-12 October, 2019 at Bombay Convention Centre- Mumbai India.
Leading companies from all the over the world will gather under one roof to display latest trends & innovations in glass production, processing and the best of processed glass products as well as to network with each other.
The 6th edition of glasspex India – International Exhibition for Glass Production, Processing and Products - is spread over an area of 6000 sqm with over 130 exhibitors from 8 countries including group participation from Germany, Italy and China. glasspex India is powered by glasstec, Duesseldorf, Germany and supported by the German Engineering Federation (VDMA) and The All India Glass Manufacturers' Federation (AIGMF).
glasspro India is an annual event for the flat glass industry showcasing the latest trends in flat glass processing and products. It is jointly organized by Messe Duesseldorf India and Glass Bulletin and powered by glasstec Duesseldorf, Germany – The world's leading exhibition on glass. No numbers on glasspro?
Parallel to the events, The All India Glass Manufacturers' Federation (AIGMF) will organize its 13th biennial International Conference on "Glass Industry 4.0" from October 10-11, 2019. This high profile content driven conference, powered by Glass Worldwide, VDMA, glasstec Duesseldorf and Messe Duesseldorf India, will witness presentations by industry experts highlighting the developments in the glass industry and the challenges and key issues faced by it. Eminent speakers and delegates from both national & International companies will attend the two-day conference. Dave Fordham, Publisher, Glass Worldwide, London will be the moderator for international speakers.
The three-day event will also witness the 4th Glass Bulletin Awards (GBA) organized by Glass Bulletin and supported by Messe Duesseldorf India. GBA is the first-ever event of its kind which brings together players and stakeholders of the industry and acknowledges outstanding contributions and achievements made within the glass fraternity. Organized on 11th October 2019, the event will be attended by the Who's Who of the glass industry.  
About Messe Düsseldorf India
Messe Düsseldorf India, a part of Messe Düsseldorf GmbH is amongst the leading global players in the trade fair and events industry and is dedicated to closely work with both Indian as well as international partners and further be a catalyst for the development of industry in India.
To know more about, Messe Düsseldorf India, please visit: www.md-india.com
About GLASS BULLETIN
GLASS BULLETIN is the fastest growing top-notch quarterly journal of India for the global glass industry. It is the ideal platform, in print and online, for publication of news, reports, products details and exhibition information related to glass industry.
To know more about, GLASS BULLETIN, please visit: http://glassbulletin.com
About (AIGMF) The All India Glass Manufacturers' Federation
The All India Glass Manufacturers' Federation founded in 1944 is the sole representative body of all segments of the Indian Glass Industry consisting of large, medium and small-scale manufacturers. The Federation is made up of five Regional Associations viz., Eastern India Glass Manufacturers' Association (EIGMA)- Kolkata, Northern India Glass Manufacturers' Association (NIGMA)- New Delhi, South India Glass Manufacturers' Association (SIGMA)- Hyderabad, UP Glass Manufacturers' Syndicate (UPGMS)-Firozabad, and Western India Glass Manufacturers' Association (WIGMA)- Mumbai.
More details about Federation are available at www.aigmf.com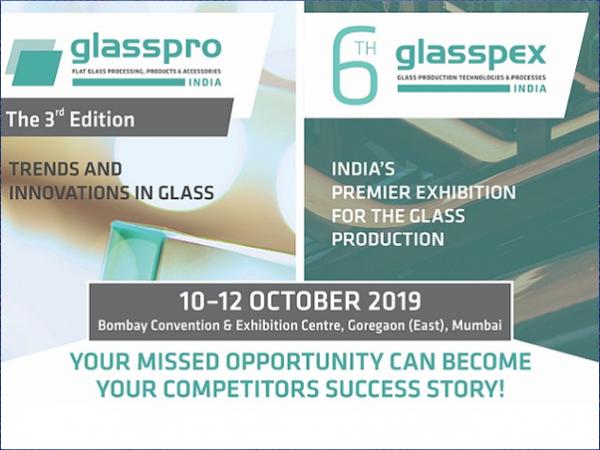 600
450
www.glasstec-online.com
2019-09-25T07:00:00
6th glasspex INDIA & 3rd glasspro INDIA brings latest trends & innovations in the Indian Subcontinent
glassonweb.com