Showing 2 results
Luoyang North Glass Technology Co., Ltd., | China | Manufacturer
Glass tempering furnaces; T-Series, A-Series and B-Series that's the most mature tempering furnace who can produce domestic first-class quality tempered glass.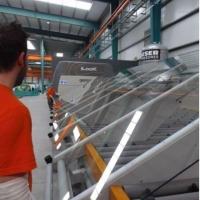 Tvitec | Spain | Manufacturer
The TVITEC equipment are available for big formats allowing a clean and continuous façade taking into account the features required for any project. TVITEC capacity is up to 12 meters for almost any type of process.