Photo source
www.windowware.co.uk
New in at Window Ware - 5 clever easy-fit devices from GT Window Product Ltd that boost security on doors & windows, plus overcome sash seal problems. Includes hardware solutions for hinge protection, seal compression & glass retention..
Fabricators and fitters are going to really appreciate the latest arrivals at Window Ware – five clever little devices from GT Window Products Ltd that really work to enhance the security on doors and windows, support PAS 24 compliance as well as prevent bowed or leaking sashes for reduced call-outs and happier customers.
Even better, these clever pieces of kit don't come with fiddly fitting requirements or prohibitive price tags! Instead, these hardware accessories are supremely affordable and face-fixed, to give door and window professionals highly workable product upgrades that won't blow the budget or cause undue hassle during fabrication or installation.
All products are designed and manufactured in the UK by GT Window Products Ltd – a company that's been solving problems for the fenestration industry for over a quarter of a century.
Hardy hinge protectors
Time to take a closer look at these natty newcomers. Leading the line-up are GT Window Products' retrofittable PAS 24 approved hinge protection devices: The QUAD-GUARD enhances the security of PVCu doors, while the STAY-GUARD defends all types of stays on PVCu windows against attack. Both products are made from high-tensile steel and tested to 240 salt spray for proven strength and durability.
Glass stops
Next up is the SNAP-LOK, a glass-retention security solution that ensures the glass stays put on internally-glazed doors and windows even if the beading is removed. The Snap-Lok was designed with the PAS 24 Part B and C manipulation tests in mind to increase product resistance to physical attack with tools.
Leak- and bow-proofing for sashes
Last but not least, come a duo of spring devices that improve the seal around the sash to eliminate leaks and prevent bowing. SASH-SEAL works on the hinged side of PVCu, timber and aluminium windows with versions available for all 13mm and 17mm stack height systems. 
BOW-CONSTRICTOR is fitted just after the end of the friction stay to ensure a weather-tight seal down the vertical side of the window. It's particularly suited to large windows over 1200mm tall and can also provide a cost-effective, more tolerant alternative to wrap-around gearing on oversized top-hung windows.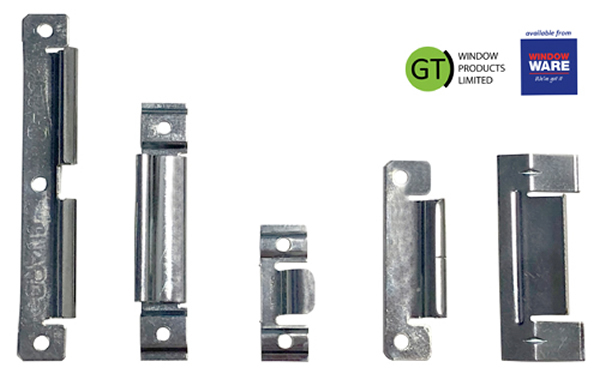 Window Ware's Technical Manager, Robert Vaughan, explained, "We're hoping these unassuming little hardware accessories provide some of our fabricators with that elusive eureka moment of discovering solutions to problems like sash drop or leaky sashes that are both economical and easy to implement. They're also worthy additions to the fabricator's armoury of security- and performance-boosting add-ons to help them meet PAS 24 and win over customers."
The GT Window Products range is in stock at Window Ware now. Click here to browse and buy at discounted trade prices or call sales on 01234 242724 for a custom quote. View our online brochure here
600
450
www.windowware.co.uk
2019-03-05T07:00:00
Window Ware: Fab five fixes solve bugbears and boost security
glassonweb.com