Photo source
Schiatti Angelo Srl
Andrea is young but he already has a good experience in the mechanical sector: born in 1992, he has just taken on the role of "CNC machine programmer and operator".
Where did you start your career, Andrea?
After high school my first work experience was as a milling machine operator, then for about 10 years I dealt with turning in a company based in Brianza. 
Why did you choose Schiatti?
I was looking for new stimuli. I always like to learn new things and add skills to what I can do. Here, at Schiatti, I found examples of professional growth that convinced me to take the "leap". 
And how is the first working period going?
I can say that the first positive thing that I felt has been the relaxed and familiar atmosphere in the workshop. I found colleagues available who welcomed me making me feel comfortable and introducing me to my new tasks and business procedures.
I'm already learning many "tricks of the trade" and this is challenging. 
What I was looking for, in short.
What will be your role in the company?
I will take care of programming and operation on CNC machines.
I will be assigned to an innovative machine, on which I can give good proof of my programming skills. I'm very passionate about this topic, so much so that I often dedicate myself to it in my spare time.
What is the job of a programmer/CNC operator?
The CNC operator is responsible for the machining of numerical control machines (CNC), such as milling cutters, lathes, grinding machines, press brakes, printing presses, oxyfuel cutting machines, laser or water-cutting machines and drilling machines. 
The CNC programmer prepares the software for the operation of the machine, which can mean creating a program from scratch or modifying an existing one.
The instructions must be developed in a machine language that can be understood by the device: to do this, the mechanical drawing of the workpiece must be read. 
It is necessary to understand what are the operations that the machine must perform in order to be able to work correctly a raw material and obtain a satisfactory final result.
For the development of the language, the programmer can also use a CAM software, when the profiles and geometries to be processed have an irregular or complex nature.
The CNC operator, on the other hand, manages computerized numerical control machines to produce parts and components for different industrial sectors. Here, too, it is necessary to be able to read and interpret projects, technical drawings and monitor the CNC process in order to always verify its correct functioning.
And outside of work, who is Andrea?
A simple guy. In my free time I like to go to the gym to keep fit and when I want to relax I follow motorcycles and cars races.
I'm also a dog lover and I'm starting to think it's "almost" time to start a family. Maybe.
We wish Andrea to work well with us  and thank him for the wonderful enthusiasm with which he is devoting himself to his new tasks!
Officina Meccanica Schiatti Angelo S.r.l.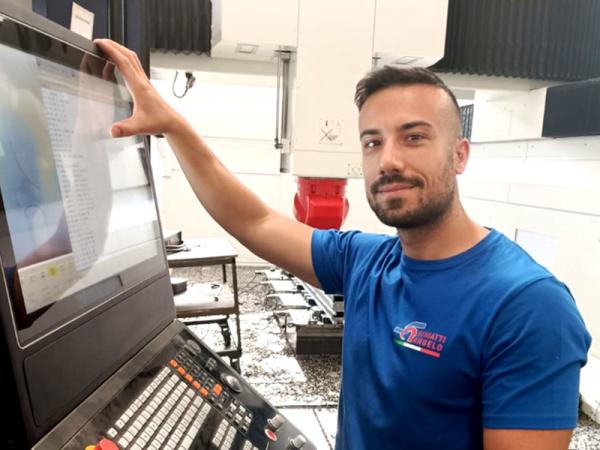 600
450
Schiatti Angelo Srl
2023-06-26T08:15:11
Schiatti Angelo Srl | Meet the team: Andrea Abbracciavento
glassonweb.com