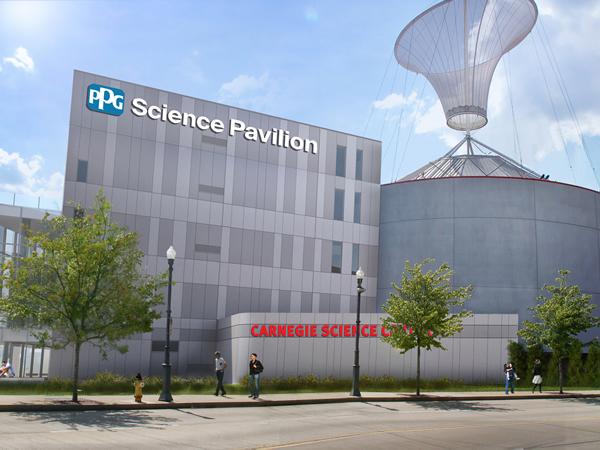 New STEM education facility at Carnegie Science Center targeted to open in 2018.
PPG and the PPG Foundation today announced contributions to Carnegie Science Center of Pittsburgh totaling $7.5 million. The largest donation in the center's history is earmarked for a new building that will be named the PPG Science Pavilion.
 
Scheduled for completion in 2018, the PPG Science Pavilion will house science, technology, engineering and math (STEM) learning labs; a two-story, 14,000-square-foot exhibitions gallery allowing for large touring exhibitions; PointView Hall, a conference and event space overlooking the city skyline; and new, expanded STEM education programs.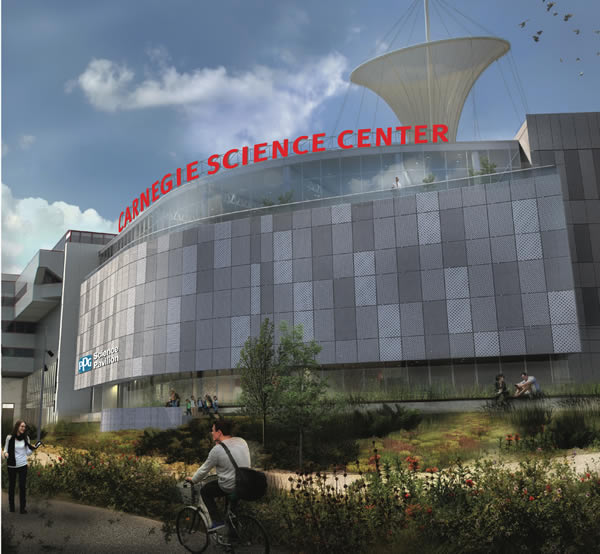 With nine classrooms including a wet lab, the PPG Science Pavilion will enable Carnegie Science Center to offer more programs for children and adults, such as day camps for students and professional-development programs for teachers. The pavilion is the centerpiece of a more than $35 million SPARK! Campaign for Carnegie Science Center, which was launched in 2014.
 
"As we continue to invest in building our brand and supporting our global headquarters community of Pittsburgh, we are excited to extend our partnership with Carnegie Science Center," said Bryan Iams, PPG vice president, corporate and government affairs, and PPG Foundation vice president.
"Given our reliance on thousands of chemists, material scientists and other STEM professionals to develop and deliver the paints, coatings and specialty materials that our customers have trusted for more than 130 years, PPG sees firsthand the need for a skilled STEM workforce. To meet this demand – and the challenges of the changing world – we invest in resources like the PPG Science Pavilion that will excite youth about STEM fields and encourage the next generation of innovators."
 
This expanded relationship provides additional benefits, including enhanced STEM programming, an exhibit in Highmark® SportsWorks®, event sponsorships and internal and external building signage throughout the PPG Science Pavilion.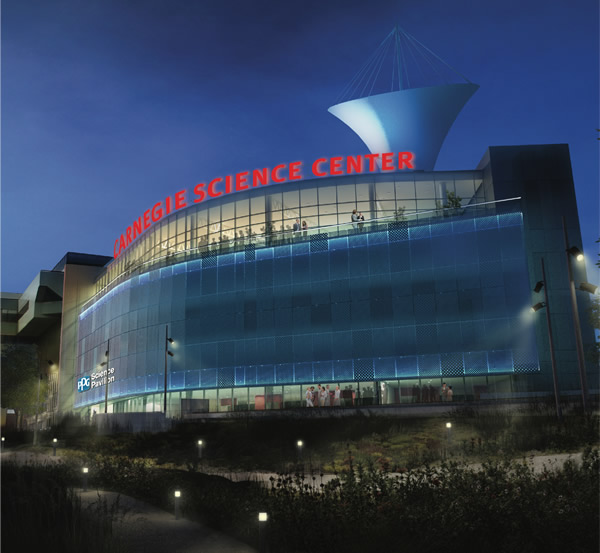 The PPG contributions expand a 36-year partnership that started in 1981 with the Carnegie Science Center's predecessor organization, Buhl Science Center. In more recent years, PPG has provided extensive support for Carnegie Science Center's Science on the Road educational outreach program, which reaches more than 160,000 students annually, as well as its STEM education programs.
 
"We are excited to deepen our relationship with PPG," said Ann Metzger, Henry Buhl Jr. co-director of Carnegie Science Center. "PPG's interest in STEM education aligns perfectly with the science center's mission and activities that will occur in our new PPG Science Pavilion expansion. PPG and Carnegie Science Center are invested in the education, life and career prospects of our children and the economic vitality of the region."
 
Metzger and Carnegie Science Center's Henry Buhl Jr. Co-Director Ron Baillie also announced that "The Art of the Brick" will be the inaugural touring exhibit in the PPG Science Pavilion, from June through December 2018.
The exhibit provides an engaging experience for all ages, with artist Nathan Sawaya using LEGO® bricks as an art medium, transforming a toy that almost every child has played with into contemporary art. Sawaya will create a work specifically for the new PPG Science Pavilion.
 
"The new PPG Science Pavilion will enable us to expand our capabilities to offer distance learning through video conferencing for rural schools in remote areas, use our early learner classrooms to model best practices in STEM for preschoolers, and provide camps and classes on topics such as coding, cyber security and river chemistry," Baillie said. "All are topics relevant to the Pittsburgh economy."
PPG and the PPG Foundation aim to bring color and brightness to PPG communities around the world, together donating nearly $10 million in 2016 to support hundreds of community organizations across 25 countries.
By investing in educational opportunities, PPG helps grow today's skilled workforce and develop tomorrow's innovators in fields related to coatings and manufacturing.
Plus, PPG empowers employees to multiply their impact for causes that are important to them by supporting their volunteer efforts and charitable giving. Learn more at www.ppgcommunities.com and follow @PPG_Communities on Twitter.
600
450
www.ppg.com
2017-06-30T12:00:00
PPG and PPG Foundation contribute $7.5 million for PPG Science Pavilion in Pittsburgh
glassonweb.com