Photo source
www.nanawall.com
NanaWall operable glass wall systems feature more than 25 unique systems designed for a multitude of applications. Each product is customizable to meet requirements for nearly every project.
NanaWall Systems is also a company of firsts with specific products such as the first hurricane-approved operable glass wall, the SL73. The HSW60 is the first weather-resistant single track sliding system with an incorporated swing door and the SL82 is the first structurally glazed glass wall system. These products are great examples of how NanaWall Systems is a company of firsts and a leader in the industry.
The operable glass wall systems come in solid wood, aluminum-clad frames or in aluminum in custom sizes. NanaWall folding glass wall systems are eye-catching and come in a variety of finishes and hardware perfect for any design style. With more than 200 colors and finishes, architects have a wide range of choices for any vision. Not only that, architects aren't limited by linear spans, but can take advantage of curved spans for added ingenuity and creativity.
Architects have the option of using the NanaWall systems not only in exterior applications, but for a variety of interior applications.
Operable Glass Walls are Perfect for Residential Applications
Folding glass wall systems help transform fixed walls into flexible openings. Use these glass walls to remove physical and visual barriers to the outside, creating a flex space that invites the outdoors inside. NanaWall systems are energy-efficient, providing the thermal comfort of a fixed wall. The glass walls are user-friendly allowing smooth opening and closing with one hand.
NanaWall systems have been tested for performance against wind, rain and sound with outstanding results. Thus, architects can expect a lasting installation backed by a company with over 30 years of experience.
Dining and Kitchen Spaces
Transform kitchen spaces into complete indoor/outdoor entertainment areas using the NanaWall folding glass wall systems. A NanaWall specialty configuration called Kitchen Transition combines folding window and folding door elements to create your dream kitchen.
For example, create a countertop opening using the SL60 operable glass wall that is perfect for serving. These countertop walls make a great solution for those that want to combine indoor/outdoor living areas without exposing an entire wall.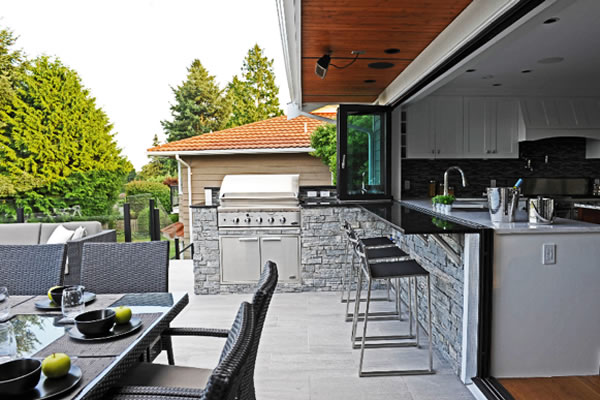 The SL60 can also be configured as an inswing wall to open a dining space to the outdoors.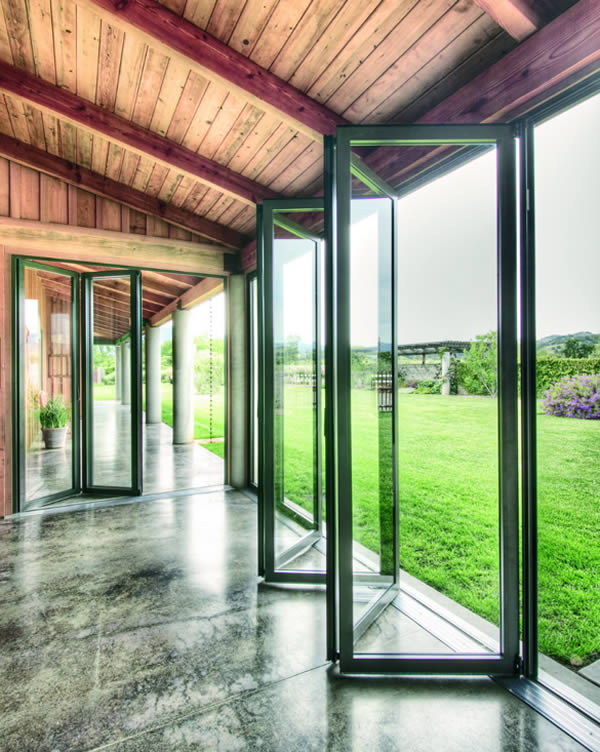 Living Rooms
Seamlessly unify the indoors and outdoors using an operable glass wall with panels that fold and then pivot all the way back to stack out of and parallel to the opening. This can be achieved with another NanaWall first, the FoldFlat.
The operable glass wall used in this residence is the SL45 folding glass wall system in the FoldFlat configuration and it separates the two spaces.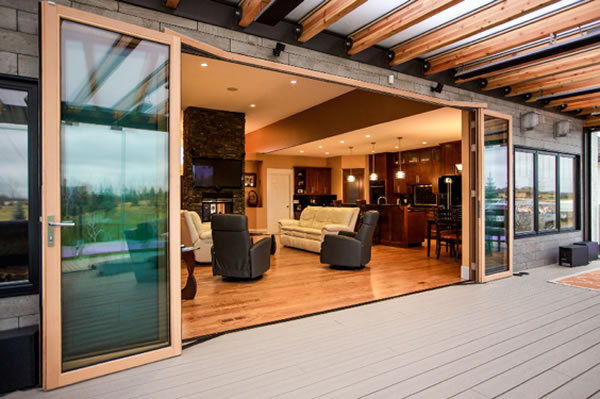 Glass walls aren't limited to one wall. See how this architect creatively incorporated the system on two adjacent walls.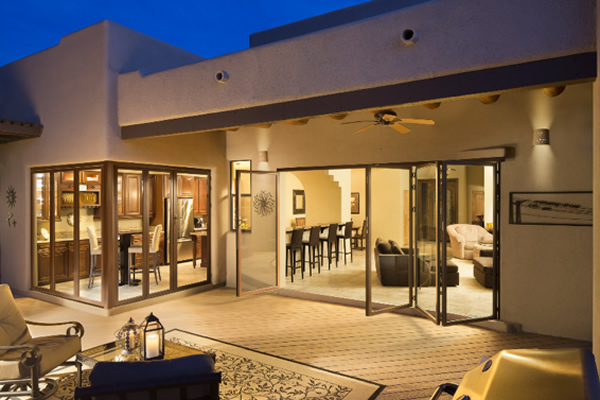 This SL45 outswing glass wall provides seamless transition from the house to the pool.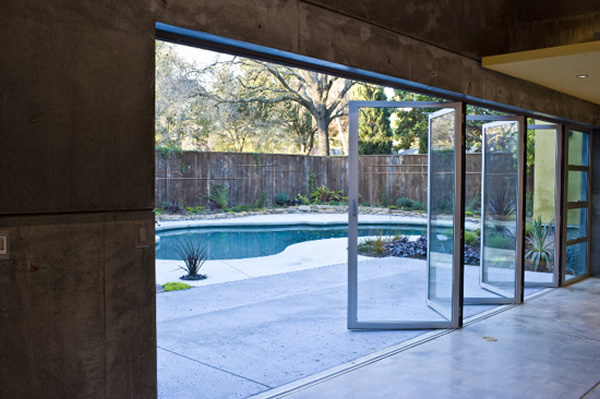 Bedrooms and Bathrooms
Operable glass walls can help create the resort-like feel in bedrooms and bathrooms in residential applications. Consider using one of the NanaWall systems to provide an uninhibited view and access to waterfront or scenic views.
Allow the fresh air into bedrooms using the SL45 inswing glass walls featured in this residence.
The architect for the below bathroom was able to provide open-air access in front of a bathtub and shower area. The outswing option shown uses the SL45 glass wall.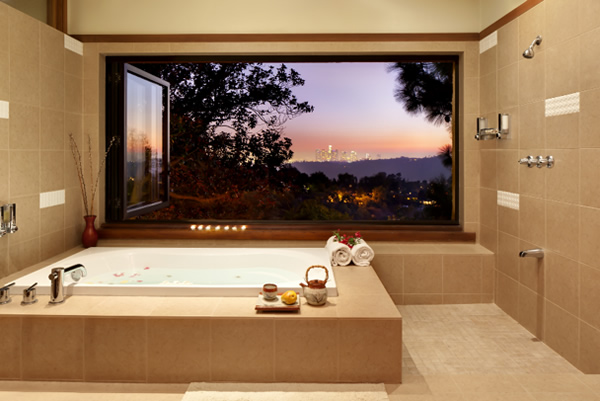 Folding glass wall systems can be used on adjoining walls to create a more expansive view of the outdoors. This creates an open corner design where the panels come from the left and from the right and meet at a 90 degree corner.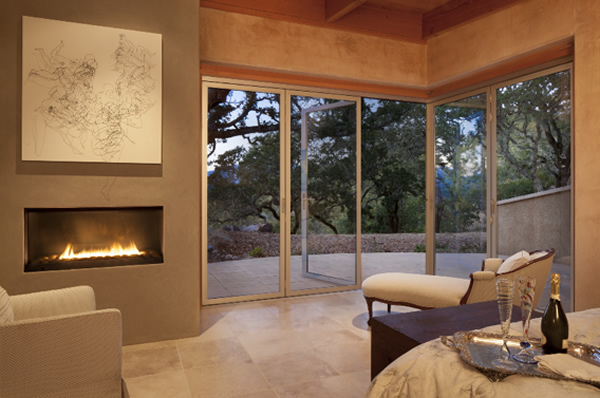 Multifamily Applications
Operable glass wall systems allow for an elegant yet consistent look for multifamily units. Using glass walls in multifamily applications allows each unit access to the outdoors from the living space without compromising the aesthetics of the building.
The penthouse in this picture features SL70 glass walls on two external walls.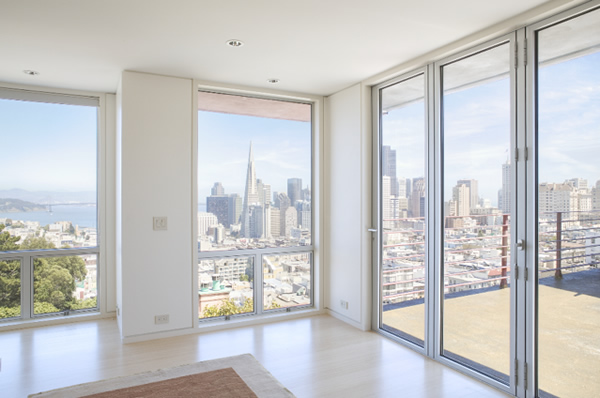 See how this architect used glass walls to open this unit's eating space to the outdoors.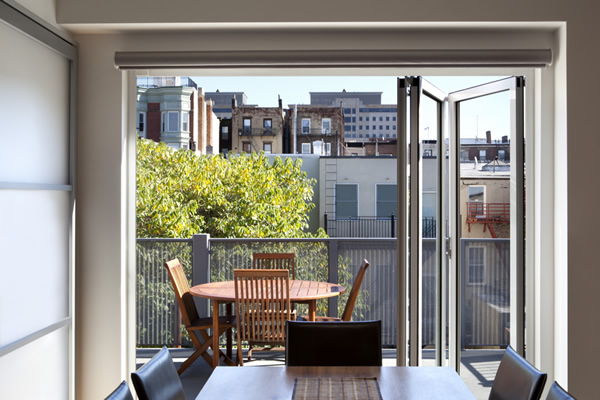 Operable glass walls can create a stunning design for multifamily units. Just look at the application for the Honua Kai resort and spa located in Lahaina, HI. NanaWall SL60 Standard Thermally Broken Aluminum Framed Folding system transformed the resort's condominiums into the ultimate indoor and outdoor living space.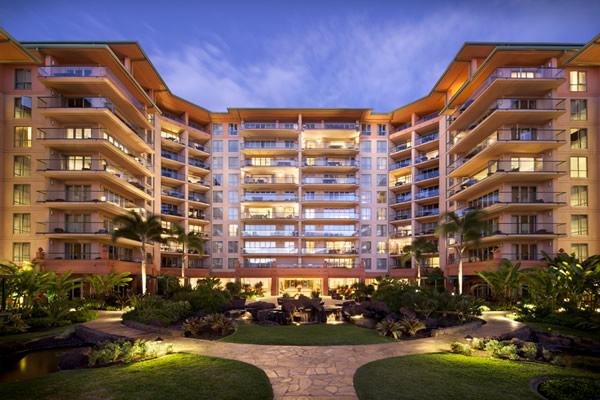 Stunning Operable Glass Wall Systems for Commercial Applications
Operable glass walls can be used in a variety of commercial applications including restaurants, retail establishments, offices and hotels. NanaWall systems offer professional-grade toughness designed to stand up to daily commercial use.
Architects can use these glass walls to navigate multiple corners, curves or to bypass columns. The walls fit across expansive openings in both top-hung and floor supported models. They also come with inswing or outswing options.
Retail Environments
Retail establishments can use operable glass walls to create an attractive storefront entrance to entice customers. With security being a top concern for commercial establishments, architects can rely on these systems to stand the test. Each glass wall meets or exceeds force entry testing. Also, each glass wall offers multi-point locking mechanisms. NanaWall systems also offers a hurricane approved wall that doubles as a vandal-resistant storefront.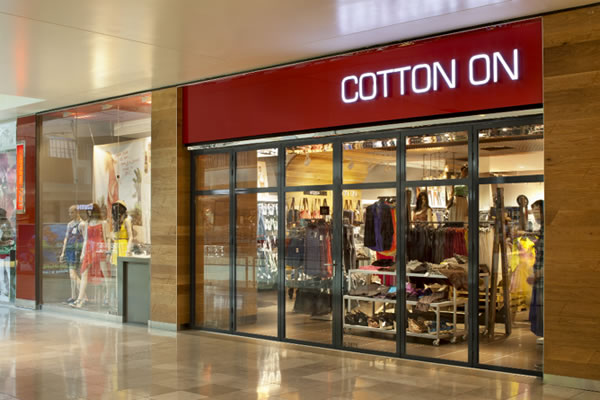 In the first example, the architect used a SL70 to create an impressive storefront and in the second example, took advantage of a curved application of the wood system WD65.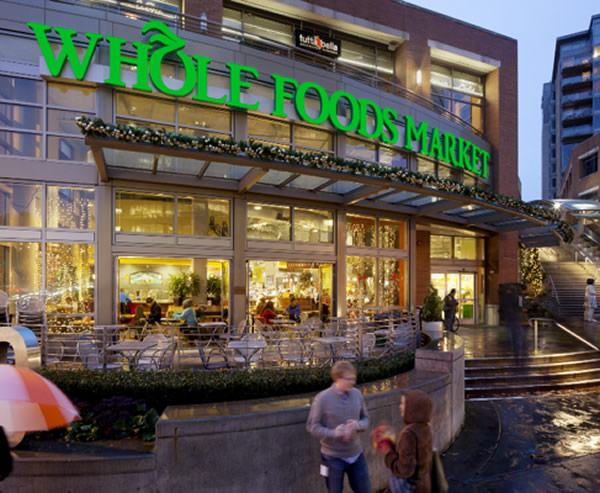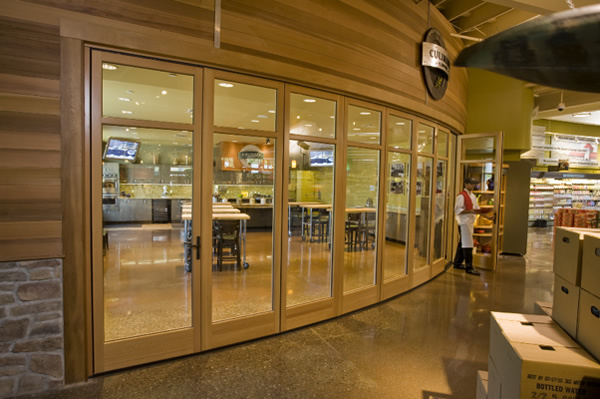 Restaurants
With a folding glass wall system, restaurants can easily open the restaurant to the outdoors for additional seating options.
Here, the SL70 glass wall was used to help open a top-floor restaurant to the city skyline.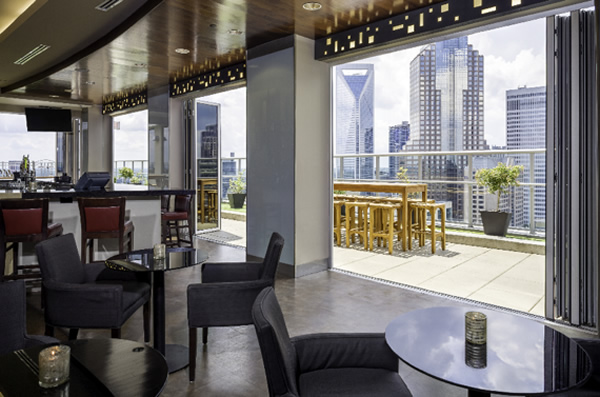 Customers seated indoors can benefit from the outdoor breeze and visual enjoyment of the city skyline with NanaWall systems.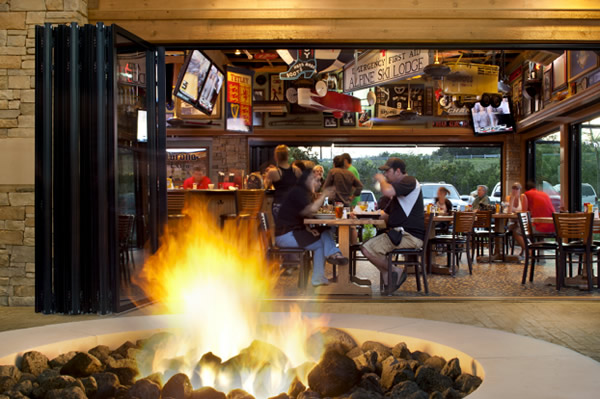 Another application of the SL70 above shows how an outdoor space can be incorporated with an indoor space to create a unique ambiance for customers.
The vineyard shown below uses the SL45 operable glass wall system on nearly every exterior wall to provide uninhibited access to the vineyards.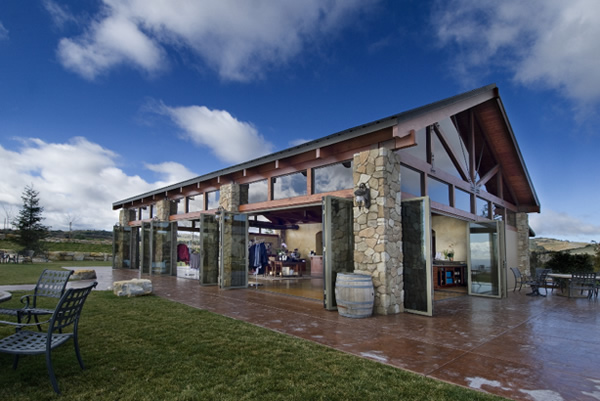 Hotels
NanaWall systems folding glass wall systems used in hotel settings are a perfect way to create a welcoming environment for guests.
Here, guests can enjoy the comfort of the indoor lounge area with a stunning view of the pool area. Guests also have quick access to the pool through one of the folding glass walls.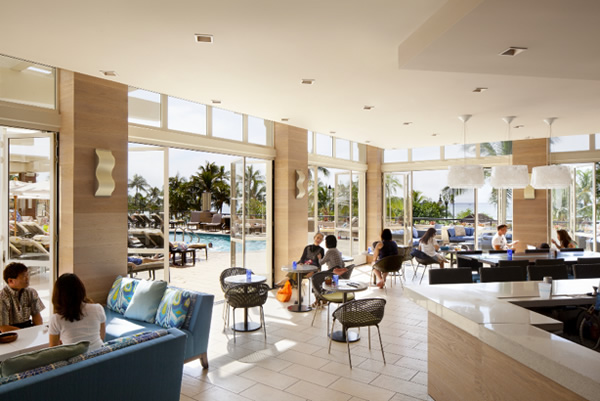 This architect created balcony access from a guest room with a SL60 folding wall that spanned the length of the patio.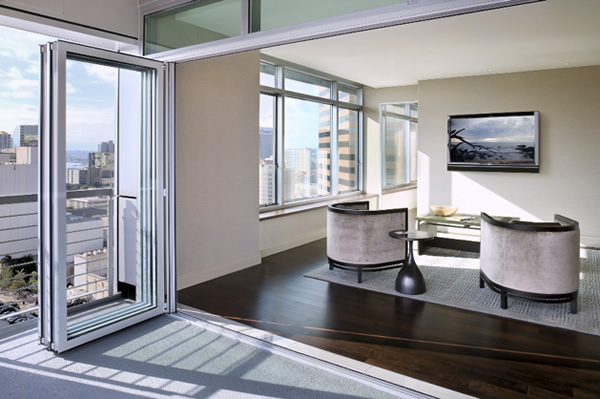 Hotels can open and close pool access through a series of folding glass walls across a wide opening.
Offices
Offices often require flex space that allows for multi-function use. The NanaWall operable glass walls can be used in a variety of configurations to meet that need. See how this conference room can go from an open meeting space to a closed room for privacy.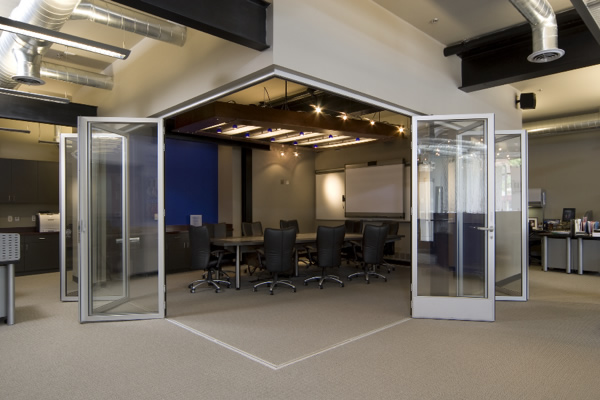 Glass walls are also a great way to separate employee eating spaces. Employees can choose indoor dining or outdoor dining through one of the large folding walls.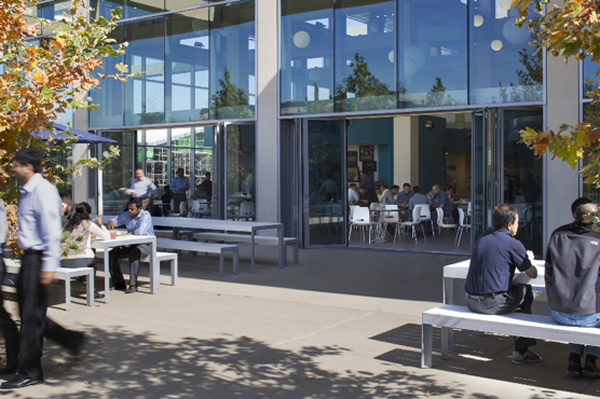 Create conference spaces with all glass folding glass walls that give an open office feeling whether the system is opened or closed. This open feeling has many unexpected benefits to not only improve the office's visual design but also to improve the workplace as a whole.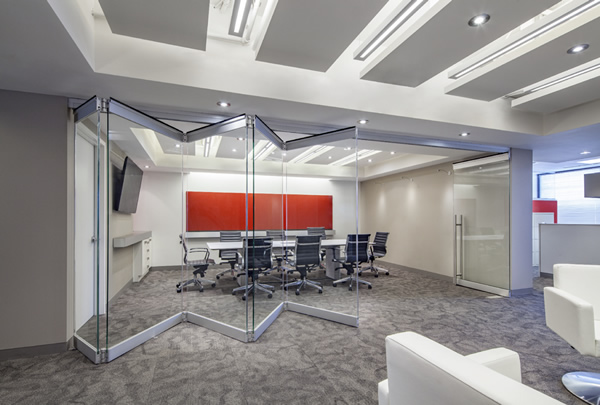 Final Thoughts
As you can see, operable glass wall systems have the power to change the way people and buildings interact. Whether it is a residential or commercial environment, an operable glass wall system can combine an indoor and outdoor space, create a stunning visual effect, or simply improve the mood of the building's residents.
With that said, NanaWall systems offers the perfect operable glass wall for almost any application and helps bring any vision to life. These glass walls work well both indoors and outdoors and with more than 25 systems in over 200 colors and finishes, NanaWall systems can help create a transformative experience no matter the project.
To learn more on how NanaWall systems can transform your space, contact us at info@nanawall.com.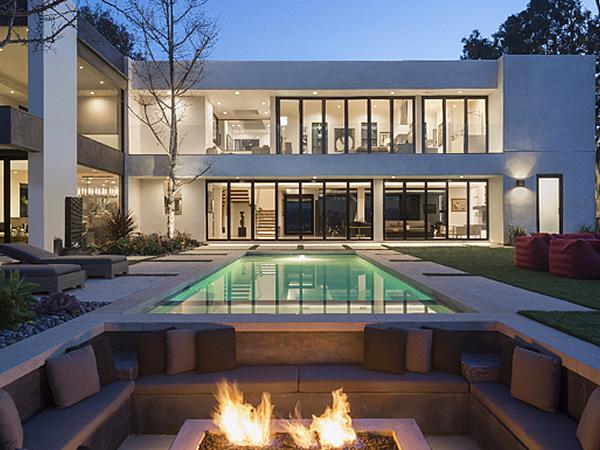 600
450
www.nanawall.com
2019-08-20T10:45:00
Operable Glass Walls that Completely Changed a Building | NanaWall Systems
glassonweb.com