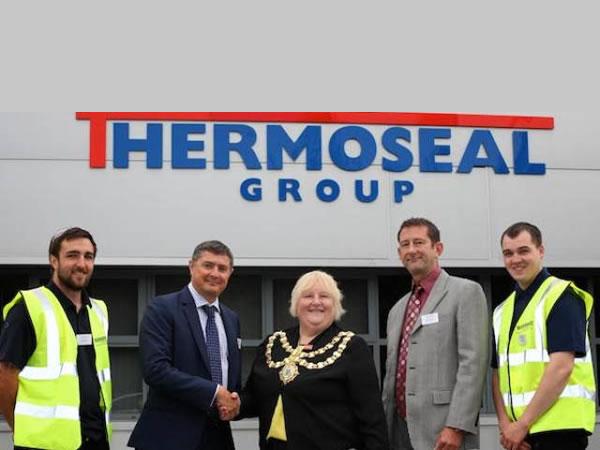 The Mayor of Wigan Borough, Councillor Susan Loudon, recently took the time to visit Thermoseal Group's expanding Warm Edge Spacer Manufacturing facility to honour the Group's growing contribution to the local economy.
Leading UK component supplier Thermoseal Group set up a manufacturing base in Wigan for production of energy efficient components – namely Thermobar and Thermoflex Warm Edge Spacers.
This has led to the employment of 50 local staff and further growth of the manufacturing-base to supply to the increasing demand from export markets.
Thermobar (rigid tube spacer) and Thermoflex Warm Edge Spacer (a rubber compound) systems are becoming increasingly popular as they offer the highest thermal efficiency and are manufactured to Thermoseal Group's own exacting standards. Latest Bundesverband Flachglas (BF) data sheets certify Thermobar and Thermoflex with highest performance thermal conductivity values 0.14W/mK and 0.135W/mK and Passive House Ratings of phA and PhA+ (both Arctic Climate approved) respectively.
Thermoseal Group Wigan has grown to accommodate the increasing demand of these products from within the UK and now with these thermal efficiency ratings, both Thermobar and Thermoflex rival any multinational brand product available in the market.
It is for this reason, they are becoming increasingly popular for export markets and are spurring further growth of this manufacturing facility which now occupies over 60,000 Sq. Ft. This growth has also lead to an expansion of the Group's Birmingham-based injection moulding division to supply compatible warm edge energy-efficient components to be used in conjunction with Thermobar and Thermoflex.
Councillor Loudon said: "Thanks to Thermoseal Group for the tour around their expanding manufacturing facilities.
It was very interesting to see the investment in manufacturing and also in training and developing local people. I am always pleased to support the local business.
"I have taken away some samples of energy efficient bars used in window glass units and will show them to my colleagues and local councillors.
I look forward to seeing further growth in this business and particularly their sales to export markets." The Group's owner and managing director, Gwain Paterson tells us: "We are extremely proud of our accomplishments in Wigan and thankful to the mayor for taking the time to come and see us.
It hasn't been an easy task to set up a bespoke manufacturing site for the production of warm edge spacer bars.
Much of the production equipment and training and development on operating the equipment has been developed in-house.
This has been a huge challenge for us, but has given us the opportunity to take on staff and train them to our own exacting standards.
It is also our policy to put our warehouse and production teams onto ongoing training and development plans to ensure that they continue to grow within the business.
It is for this reason that all of our team members are either NVQ qualified, or currently enrolled on NVQ or ILM programs.
"Our ultimate goal has always been to grow from being a leading UK manufacturer and supplier into a large international player.
Therefore, we are now concentrating our efforts on increasing production and gaining a share of the export market. We have recently received our largest export order to date from a manufacturer in the Far East.
We also supply to other customers in United States, New Zealand, Pakistan, Korea, Taiwan, Argentina, Chile, Finland, Netherlands, Estonia, Poland, Italy, France, Hungary and Romania. "We have a multi-lingual export manager based in Germany who is currently targeting the window industry on his home turf, as well as various European markets.
He is speaking to some of Europe's largest insulated glass manufacturers who are very interested in our energy efficient products.
With the growth of our export business, we will undoubtedly need to grow our production facilities and we are delighted with the commitment we have received from the staff and contacts we have in Wigan and the surrounding area."
To find out about Thermoseal Group and its comprehensive range of insulated glass components and machinery for glazing manufacture, call +44(0)121 331 3950 or visit www.thermosealgroup.com.
For further information on Thermobar Warm Edge Spacer see: www.thermobarwarmedge.com. For information on Thermoflex Warm Edge Spacer visit www.thermoflexwarmedge.com.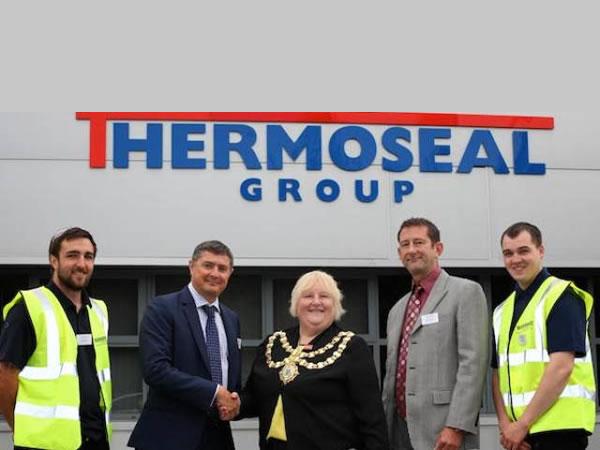 600
450
Thermoseal Group
2015-08-05T13:00:00
Mayor of Wigan Borough Visits Thermoseal Group's Spacer Manufacturing Sites
glassonweb.com