Photo source
Balls2 Marketing
Cheers, Chat, Connect is the PiGs theme for 2023 and the first event in Manchester on 23 February brought together more than 200 people from the glazing industry at Revolución de Cuba.
Sarah Ball, PiGs organiser and Joint Managing Director at Balls2 Marketing, says: "It's been another fantastic event for all of us in the PiGs sty with so many new faces joining the glazing squad, it was brilliant.
"PiGs is designed to bring the whole glazing supply chain together, from systems companies, fabricators, component suppliers to installers. We welcome everyone with open arms.
"The atmosphere in the room was awesome. In fact, the bar tab ran out at about 8pm – which goes to show how popular the event is. There was still a huge crowd at 10pm and we know that conversations flowed late into the night and there were plenty of after parties at neighbouring bars."
PiGs has chosen We Mind and Kelly Matters as its charity for 2023 and displayed their bar runners and beer mats to promote messages around suicide prevention.
Sarah adds: "As ever, I send huge thanks to all our sponsors for their support, without them PiGs would not be possible. We run PiGs as a not-for-profit event and all sponsors' money is used for the events, food and drink to get the party started. Our Manchester sponsors were: AGC Group, APECS, APS Aluminium & Plastics Systems, Bison Frames UK, Business Pilot, CiiLOCK Engineering, Comp Door, EasyVent, Edgetech UK, Emplas Window Systems, Eurocell, Extrudaseal, FIT Show, Gemini UPVC, Geocel, Georgian Bar Company, Glazerite UK, Glazpart, KUBU, Morley Glass & Glazing, Quickslide, RegaLead, Regency Glass, Reynaers Aluminium, Selecta Systems, Solidcore Composite Doors, SupaLite Tiled Roof Systems, Thermoseal Group, UK Doors Online, Unique Window Systems, VEKA UK and Window Ware."
The evening was a great success and now we're looking ahead to FIT Show with the PiGs Pavilion! We'll be releasing more details soon about our sponsorship packages on our emails and socials.
Anyone wanting more information about attending, sponsoring or getting involved with the PiGs Pavilion at FIT Show can contact PiGs organiser Sarah Ball on 07540 049655 or email sarah@balls2marketing.co.uk.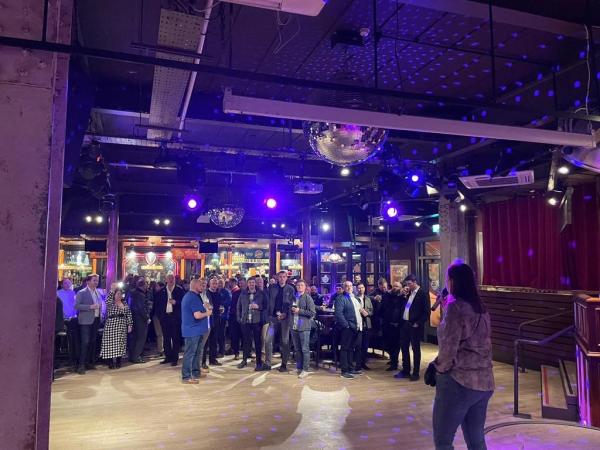 600
450
Balls2 Marketing
2023-03-03T07:39:32
Manchester PiGs sets the sty-le for 2023
glassonweb.com