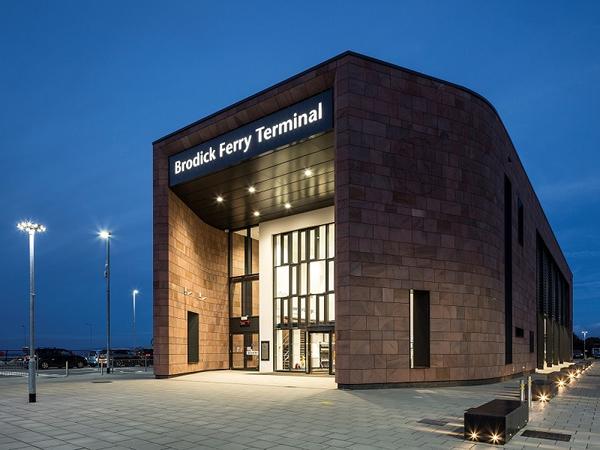 Photo source
www.geze.co.uk
A new ferry terminal, created as a tourism and community gateway to the Isle of Arran, has been fitted from stem to stern with products supplied by GEZE UK.
The stunning development is part of a £30 million investment intended to upgrade the harbour, make it fit for 21st century travel and enhance passenger experience.
The terminal, designed by Architects, Norr of Glasgow, is ship-shaped – following the traditional lines of a sea bearing vessel and is clad in sandstone. It proudly sits near the water's edge and is filled with natural light that pours through a wall of windows fitted to the 'stern' of its west elevation which are operated by 30 GEZE Slimchain drives.
They provide the light and spacious feel to the building's main entrance which opens out into a reception area. The Slimchain drives a natural ventilation system facilitated by a GEZE MBZ 300 two-zone control panel, which is integrated into the terminal's building management system (BMS).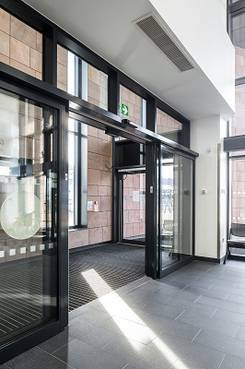 These have been placed throughout the two-storey building including in the departure lounge, alongside the GEZE Powerchain drives on the upper vents that were chosen to operate the larger windows. The lounge benefits from a double-height room with stunning views across Brodick Bay.
Stairwells were also fitted with Slimchain drives alongside GEZE OL Line manual opening systems to enable natural smoke and heat ventilation if required, and to give additional natural ventilation.
Beneath the glazed western elevation are two automatic swing doors to either side. These are powered by GEZE Slimdrive EMD-F operators - electro-mechanical drives that are extremely versatile, providing easy access for those with mobility issues. They provide power assisted opening and can be initiated using the operating button with guaranteed constant opening and closing speed.
At just 7cm high, the Slimdrive EMD-F operators are extremely discreet and sit neatly on the door frame. They offer a low-wear, hi-performance system which is exceptionally quiet in operation.
A further Slimdrive EMD-f was fitted to one of the side elevations of the building.
From the main entrance, accessed by its pass doors, a glazed corridor leads to a bi-parting sliding door powered by a GEZE Slimdrive SL NT operator, which leads into the foyer of the main reception area.
With a height of just 7cm – Slimdrive SL NTs are almost invisible, virtually silent in operation and can move leaf weights of up to 125kg. They are ideal for buildings with high levels of footfall and a continuous flow of people heading in and out of the building.
GEZE UK worked closely with CMS Enviro Systems which installed the products for the project.
Asset owners – Caledonian Maritime Assets Limited (CMAL) – together with Transport Scotland, North Ayrshire Council, Strathclyde Partnership for Transport and the Coastal Communities Fund, invested to upgrade the facility. The previous infrastructure was constructed in the early 1970s and had reached the end of its serviceable life. The new facilities will accommodate growing numbers of car and passenger traffic travelling to the island.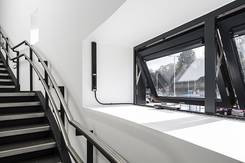 The redevelopment includes a longer and deeper, two-berth pier and airport-style gangway – safer for passengers boarding and disembarking vessels. Land has been reclaimed to provide improved parking and traffic marshalling areas.
The terminal itself incorporates 1328 sq metres of space and has capacity for 400 passengers.
Andy Howland, GEZE UK's director of sales and marketing, said: "This was a fascinating project with which to be involved. Many GEZE products were used throughout the build and much thought was given from the outset to making this an intelligent functional building geared up for the future, whilst embracing the natural environment in which it sits."
For more information about GEZE UK's comprehensive range of automatic and manual door closers call 01543 443000 or visit www.geze.co.uk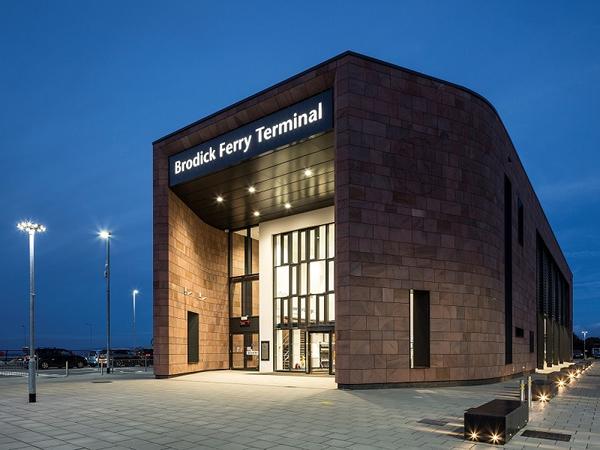 600
450
www.geze.co.uk
2019-05-02T08:00:00
Island Gateway is Ferry, Ferry Nice | GEZE UK
glassonweb.com